As always in the world of data, the last month or so has been a whirlwind. The data analytics industry continues to accelerate and advance at a rapid pace, pushing the boundaries beyond what was anticipated even a decade ago.
I've found the past week or two especially rewarding and exciting. Here are my most noteworthy of highlights for those working in data analytics:
Resilient data and analytics strategies for data-centric organisations
I took the opportunity to attend Gartner's Data & Analytics Summit EMEA and it didn't disappoint. The folks at Gartner put on three days of insightful sessions covering: how to build data and analytics strategies that enable digital acceleration and drive business value; the data and analytics trends and tools needed to do this; and the leadership skills that ensure data and analytics are made central to culture and help build resilient, adaptable, and data literate organisations.
The various talk tracks spanned an incredibly broad selection of topics and every talk I attended provided valuable insight. I found James Richardson's session on using data storytelling to go beyond BI reporting and visualisation and better communicate findings full of interesting insights. He explained what a data story is, when to use data storytelling, and how to do it. It was a useful reminder that data teams should always explore better ways to inform decision makers.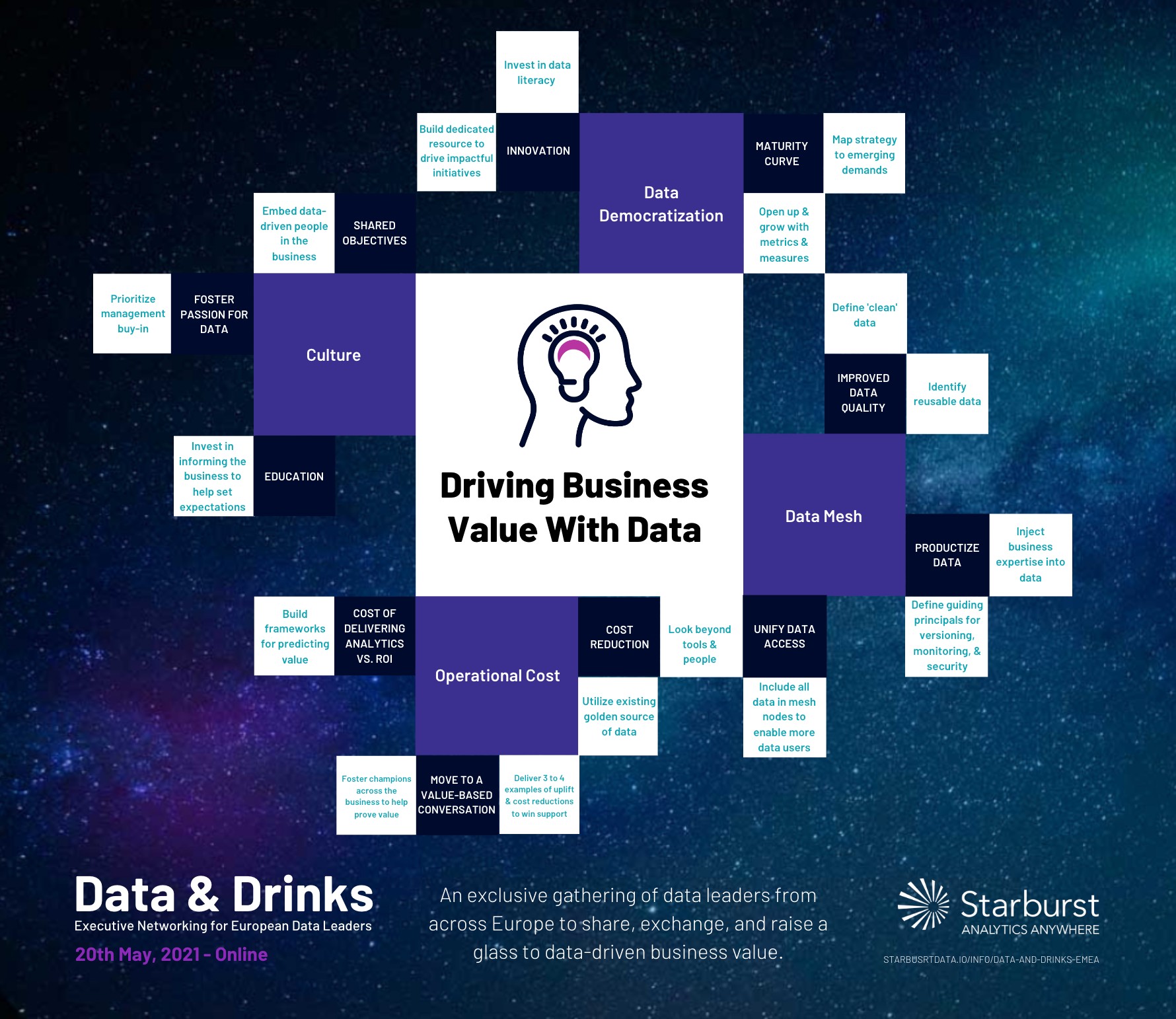 Image above: Summarisation of Data & Drinks – 'Driving Business Value with Data,' 20th May 2021
On the 20th May, I had the pleasure of co-hosting 15 CDOs for our inaugural Data & Drinks virtual roundtable that explored the ways that organisations in Europe are 'driving business value with data.' We uncovered the importance of architecting for value with Data Mesh, how to monitor and measure the operational costs of analytics, the new role of democratisation of data, and most importantly, culture. At the end of June, we'll be picking the conversation back up again with our second roundtable.
This leads me to Joao Tapadinhas'  session at the Gartner Summit that  focused on the common characteristics of failed and successful implementations of data and analytics capabilities, explaining a top level view of how to implement the right ones. With so many organisations struggling to deploy the right technologies for their operations, this is an important conversation and the session was helpful for the CDOs and CAOs out there that are demanding more value from their data.
These are just a couple of the talks that really got me thinking, but truthfully every talk I attended was useful. I'm already looking forward to the next Gartner Data & Analytics Summit in London next year where Starburst will once again be a Gold sponsor.
The past, present, and future of the Data Analyst role
Starburst also hosted Datanova for Data Analysts – a version of our highly successful first virtual conference Datanova but specifically geared towards data analysts. With registrations maxed out, our audience witnessed a number of excellent presentations, discussions, and demos, ranging from the state of data analysts and a real-world case study on how Mars leveraged data for growth, to how Starburst integrates with Tableau to enable data analysts to access more data via their favourite BI platform.
Not to pick a favourite, but I was fascinated by the presentation looking at Data Mesh and what it means for data analysts. The presentation was given by Zhamak Dehghani, who coined the Data Mesh term, and it was a fantastic overview of Data Mesh as a decentralised approach to managing and accessing analytical data at scale.
Zhamak explained that she believes we're at an inflection point in our data journey and we've got, on one hand, great expectations for data and business intelligence but, on the other hand, a proliferation of data sources that provide data from almost anywhere. At this inflection point, she argued, we need a new approach and one that removes bottlenecks currently holding data analytics back. Data Mesh is being touted as this new approach – Zhamak believes it is a paradigm shift in data management and presents an opportunity for use cases of the future for ML and analytics, requiring an architectural shift that needs new technologies to enable it.
I can't recommend highly enough that data analysts go and listen to the recording of the presentation and discussion. This, and all the other talks from the event, can be accessed here. Fill out the registration form and you'll be taken to the agenda where the recording is.
Shooting for the stars
In other news, Starburst recently announced the general availability of Starburst Galaxy, our newly launched fully managed cloud offering. To say we're excited is an understatement!
Starburst Galaxy is built on Amazon Web Services (AWS) and removes the time and complexity associated with traditional data warehousing models that require data to be copied and ingested before being available for analysis. Instead, Galaxy allows data to be queried where it lives and accelerates data-driven decision making. I cannot wait to showcase Starburst Galaxy at AWS Summit EMEA, from 9th to 10th June.
Galaxy is already enabling enterprises to integrate data lakes and data warehouses, as well as purpose-built stores, and enable flexibility in data management, data storage, and data access. There is lots more to come too! Starburst will soon be rolling out new features that ensure companies get the full benefit of a cloud-based managed service across any data storage in a cloud environment.
Starburst's Co-Founder Matt Fuller covers the capability and benefits of Starburst Galaxy in more depth in this blog.
The interest and uptake we've already seen for Starburst Galaxy has been incredibly encouraging. It's clear that enterprise is in major need of this solution and we're excited about it meeting that need in coming months and years.
In the meantime though, if you have any questions on Galaxy, feel free to get in touch.