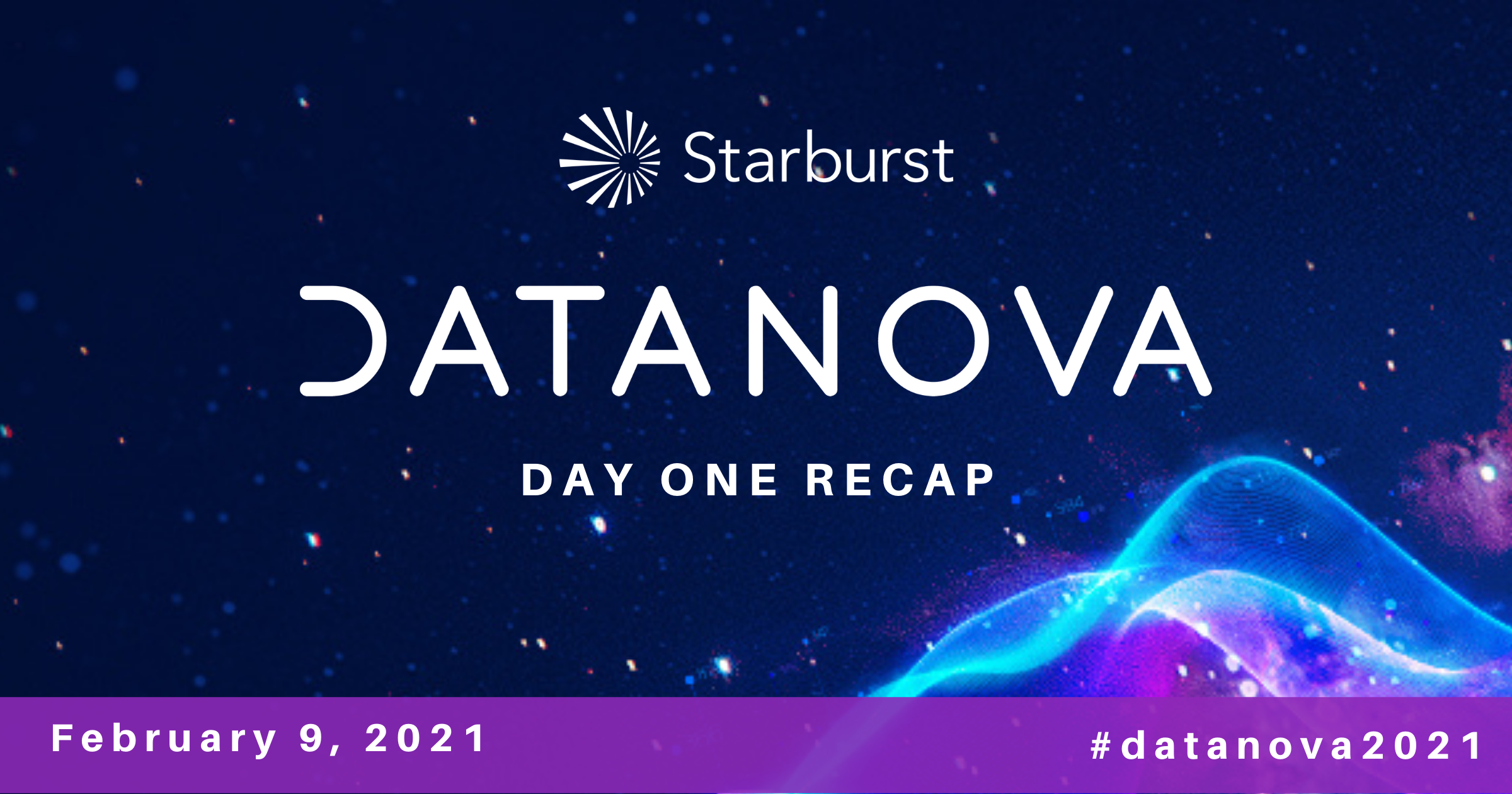 Wow, what an incredible day of learning, inspiration, science, and data! Today, we wrapped day one of our two-day virtual conference, Datanova 2021, designed to empower data and analytics teams around the world to get the most and best out of their data. The idea behind this event was to shed light on the new and exciting ideas happening in the data landscape, especially during this unprecedented time that has forever changed the way we live (and work).
We worked hard to create a unique content experience for all data enthusiasts – from the leaders, strategists, and architects, to the data engineers and data consumers – featuring talks and sessions from industry leaders and subject matter experts. Whether you're a chief data officer grappling with strategy and budget management, a data engineer trying to meet everyone's ever-increasing needs for access to more data faster, or a data scientist who's struggling to mine new data sources and formats, we had relevant content for everyone.
Thank you to all who attended and participated in day one!
Let's recap our sessions from day one:
Drive Digital Transformation Faster with X Analytics
Our CEO and Co-founder Justin Borgman and Google's Head of Smart Analytics, Sudhir Hasbe kicked things off with this Google Cloud sponsored session "Drive Digital Transformation Faster with X Analytics." X Analytics, a concept coined by Gartner, is delivering on the promise of the "big data" era by adding new revenue streams, removing technological barriers, and driving innovation at the world's leading organizations. In this session, Justin and Sudhir discussed X Analytics, its building blocks, real world use cases, and more.
Stream it on demand here.
When Worlds Collide: Starburst Product Vision
The future of Starburst is bright! In this session, our all star engineer and product leads: Matt Fuller, Co-Founder and Vice President of Product, Colleen Tartow Ph.D., Director of Engineering and Ken Pickering, Vice President of Engineering announced Starburst Galaxy, our new product and presented how we're helping companies chart an immediate path forward bringing data teams of all sizes fast, secure, and scalable access to all data. A more detailed technical discussion was presented by Product Lead Vishal Singh in the Starburst Insights Lab.
Stream it on demand here.
Oxford Debate: Warehouse, Lakehouse, or Lake?
Inquiring minds want to know: Will our future state have the majority of data residing in a warehouse, lakehouse, or data lake? We had an engaging panel discussion that was moderated by Cindi Howson, Chief Data Strategy Officer, ThoughtSpot, with panelists Greg Taylor, Managing Director,Slalom taking the data warehouse stance, Richard Jarvis, Chief Analytics Officer,EMIS Health vouching for data lakehouses, and Aaron Colcord, Senior Director of Data Analytics Engineering at Northwestern Mutual standing behind data lakes. They debated and viewers voted for 'data lakehouse' as the data architecture that they would like to pursue going forward.
Stream it on demand here.
T2T Connector and Query Fabric at Comcast
Comcast, one of the earliest adopters of Trino (formerly known as PrestoSQL) added a Starburst Enterprise cluster in AWS. They wanted a single point of access to query their on-prem and AWS catalogs and devised their own Trino-to-Trino, or T2T Connector. In this technical track session, Sajumon Joseph, Principal Architect at Comcast went into great detail on the design elements and development of the connector, how it helped them streamline their architecture, and consequently increase their business operations as a whole
Stream it on demand here.
Hybrid Analytics: Ground to Cloud and Cloud to Cloud
The demands of modern analytics are pushing the traditional approach of "a single source of truth" to a breaking point. This has thrust a new and intimidating challenge upon data teams and the businesses they support; how to execute on the demand for hybrid analytics? In this talk, Bryan Aller, Director of Software & Engineering at Comcast discussed their journey of moving their analytics infrastructure to the cloud with his colleague Pavan Madhineni, Principal Software Engineer at Comcast, and why they now choose to use a hybrid architecture for their analytics.
Stream it on demand here.
RBC: Accelerating Departmental Analytics by Building a Semantic Layer Over Data Domains
In this technical talk, we heard from Ahmad El-Kays, Senior Director, Enterprise Data Architecture at Royal Bank of Canada (RBC), on how they're building an abstracted query layer to help Banking, Wealth Management, Insurance and Capital Markets business units gain faster access to data without requiring the data movement, or the end-user to know the data location.
Stream it on demand here.
Data Pandemic: Responding to Crisis & Data Deficits
The most timely panel of the day, Data Pandemic: Responding to Crisis & Data Deficits, featured a panel of companies who shared their Covid-19 stories. Sponsored by Privacera, this panel had Tony Baer, founder of dbInsight, moderating and interviewing Richard Jarvis, Chief Analytics Officer of EMIS Health (with his customer Mark Sellman, Chief Information Officer at Frimley Health and Care ICS) and Syed Mahmood, Head of Product Marketing at Privacera, on how the pandemic impacted their data strategies, how they reacted, the outcomes, and how they continue to navigate the new, hyper digital world.
Stream it on demand here.
Keynote: Bill Nye
Educator, television host, and best selling author Bill Nye was our prestigious keynote of the day, brought to us by our Platinum Sponsors Immuta. He covered science, space, data, and the many wonders of the universe in a Q&A moderated by Immuta's CEO Matt Carroll. We learned that lasers might be the answer to keeping us safe from asteroids, there might be life on mars, and climate change is reversible if we vote to put science first. Bill left viewers with the understanding that we can change the world for the better if we realize the responsibility we have as humans. Bill is incredibly optimistic about the future. His lasting advice? Apply the scientific method to everything and think critically, that's the way to solve global problems and have a higher quality of life.
Stream it on demand here.
Data Gravity: Then & Now
Ten years ago, Dave McCrory coined the term 'Data Gravity.' In this panel, we heard Dave's view on what's happened since the term was coined, VP of Data & Analytics Ryan Witcomb discussed data gravity opportunities and challenges at Scotiabank, and our CEO and Co-Founder Justin Borgman shared insights on how it applies to the work we're doing at Starburst.
Stream it on demand here.
Thank you to all who participated in day one of Datanova 2021! Day two will be full of more exciting panels, labs, and talks, so stay tuned!