The Presto Summit SF is back in 2020!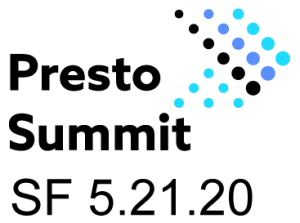 Join the Presto Community on May 21st at The Commonwealth Club
The second edition of The Presto Summit SF will bring together 300+ of the top Presto contributors, companies looking to learn more about Presto, and a community of partners that help companies successfully deploy & manage Presto. We'll be joined by 20+ great presenters from Salesforce.com, Zuora, LinkedIn and other companies who will share how they use Presto inside their organizations.
Register Here – space is limited!
This year's event will have new formats
Track sessions:

These will include advanced sessions for existing Presto users to have detailed discussions, while companies new to Presto have the opportunity to learn about Presto from the ground up.

The first Presto Hackathon

: An afternoon dedicated to "Free" and working on the Presto open source roadmap.

The first 100 registrants will receive printed & signed copies of the new O'Reilly book Presto: The Definitive Guide

authored by the Presto Creator Martin Traverso, Starburst co-founder Matt Fuller, and Presto Community Advocate Manfred Moser.

Presto Software Foundation Co-Founders
Martin Traverso, DainSundstrom, and David Phillips will share their view of The Future of Presto and also guide the Presto Hackathon
If you'd like to share your organization's story, please submit a presentation title + draft abstract to

summit@prestosql.io

.

The Call for Papers is open!
Register here to reserve your spot – and keep checking back as we add more speakers to the agenda.

Coronavirus note: There is information on the event site where we'll keep you posted, but we'll do everything we can to ensure this event happens in-person on May 21st while keeping all of our attendees safe & healthy. See you then.