Starburst released the 2021 State of Data market research report, conducted by Enterprise Management Associates (EMA), in collaboration with Red Hat, early last year. One obvious trend was the increase in cloud migrations. These migrations have been going on for a few years now, and the testing of digital business models in the global shutdowns has further accelerated everything. Respondents cited that 56% of their data is in the cloud versus 44% on-premises. In 12 months, they expected 62% of their data to be in the cloud.
Migrations to the cloud are impacted by many criteria that influence the buying decision. According to our respondents, multi-cloud flexibility is the most important criterion. Clearly, the complexity of modern enterprises includes multiple regions, locations, and public/private clouds Ease of use and scalability are two other major factors: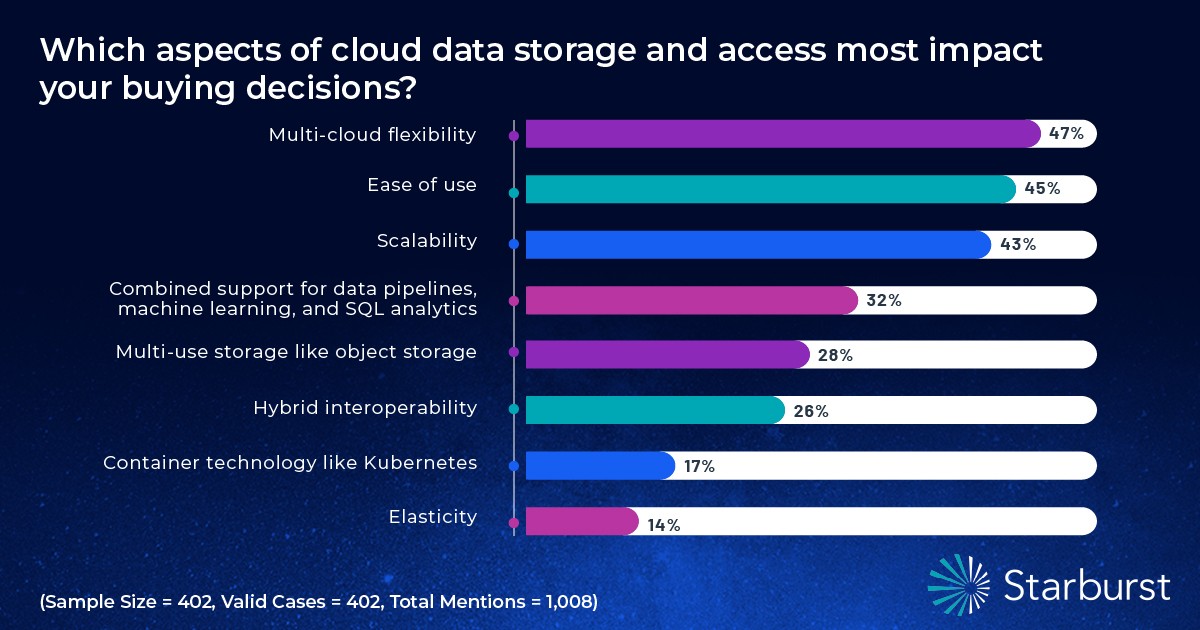 With these numbers in mind, we continued the conversation around cloud migration at Datanova by hosting a panel called "Confessions of a Cloud Migration." Following the discussion, we polled our audience on the main draw towards cloud migration, and below are the results at a glance: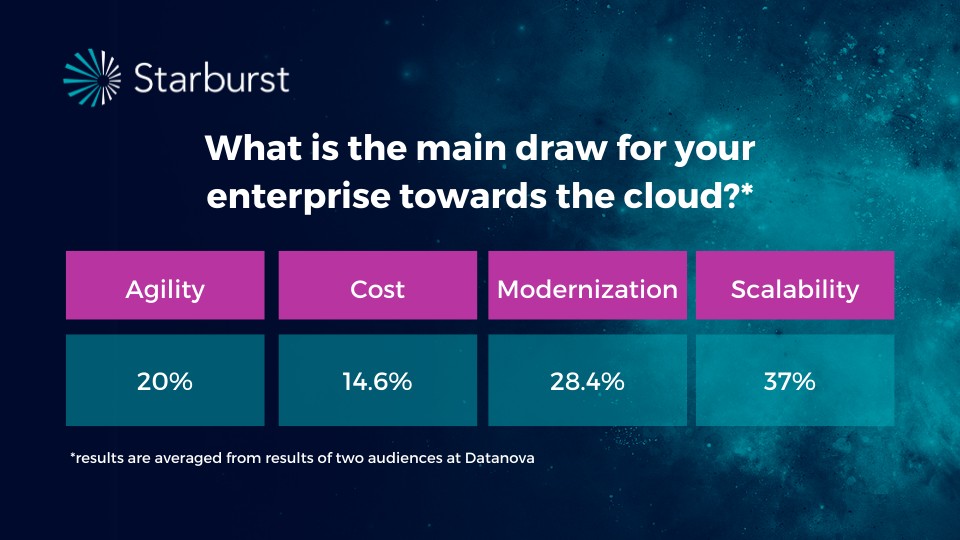 Based on the market research and insights from peers and the community, we've narrowed down the top six reasons for cloud migration:
Long-term cost saving
Maintaining and managing a physical data center can be costly. This is not the case with the cloud. You don't pay for maintenance of the hardware and you don't pay for depreciation. You only pay for what you use. All major clouds offer offers pay-as-you-go pricing which means you're only paying for the resources you're using. You can set up mechanisms to automatically scale with your demand – this is known as autoscaling and it's a huge perk in cloud computing. No more paying for a data center and servers that are just idling.
Elasticity and flexibility
At Datanova 2021, Michelle Ufford, CEO at noteable.io, spoke about her experiences migrating to the cloud. She highlighted elasticity and flexibility as two draws towards the process. "You can more easily experiment with new technologies, you can spin up new clusters," she said. "We actually had some privacy data get into our systems that we had not planned. And typically removing it would have been an enormous undertaking. What we were able to do instead is spin up a completely brand new cluster and have that running, and as soon as that was done, tear it down, and it became really a transparent process that did not affect users and did not really affect our primary production environment at all. Had we been on-­prem, that would have not been possible at all!". The environment of the cloud provided a very elastic and flexible space for Ufford's team to manage that hiccup.
Empower the end-users
Ivan Black, Director at FINRA, highlighted how cloud computing empowered his data analysts and end-users. "Now we really are able to empower end ­users, both in terms of the hardware that they're able to provision, but also in terms of the tools that we're able to give them access to, again, because it's all automated," he said at Datanova. "Now it's easy for them to just say, 'Hey, give me this, this will solve my problem.' We really have seen significant improvement as a result." Ivan also elaborated how his team was able to cut down analysis time by a third by moving from on-premises to the cloud.
Enhanced security
Many studies have proven that data stored in the cloud is significantly more secure compared to data kept on-premise. Today, cloud vendors are known to be experts in data security and secure data proactively by updating their offerings regularly, routinely improving the capabilities of their platforms. Moreover, the cloud offers better control over data accessibility and availability, allowing only authorized users access to data for a more streamlined and secure experience.
Multi-cloud flexibility
The number one criteria respondents of our market research looking for in cloud data storage was the flexibility to access data from multiple clouds. Vendor lock-in is a common plight for data teams, both on-prem and in the cloud. Being proactive to choose a platform that allows for flexibility before you migrate eliminates that risk.
If you're stuck with your current on-prem vendor, Starburst Enterprise can reach your data anywhere, wherever it lives. Starburst Enterprise can query low-cost, data lake storage at a petabyte-scale. This allows more flexibility in determining where your data is stored. With the ability to query across different platforms, choosing the lowest cost storage option future-proofs your architecture avoiding vendor "lock-in" and the associated pains.
Earlier in 2021, Starburst Enterprise added a new capability called Starburst Stargate. It enables organizations to run cross-cloud analytics on data distributed across the globe. Multiple Starburst Enterprise clusters can now query each other and access the data locally, wherever it is stored. Stargate enables compliance with global data sovereignty regulations, allowing you to analyze data residing across borders without moving it.
Scalability
Scalability can be defined as the ability to increase or diminish resources to meet business demands in an efficient way. When your data storage is constrained physically, you're restricted in how you can scale your environment to meet the demands of your business. With the cloud, you remove this limitation from the physical size of your server environment. You can start small and support the growth of your business over time – without any interruption of business flow or risk for expensive, unplanned changes.
How Starburst can help
Migrating data sources behind analytical systems such as from a data warehouse to a cloud data lake is an arduous task. Data needs to be migrated from one source system to somewhere else with minimal interruption for the end-users. For cloud migration, this is often moving data from an on-premises data warehouse to a data lake strategy on cloud object storage. Often this can require multiple stages, coordination over many users, querying multiple systems in order to access all data, accuracy issues, and significant efforts by you to manage many moving parts.
Starburst Enterprise can alleviate the issues of data migrations by immediately acting as a single point of access. This single point of access allows for the underlying data locations, formats, and technologies to change without the users needing to be aware. You can concentrate on moving the data and users can get fast, reliable, accurate, and timely data. And with cloud migration, Starburst is central to your data lake strategy.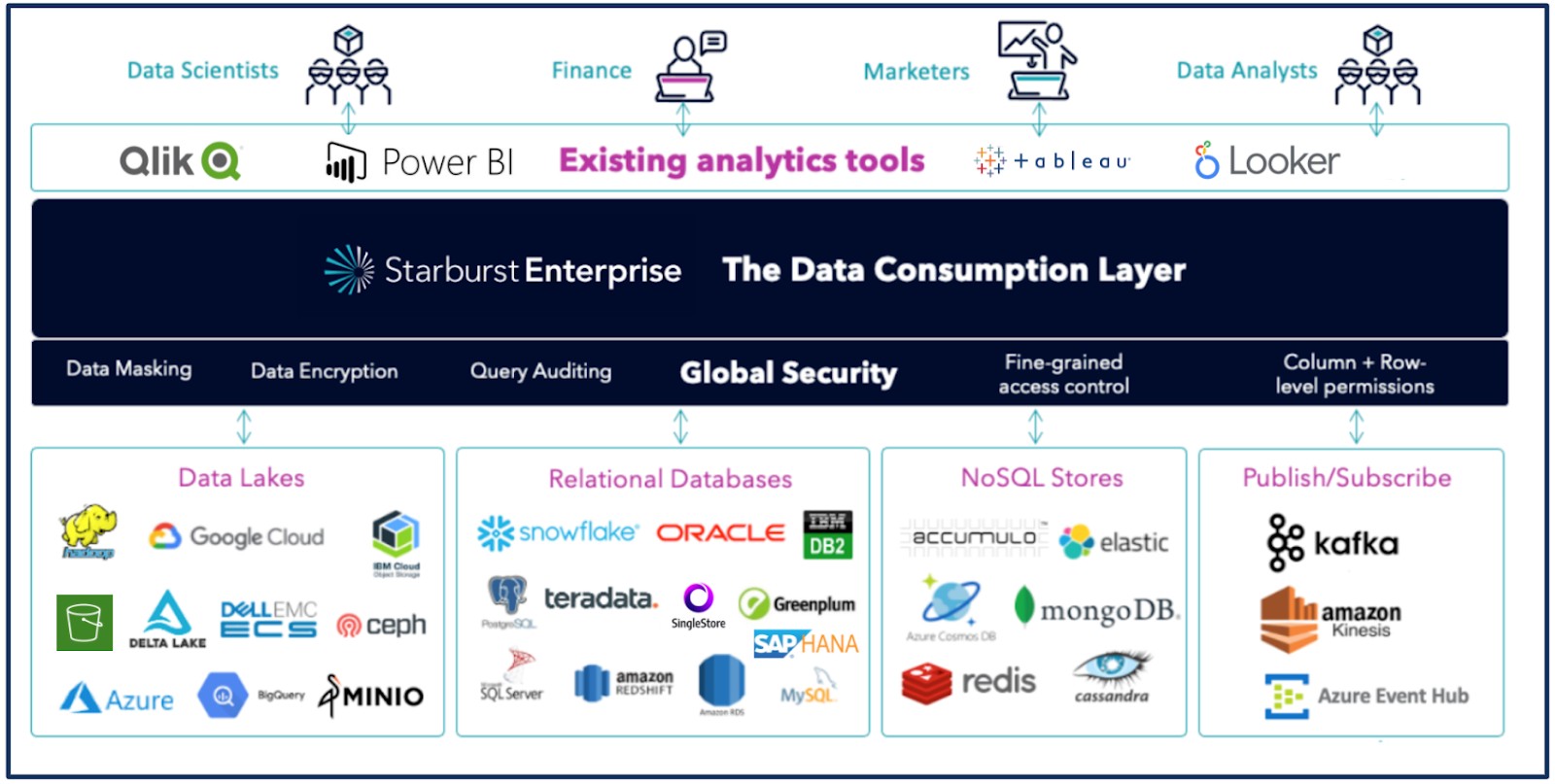 To learn more about Starburst Enterprise, click here.