While there are many sources of knowledge about Data Mesh in the zeitgeist, sometimes you just need the basic questions answered in plain language. For this reason, my colleagues and I wrote Data Mesh For Dummies. No, we don't think you are a dummy! But sometimes it helps to boil a complex topic like Data Mesh down to its core and really understand what is driving this change in strategy across organizations.
Download your complimentary copy of Data Mesh For Dummies now!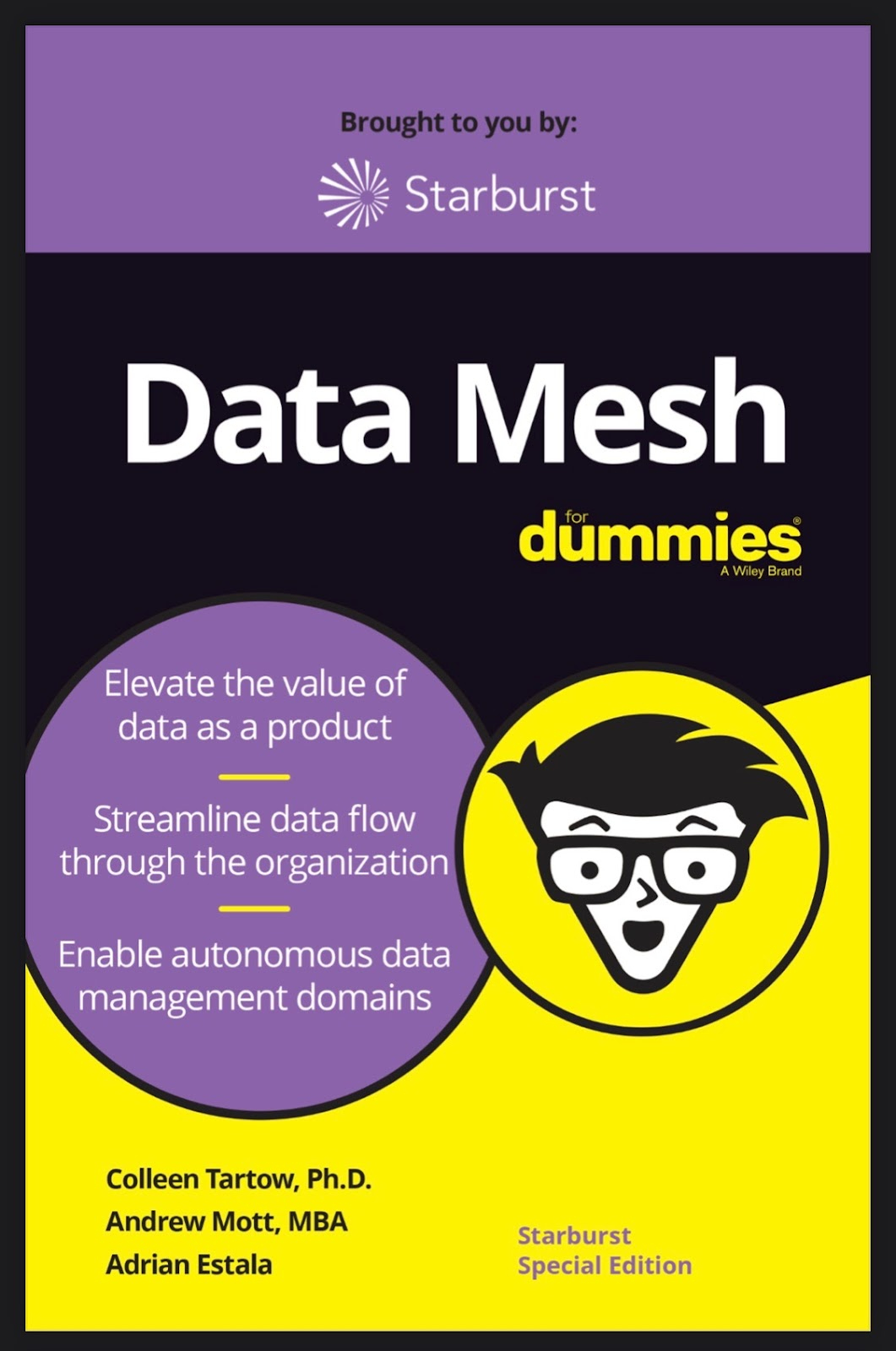 Why did we write this?
My co-authors and I spend a lot of time thinking about data management, and lately that means we've been talking about Data Mesh, and the implications of organizations adopting it. We willingly jump on calls at all hours to discuss the finer points of how to treat data as a product, or how to organize and rally people within an organization around a decentralized data strategy. What can I say? We're super cool!
The idea of decentralized data management resonates strongly with each of us, based on our unique experiences. I have run centralized data and analytics organizations and experienced the dichotomy between being data-driven and the bottleneck created by a centralized data strategy. Andy Mott has worked with some of the largest organizations in the world across industries, and has seen first-hand the challenges of a purely vendor-driven centralized data strategy, along with the impacts that can have on the organization attempting to derive value from their investment in data. Adrian Estala has been the driver behind digital transformation at the largest scales, and deeply understands the value of an intentional, proactive data strategy.
Data Mesh is here to stay
Over the past few years there's been a large amount of hype in the data world around Data Mesh. Zhamak Dehgani's 2019 introduction of the concept clearly sparked the community because it addresses the pains that everyone has experienced in the data world. Organizations struggle to extract value from data reliably and in a timely fashion, and while it's easy to embrace being data-driven at a high level, it's harder to actually know how to act on that declaration — particularly when data is growing exponentially and when you're faced with both internal and external stimuli. Data Mesh provides a framework for the organizational, architectural, and strategic aspects of that journey towards being data-driven.
Starburst and Data Mesh
As Data Mesh has become more well-known, there will no doubt be various ideas, opinions and processes that pop up as organizations evolve and mature on their Data Mesh journeys. We here at Starburst also have our own thoughts on Data Mesh, because we are all about shortening the path between data and business value. We ultimately want to help our customers advance their data strategy and solve the problems of their business with data. Wherever you are on your Data Mesh journey, we can work with you to get value from data at any scale.
Read the book!
To get your free copy of Data Mesh For Dummies, click here! Whether you are new to Data Mesh or have already begun your journey, we'd love to hear from you. This is an exciting time in the world of data, as we evolve our thinking around data management and organizations to handle the exponential growth of data, and ensure that data drives our businesses. We hope you read the book and connect with us to let us know what you think!