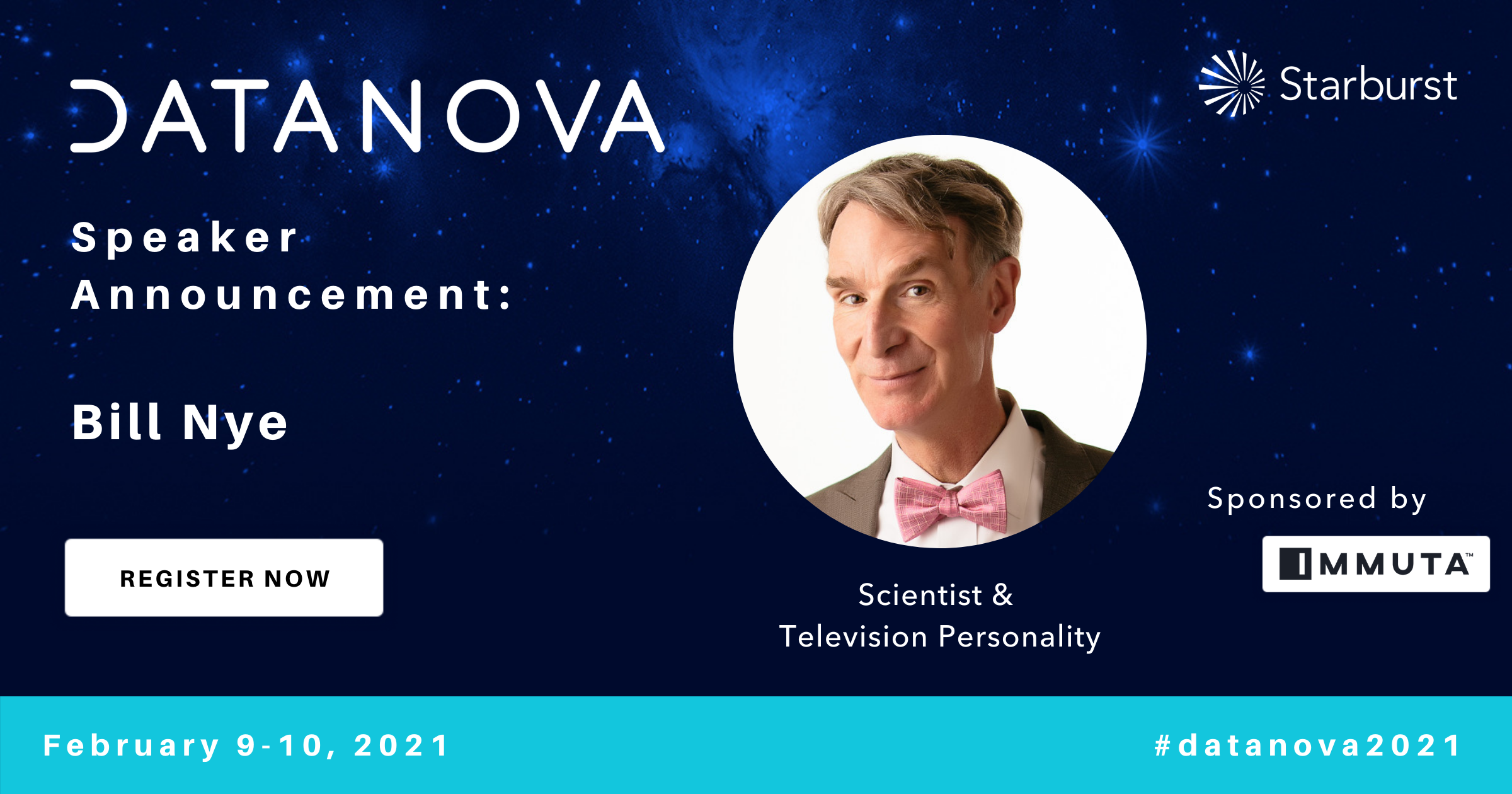 Our two-day virtual conference, Datanova, is going to focus on some of the most challenging aspects of managing data at scale, and we're putting together content for everyone inside the data team. We could go on and on about why you should attend, regardless of where you operate within your organization, but we've broken that extensive list down into the 6 top reasons. The first?
Bill Nye is our keynote speaker!
We're very excited to host the famed science guy, who is the author of numerous bestselling books, including Bill Nye's Great Big World of Science, the host of Bill Nye Saves the World and Bill Nye the Science Guy, and the CEO of the Planetary Society. (I'm sure at least a few of our readers out there are members, but for those of you who have not signed up, the Planetary Society is the world's largest nonprofit space advocacy group.) Some of you might have watched his show as kids. If you have kids today, their science teachers are probably pulling up his old videos from the 1990s on Netflix. The jokes are old, but the science hasn't aged.
So why is he coming to Datanova? Along with continuing his work as a science educator, Bill has been busy taking on some of the biggest challenges facing our world today, including climate change, water scarcity, and more. In doing so, he's become an expert on how people and organizations solve big problems. As the CEO for the Planetary Society, for example, Bill is spearheading a project that aims to use tiny spacecraft to swarm around an asteroid, shoot it with lasers, and nudge it off course. If it works, and if we ever spot a threatening asteroid headed our way, these laser bees could be deployed to…wait for it…save the world.
He might not work in the data analytics world, but Bill understands how to approach and solve massive problems. And that's our business, isn't it? Naturally, we won't stick entirely to asteroids and problem solving. A few lucky attendees will also get the chance to ask Bill a question directly.
This is sure to be a fascinating and fun keynote and follow-on conversation, so register for Datanova 2021 today.
{{cta('8337e2cb-ac13-4777-90b6-26afe71dd109′,'justifycenter')}}