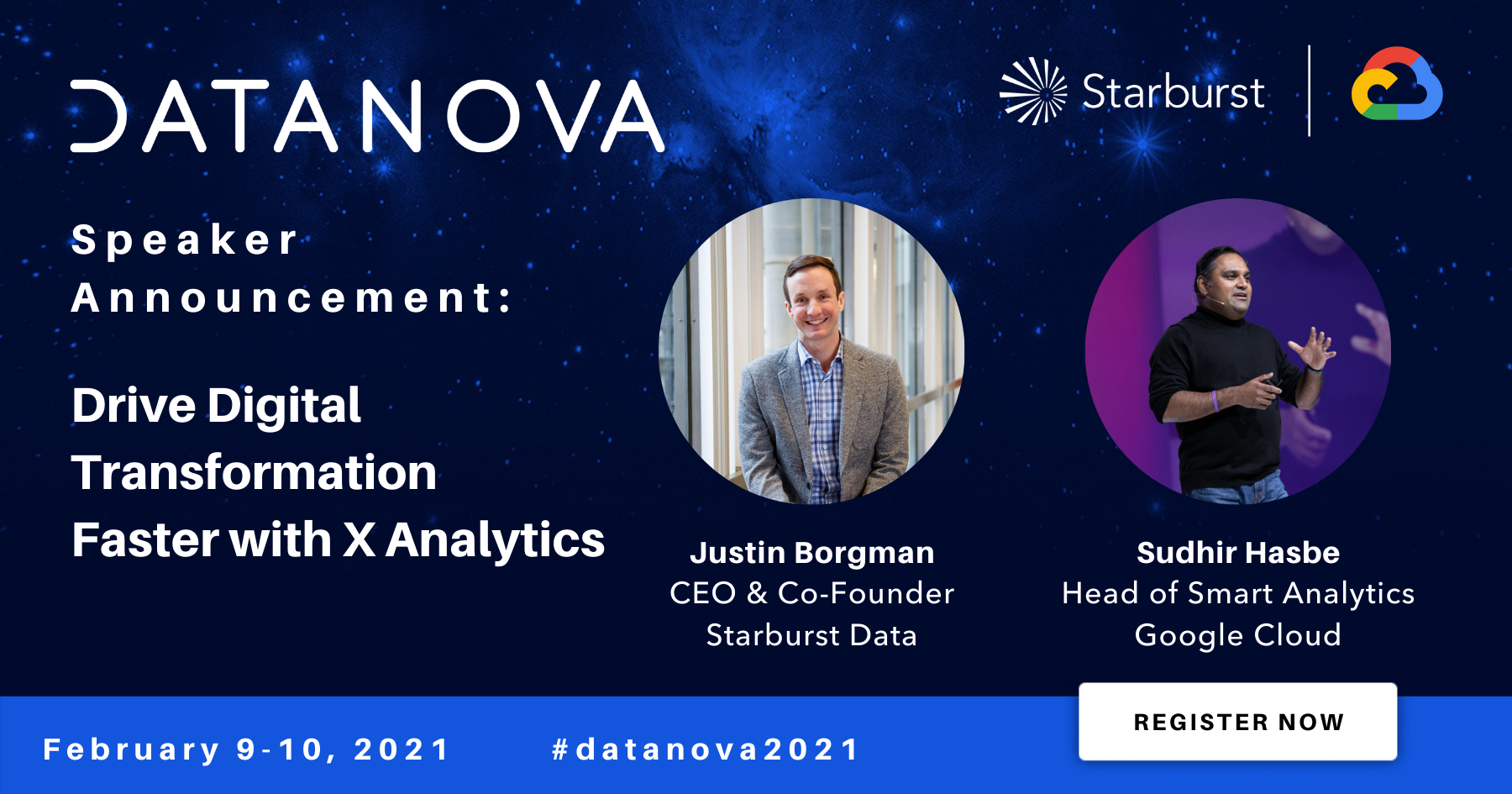 Our Datanova 2021 two-day virtual event is open to any and all professionals interested in unlocking the value of all their data, no matter where it lives. We'll have tracks for data leaders, engineers, and consumers, and we've also selected the top 6 reasons we think you should attend. We've already reviewed the first two in previous posts, and our #3 reason is a really interesting presentation by our CEO and co-founder, Justin Borgman. He's going to talk about how to drive your digital transformation faster with X Analytics.
This session, sponsored by Google Cloud and co-presented with Sudhir Hasbe, Head of Smart Analytics at Google Cloud, is fundamentally about how to get more out of your data, but X Analytics is a new and fascinating approach. Gartner developed it as a kind of umbrella term referring to the ability to conduct analytics on a wider range of structured and unstructured data, including both new and older or core data. X Analytics is all about quickly analyzing any data, no matter where or in what format the data resides – and doing so at scale, with the kind of performance and security that enterprises deserve.
In today's uncertain economy, this capability is more important than ever. Consumer and organizational behavior patterns have changed completely since the start of the pandemic, and the businesses that find a way to efficiently mine all of their data for insights will be better suited to adapt, evolve, and thrive. X Analytics is an essential capability for large organizations right now, and Justin's talk will detail what it is, who's using it today, and the architecture you need to support it. Find out how business intelligence teams and data scientists are using X Analytics to understand how behavior is changing, what patterns have stuck, and how they are capitalizing on these insights to drive new business.
Learn more by registering for Datanova 2021 today. X Analytics is just one of many fascinating topics we will cover over the two days. You'll also get the chance to find out how Bill Nye, our keynote speaker, plans to save the world, listen to a great expert debate, and have the opportunity to attend some great technology deep dives. Plus, you can join us for all of this from the comfort of your home office!