I'm excited to officially announce Starburst's inaugural industry conference Datanova, a virtual two-day experience designed to help companies unlock the value of all their data!
Join thousands of your peers (virtually, of course) for exclusive talks, trainings, and free trials focused around helping you make faster and better decisions based on all of your data, no matter where it lives. We're working hard to create a unique content experience for all data enthusiasts, featuring talks and sessions you can't experience anywhere else. You'll learn how your peers are navigating COVID-19 shifts to their data strategy, what to watch out for in your cloud migration journey, and how to become indifferent to new compliance requirements with the right data governance strategy.
Take 1-minute to hear our CEO Justin Borgman's top 3 reasons you should attend:
At Datanova, you'll have access to more than 20 presentations on important industry trends and challenges, 30 speakers, 10 sponsors and something we are incredibly excited about: a keynote from the internationally recognized scientist and television personality Bill Nye!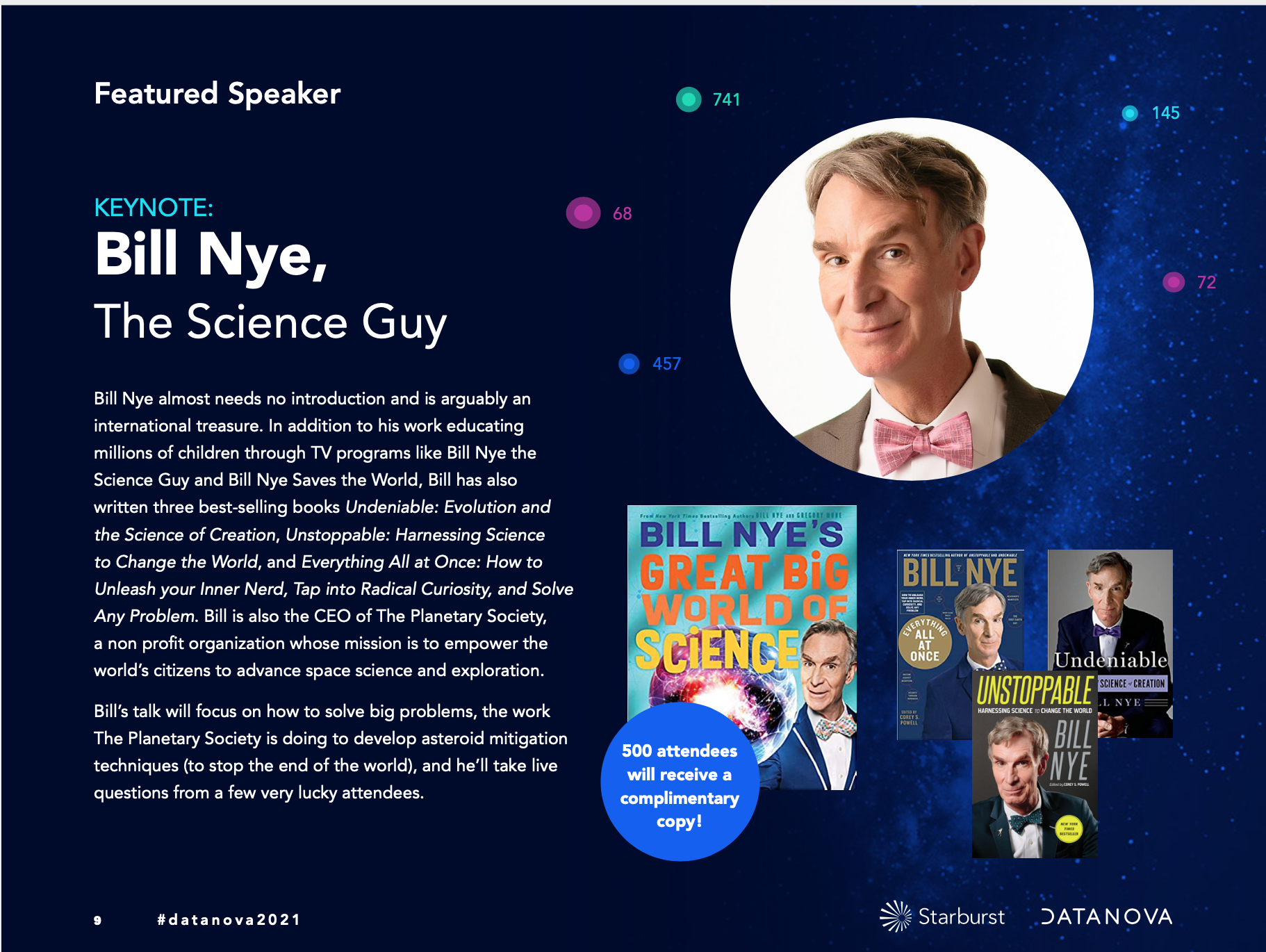 Other notable keynote speakers include our very own Starburst co-founder, CEO, and friend Justin Borgman, who will co-present with Google Cloud on X Analytics and Dave McCrory, VP of Growth, Global Head of Insights and Analytics at Digital Reality on his idea of "Data Gravity."
Starburst's Datanova event is open to all data professionals who are interested in unlocking the value of all their data, no matter where that data lives:
Datanova for Data Leaders: Learn how to make better decisions faster with Starburst + Presto and also hear your peers share lessons learned from cloud migrations as well as an exciting Oxford debate: Warehouse, Lakehouse, or Lake?
Datanova for Data Engineers: Learn how to serve your data consumers faster with Starburst, including advanced Presto + SQL training, and Starburst trials. More details on the technical track coming soon!.
Datanova for Data Consumers: Learn how to accelerate data science and analytics on new data with Presto & SQL. The "Data change management" series will showcase how different companies have adjusted to pandemic-induced shifts to behavioral pattern causing model drift and irrelevance of historical data. Hear from industry experts about the ways they've navigated this time of crisis.