Welcome to day one of Datanova. We have an impressive lineup of speakers today.
Join us throughout the day for live updates on day one of Datanova.
Register now
. It's not too late! 
We're particularly excited about the upcoming keynote with Host of the Pivot Podcast, Kara Swisher and Space Station Chief Scientist at Blue Origin, Tara Ruttley. These amazing rebels will be joining us shortly. 
Soon, we'll find out answers to:
What resources are available on the moon? Who owns the moon? 

We'll be

democratizing data

, but will we be democratizing space? 

When will we all be living on a floating space city? 

Do the benefits outweigh the challenges for life in space? 
To prepare for the upcoming keynote, here's a
space terminology cheat sheet: 
The Karman Line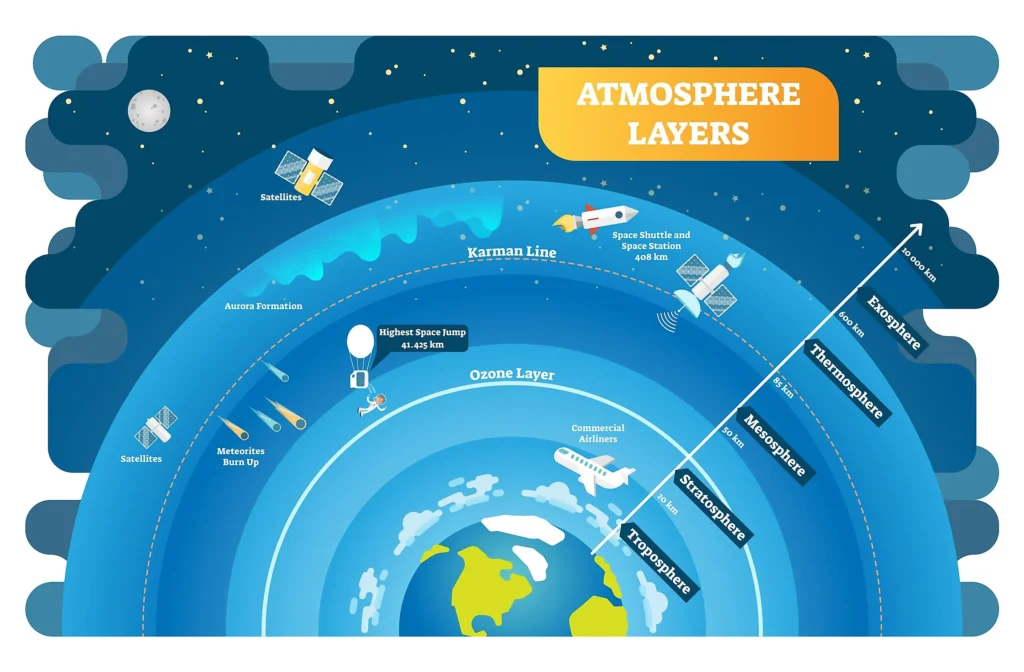 What does it mean to be orbital? Sub-orbital? 
Orbital space flight is incredibly complex and expensive. To orbit 125 miles (200 kilometers) above Earth, a spacecraft must travel at 17,400 mph (28,000 km/h).
Meanwhile, a suborbital rocket doesn't have the power to achieve orbit. A suborbital flight requires a lower speed. Instead, it will fly up to a certain height that depends on its speed, and then come back down once its engines are shut off. To reach 125 miles above Earth, a suborbital vehicle needs to fly at 3,700 mph (6,000 km/h)
Curious with how fast commercial airplanes fly? Commercial airplanes fly at around 575 mph (925 km/h). As fast as that is, it's still not fast enough to fly into space. Read more, from space.com
Parabolic flights
Parabolic flights are partially zero-gravity (Zero-G) flights where specific high-angle maneuvers are performed. Parabolic flights provide a similar zero-gravity feeling that is briefly attained when riding at the top of a rollercoaster. The rider gets a brief sense of weightlessness until gravity takes over.
What is The Artemis Accord?
The Artemis Accords is an agreed upon framework to guide those dedicated to practicing responsible space exploration. Currently, 21 countries have now signed the Accords: Australia, Bahrain, Brazil, Canada, Colombia, France, Israel, Italy, Japan, the Republic of Korea, Luxembourg, Mexico, New Zealand, Poland, Romania, Saudi Arabia, Singapore, Ukraine, the United Arab Emirates, the United Kingdom, and the United States. Read more about it, here. 
Want to be a moon sherpa? You might want to know what a Van Allen radiation belt is. 
It's a zone of highly energetic charged particles trapped at high altitudes in the magnetic field of Earth. Evidence for the radiation belt was first reported in 1958. It was named after space scientist James Van Allen by using data from a cosmic ray detector on the very first NASA mission. 
It's 10:00 am EST and Starburst CMO Jess Iandiorio and EMEA Data Mesh Lead Andy Mott take the stage.
Kara Swisher and Tara Ruttley unplugged: Why is there a space race?
Where does space begin? 
The international space station and experiences available to humans
Purpose-driven private astronauts want contribute to science 
Remember Dennis Anthony Tito? The first paying space tourist who wrote a $20 million check Sounds like there are far more options for private astronauts to explore at the international space station. 

What is it like to be on Mars, space, and what it means to return to Earth?
Spoiler alert: being a human is a problem. 
Is a floating city an option? Afterall, it is not as far as the moon or mars.
Benefits of a floating city
What's happening now: tourism and space-based research
What's the biggest space challenge? 
Educating the world about the treasures of space. In other words, Tara's hiring! 

The data lies (and truths)
If you've been following Starburst Co-founder and CEO Justin Borgman blog series on the data lies, he'll elaborate more on them during his keynote that's happening…now!
Lie 1: You need to centralize your data. 

Lie 2: The modern data stack is modern. 

Lie 3: You're ready for the AI + ML deep end. via new BCG study: 

"Only 54% of managers believe that their company's AI initiatives create tangible business value." 

Lie 4: You need to hire to close the skills gap.

Lie 5: Vendor benchmarks measure real-world performance. 
Starburst product vision
For more information about our upcoming platform features, click here.
Data Mesh 2033: what happened? — moderated by Rob Toro of Slalom
Dileep Pournami at NatWest on how the platform owner/lead role will evolve with data mesh
Bryan Aller at Comcast on what data products mean with a data mesh — afterall, the concept of a data product isn't new
Sachin Menon at Priceline on governance
Justin Borgman moderates a panel with:
Jay McCowen, Head of Enterprise Independent Testing Technology at Bank of America

Jos Stoop, Enterprise Data Analytics Environment Leader at Wells Fargo

Chaitanya Geddam, Managing Director, Head of Cloud First, Data & AI at Accenture
How data analytics is transforming the industry: 
Jay: He's in the risk management space(ie. anti-money laundering) and vital to quantify operational risk. Prove in a quantifiable way if the processes are under control and simultaneously solve for regulatory risk and operational risk. 
Jos: Essential to bring analytics to the end users, especially ad-hoc questions. Self-service is an important part. 
Chaitanya: Fraud claims happen everyday, every minute. Bring in the right models to understand what's happening, especially with real-time analytics. 
Methodology: A New Architecture to Manage Data Costs and Complexity 
5 Key Lessons
Teaching data engineers to be curious
Rich Teachout, Chief Technology Officer at El Toro offers some amazing hot tips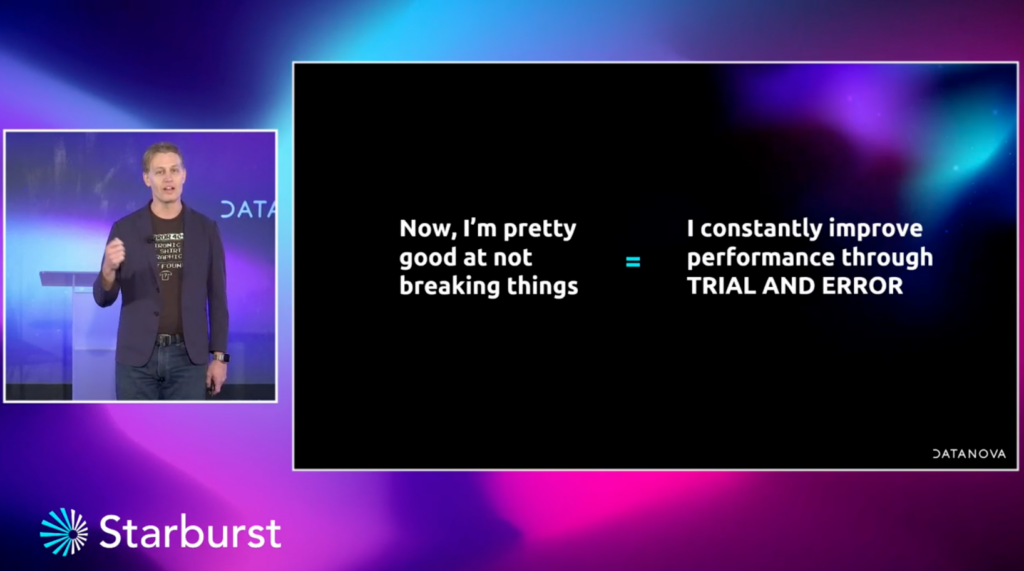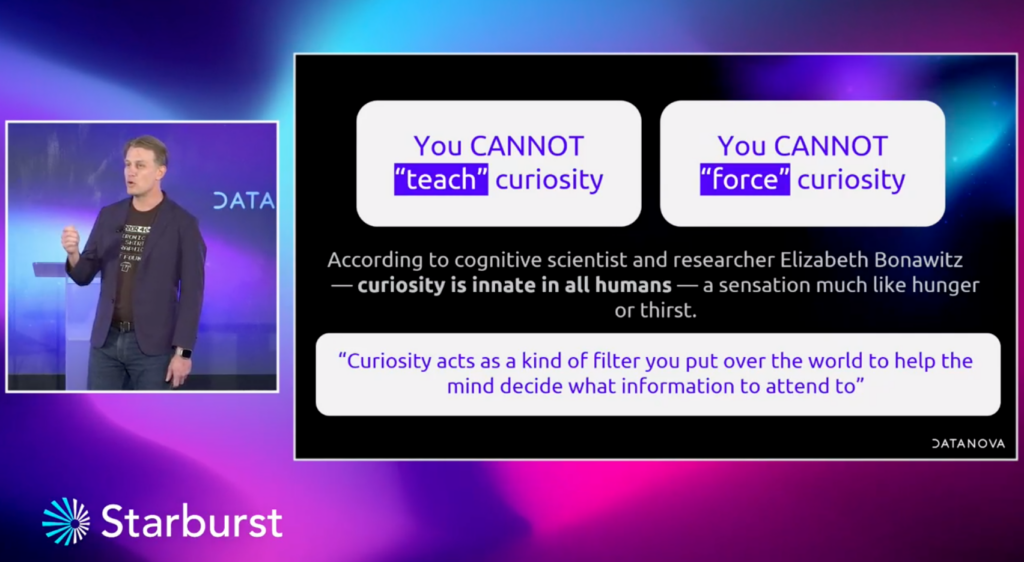 Rich: Hackathons are great for innovation and training,  but more training than innovation.
Building data products requires a rethink (And a holistic approach)
Sanjeev Mohan, Principal at SanjMo and Sajid Khan, Principal at Deloitte deliver an amazing session going beyond data mesh. Check out Sanjeev's latest blog on data products.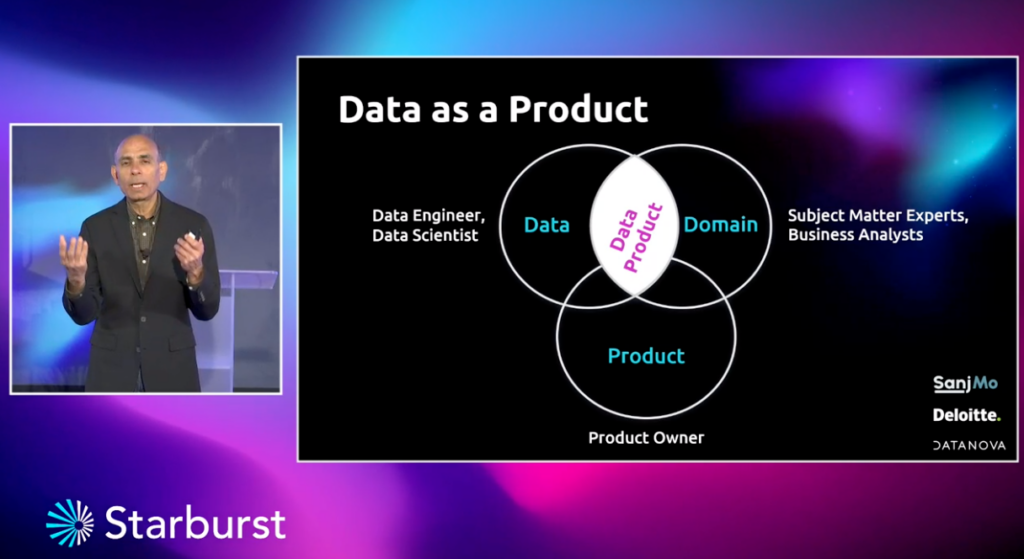 Sanjeev: Instead of ETL, let's Extract Transform and Product it…In fact, you don't have to do a data mesh if you're a smaller organization. You can focus on data products.
He offers a shoutout to Zhamak's(NextData) Data Mesh book. Download her book, for free, here.
Sajid: There are some organizations that are optimized for extracting value from data products now, such as regulated organizations such as healthcare and financial services.
Sanjeev: An amazing time of our lives building data products!
Green Big Data: How can your data strategy protect the environment (And help you hit ESG goals)?
Dan O'Riordan, Vice President, Global Head of I&D Platform AI Engineering at Capgemini offers organizations a warning and/or a head start on how difficult it will be to use data to meet ESG goals.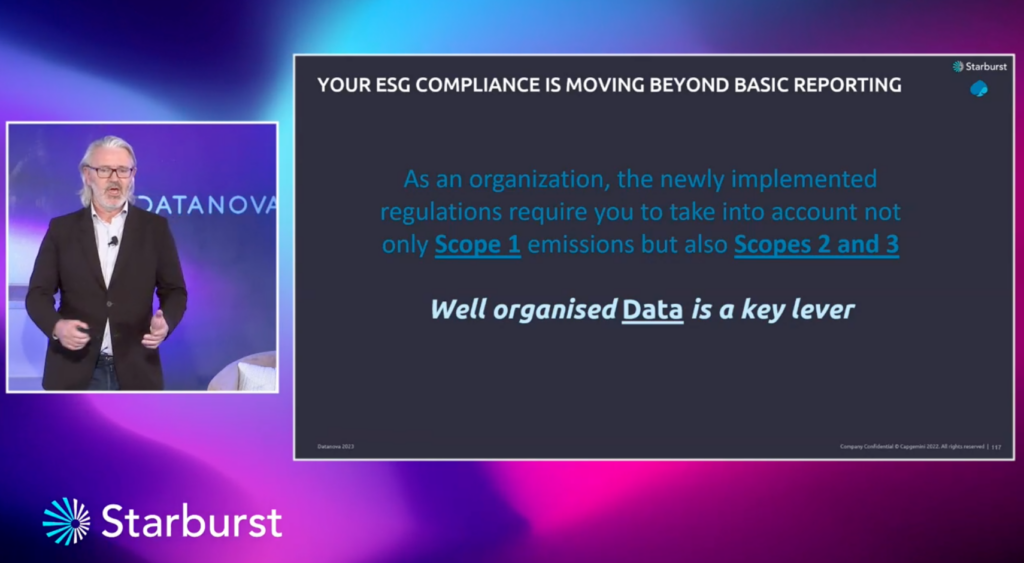 Only when I came across Starburst that I'm able to show my clients how to build data products for ESG.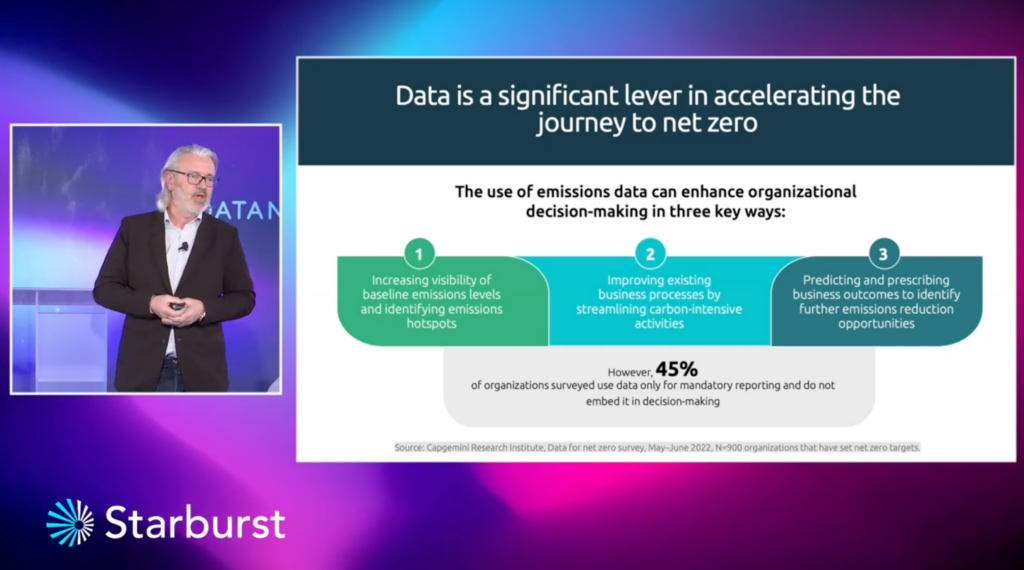 Aww. Thanks, Dan!
Dan: are your partners as organized as you?
How data leaders are closing the gap between Data Management & Analytics
Listen to this amazing session with #womenintech:
Michelle Boston, Managing Director of Data Management Technology

Amy Avery, Senior Vice President and Head of Analytics, Research & Insights, 

Cindi Howson, host of The Data Chief Podcast and CDSO at ThoughtSpot. 
Accelerate your time to value in a multicloud world
Justin Borgman and Greg Findlen, Senior VP – Emerging Products at DELL dialogue on our new partnership. 
Data Disrupted: A fireside chat
Martin Casado on the Unified Data Infrastructure
Architecture can reflect organizational structures
With data mesh, you don't have to adopt a modern data stack 
2023 predictions

Data Rebel Awards
Chief Data Officer of the Year
Caroline Chung, Chief Data Officer at MD Anderson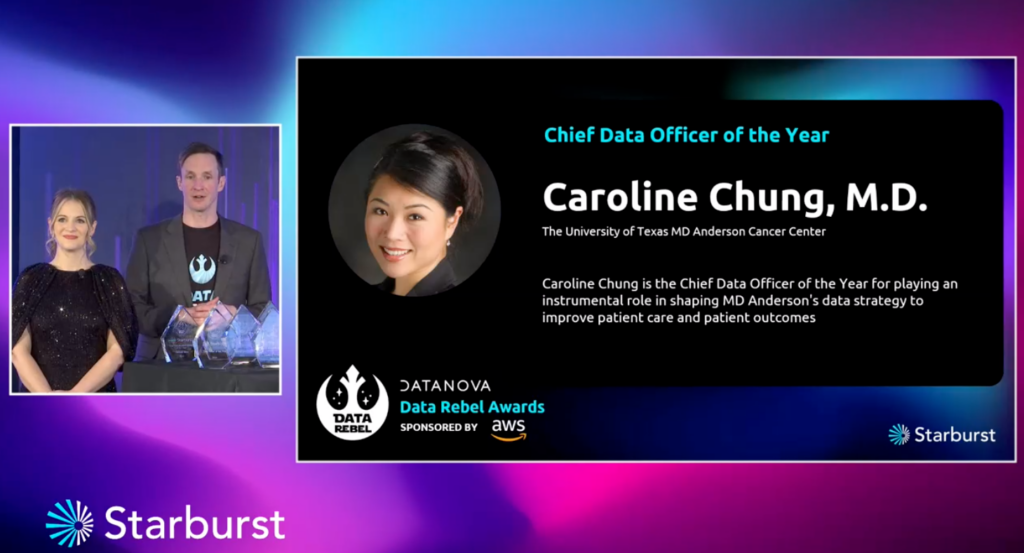 Analytics Leader of the Year
Sol Rashidi, Chief Analytics Officer at Estée Lauder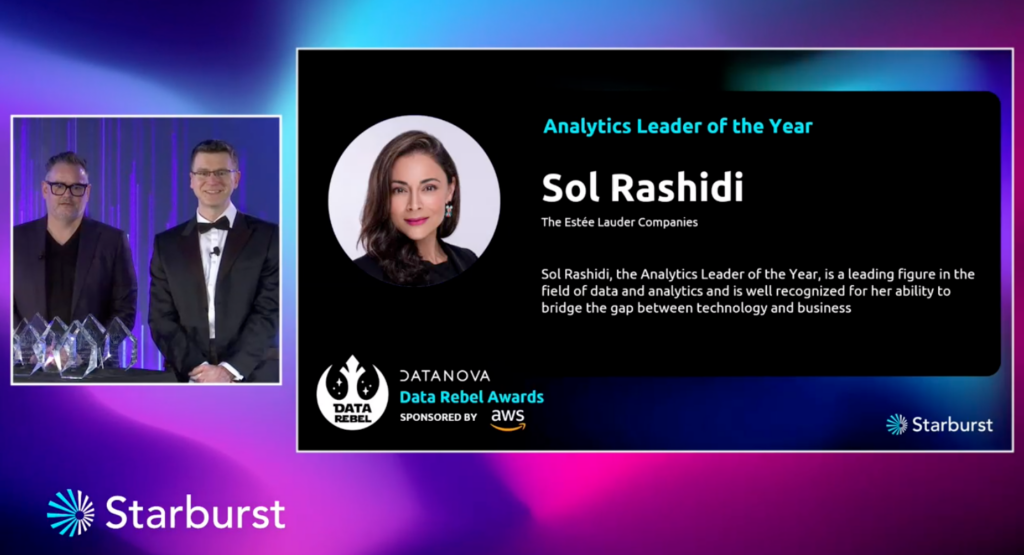 Data Analyst Enabler of the Year
Saurav Verma, Engineering Manager at Unity Data Ads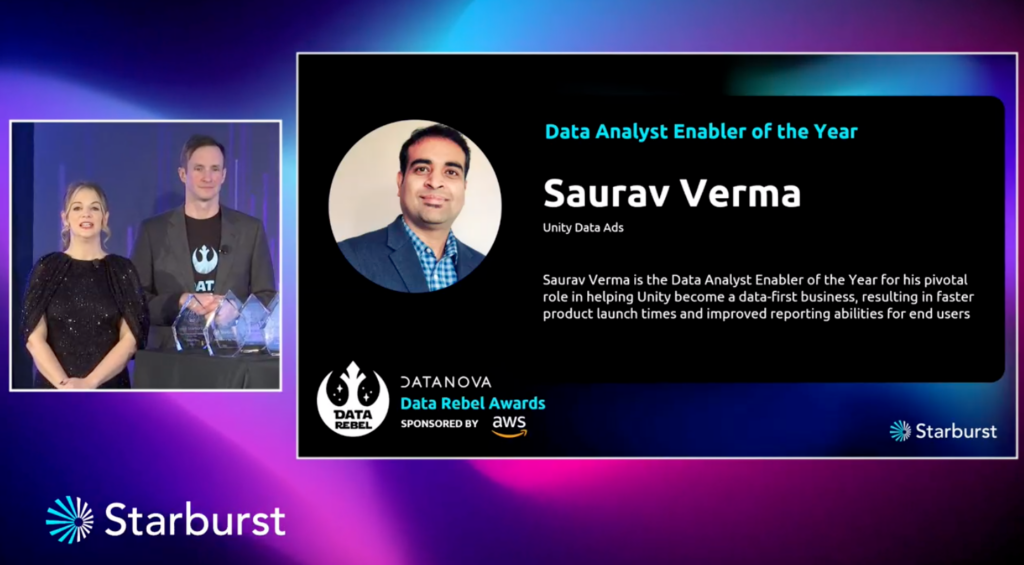 Data Architect of the Year
Sajumon Joseph, Senior Principal Architect at Comcast
Data Engineer of the Year
Benjamin Jeter, Data Architect at Datto 
Data Scientist of the Year
Andrea Pisoni, Head of Data at OCBC Bank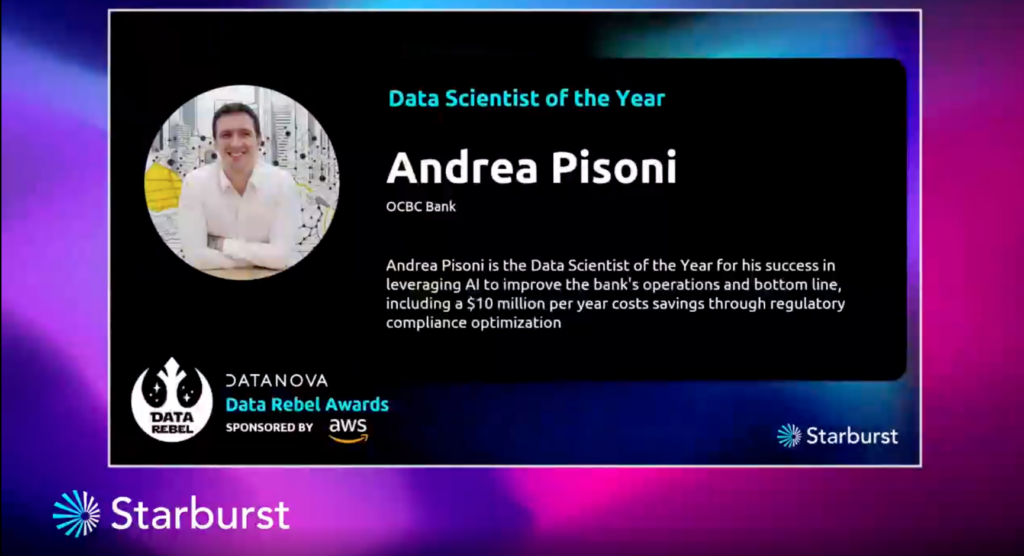 Change Maker of the Year
Richard Jarvis, CTO at EMIS Health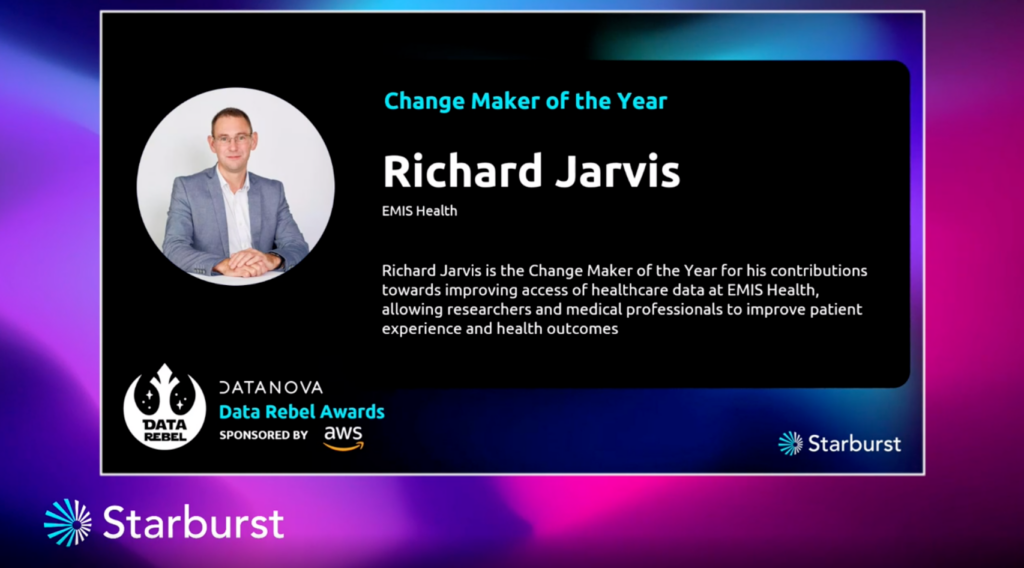 Data Virtualization Solution of the Year
Venkata Bitra, Platform Owner at Société Générale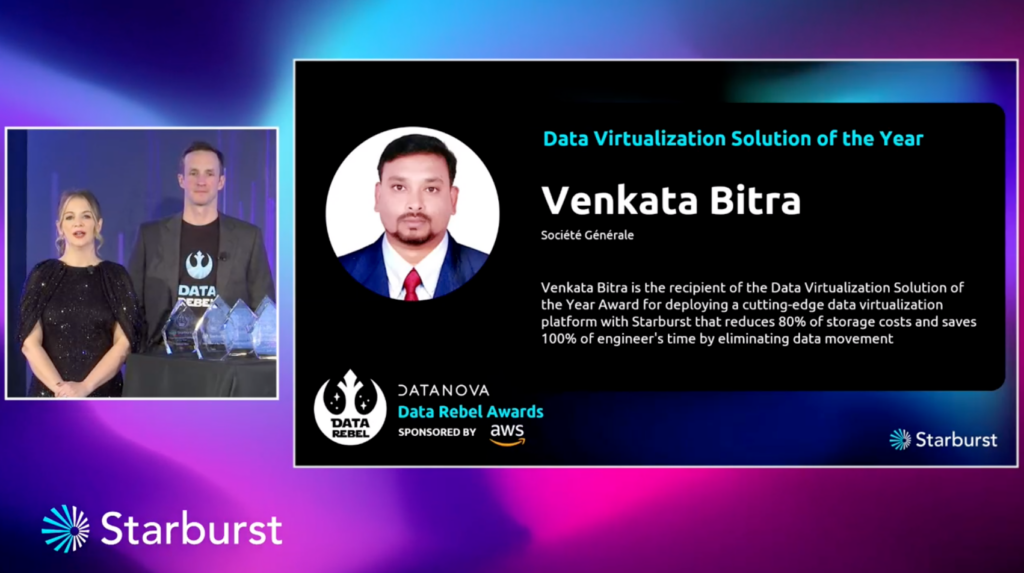 Global Analytics Strategy of the Year
Ludovic Staehli, Senior Data Engineer at SOPHiA GENETICS
Data Lakehouse of the Year
Andre Gortari and the core engineering team, Banco Inter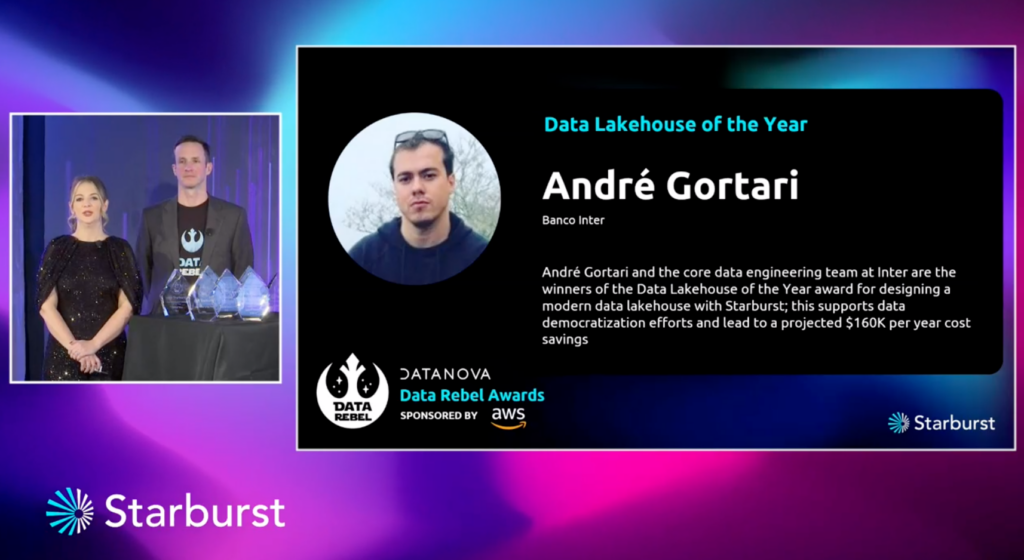 Data Product of the Year
Pankaj Yawale, Director of Data Architecture at ZoomInfo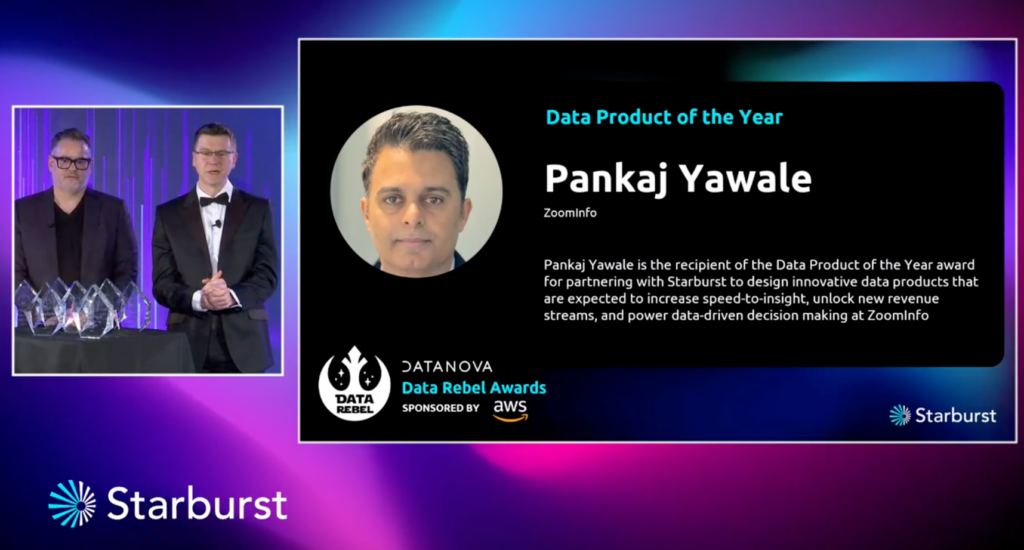 Data Mesh of the Year
Murali Vridhachalam, Enterprise Data & Analytics team, Gilead Sciences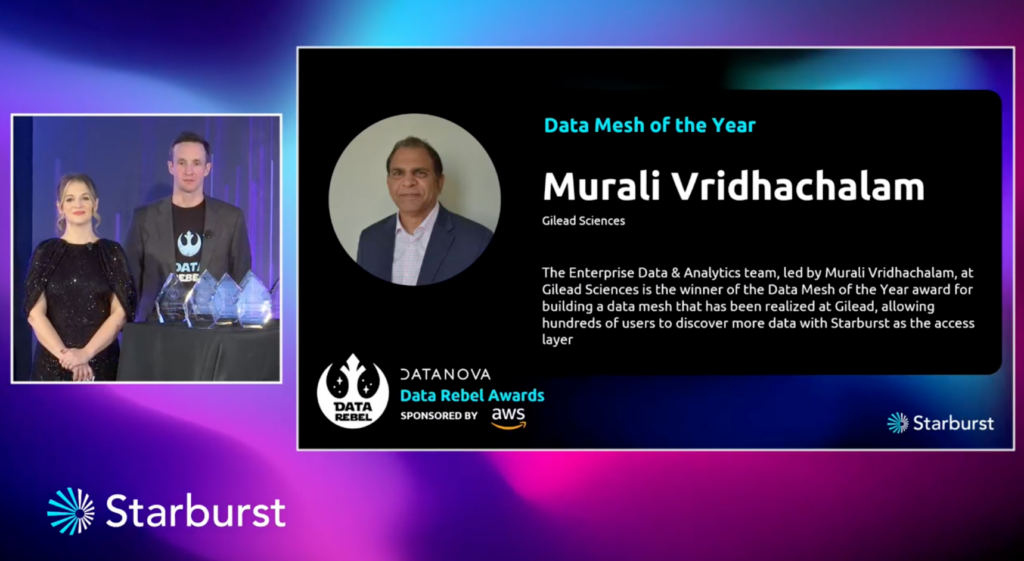 Data Rebel of the Year
Chandrasekhar Vemuri, Platform Engineer at Bank of America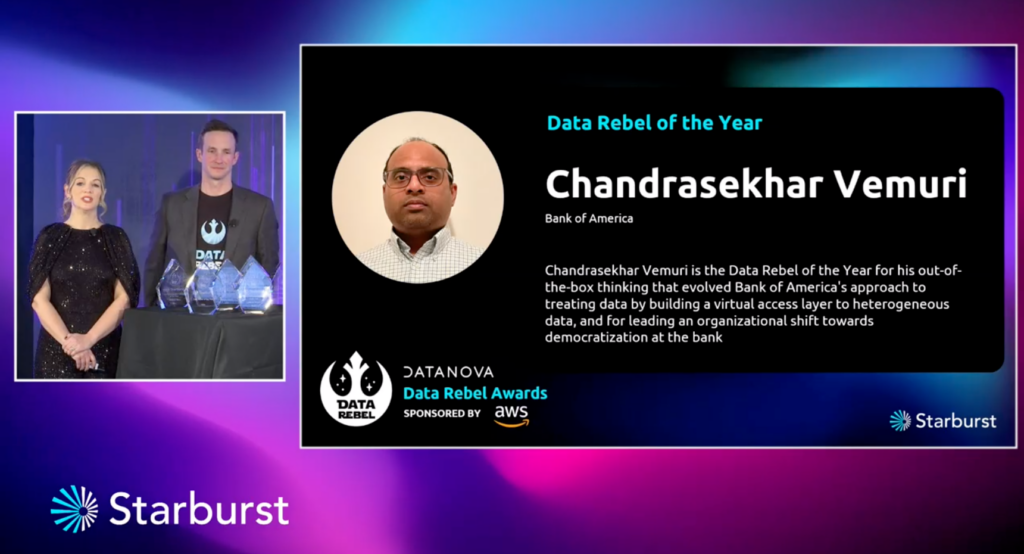 Consulting Partners of the Year: Accenture, Deloitte, Slalom, Capgemini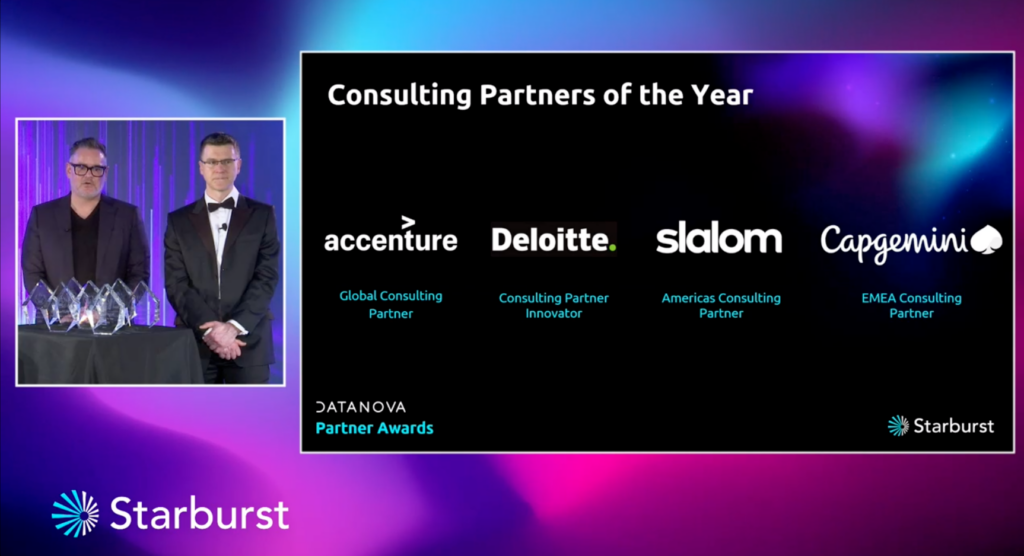 Technology Partners of the Year: Red Hat, tableau, tackle, KOMTAS, Bundle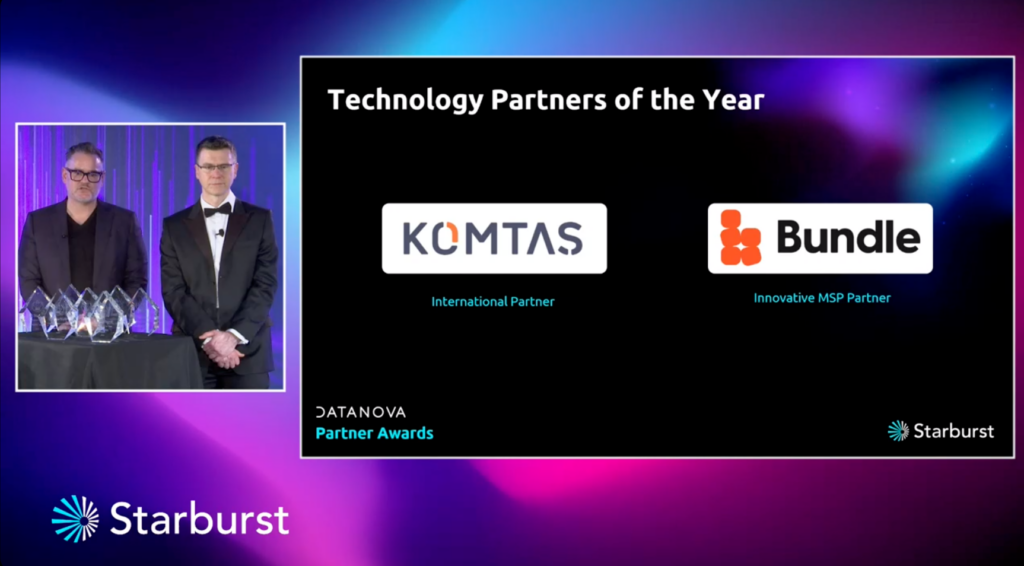 Cloud Partners of the Year: AWS, Microsoft, Google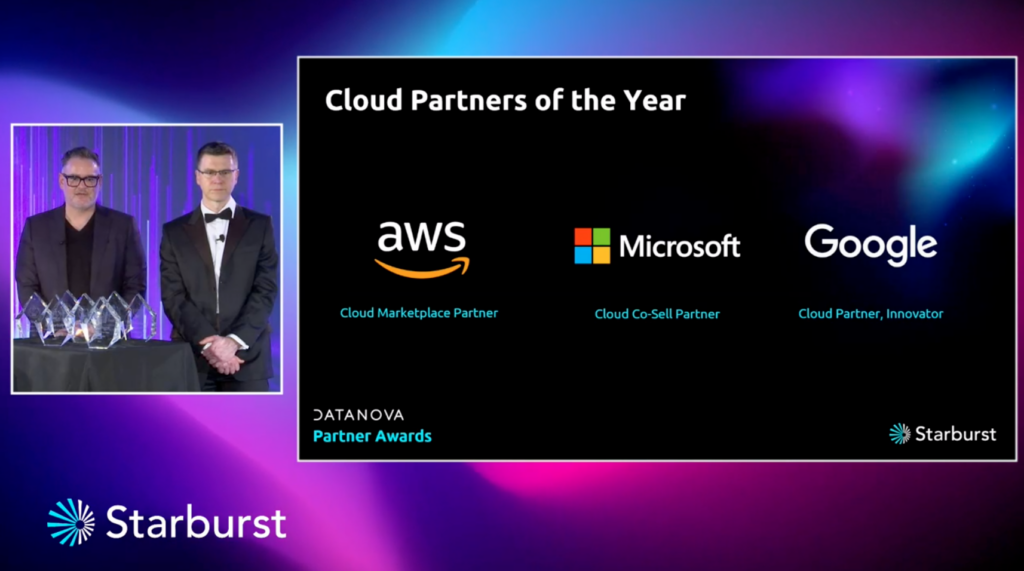 Register for day two of Datanova
Today was a fun-filled day packed with surprises and insights. Join us again tomorrow. Same time. Same channel. Register now if you want to create new memories with us.