As Data Mesh early adopters have gained momentum within their respective organizations and moved beyond what Data Mesh is, now the question that's asked the most is: "How do I execute on Data Mesh?" Zhamak answered that question at the most recent Datanova: The Data Mesh Summit. But before we answer that, we need to determine if Data Mesh is right for your organization. Are you really ready to adopt Data Mesh today?
For a more critical analysis, Zhamak has introduced a spider chart in her book that could help you answer that fundamental question of when you're ready to adopt Data Mesh. Let's go through the eight considerations below.
#1 Organizational complexity that justifies the technical complexity
As you embark on your Data Mesh journey, first and foremost, you need to have organizational complexity that justifies the technical complexity that you are going to put in place. Many today are faced with a data-generating climate that stems from a proliferation of sources, different domains, and touchpoints. Ultimately, to justify a decentralized data sharing model, you'll need data-driven aspirations along with organizational complexity, growth, domains, and partners.
#2 Optimized processes and experiences with a data-oriented strategy
The truth is that if your aspirations around data are to gain visibility, say, for business sales and marketing KPIs, Data Mesh isn't for you. However, if your aspirations with every business unit — big, medium, and small — are to use data to enhance the experience or to optimize the processes that you have, as well as a data strategy based on data and ML, then you should be looking into Data Mesh.
#3 Executive support for Data Mesh
Data Mesh is not a bottom-up approach. It requires a certain level of organizational and executive support from top down to get the organization through very difficult choices in order to make the transformation towards Data Mesh.
You'll have to answer challenging dilemmas along the way that will require executive discernment, such as: Should you take shortcuts to get a solution out the door? Which platforms do you invest in or use what you currently have?
#4 Technical capabilities to confront complex situations
Even though Data Mesh is mostly about human interactions, ownership, accountability, and the experience of users, we still have to confront very difficult technical questions.
They are questions such as: How do I share data in a distributed fashion and not compromise security? How do I run large-scale analytical workloads with distributed data? These are very challenging technical questions that organizations have to answer if they want to execute on Data Mesh. If your organization does not have the technical capability to experiment and align on a technology solution that serves the foundation of Data Mesh, perhaps it's not the right time.
#5 An appetite for risk
Right now, we are in the early stages of adopting Data Mesh, so there should be an appetite within your organization to take risks and adopt an emergent technology. If your organization lean towards the laggard and would like a proven track record as well as a myriad of use cases, perhaps wait a couple of years before you adopt Data Mesh.
#6 Modern engineering practices
Data Mesh is founded on modern engineering practices of automation, continuous delivery, and DevOps — non-negotiable aspects of the technology that will be required to support domain-oriented data sharing. Ascertaining those engineering practices exist within your organization is a must-have.
#7 Domain-oriented organization
Overall, if you have an approach that's working for you, say, your organization is not domain oriented and has centralized IT with fungible resources that are implemented alongside various projects, then it might not be the right time to adopt Data Mesh.
Data Mesh expects technical alignment with the business and data around the domains. This foundation creates a scaled out architecture and organizational model that expands, in parallel, with the organization.
# 8 Long-term commitment to digital transformation
And finally, Data Mesh is not a one, two or three-time project that you do. Many organizations that have found success with Data Mesh, integrate it with their long­ term digital transformational journey. Data Mesh requires a long term commitment: a long term ownership of the data platform as well as a long term investment in data ownership by its domains.
Upcoming: Data Mesh execution model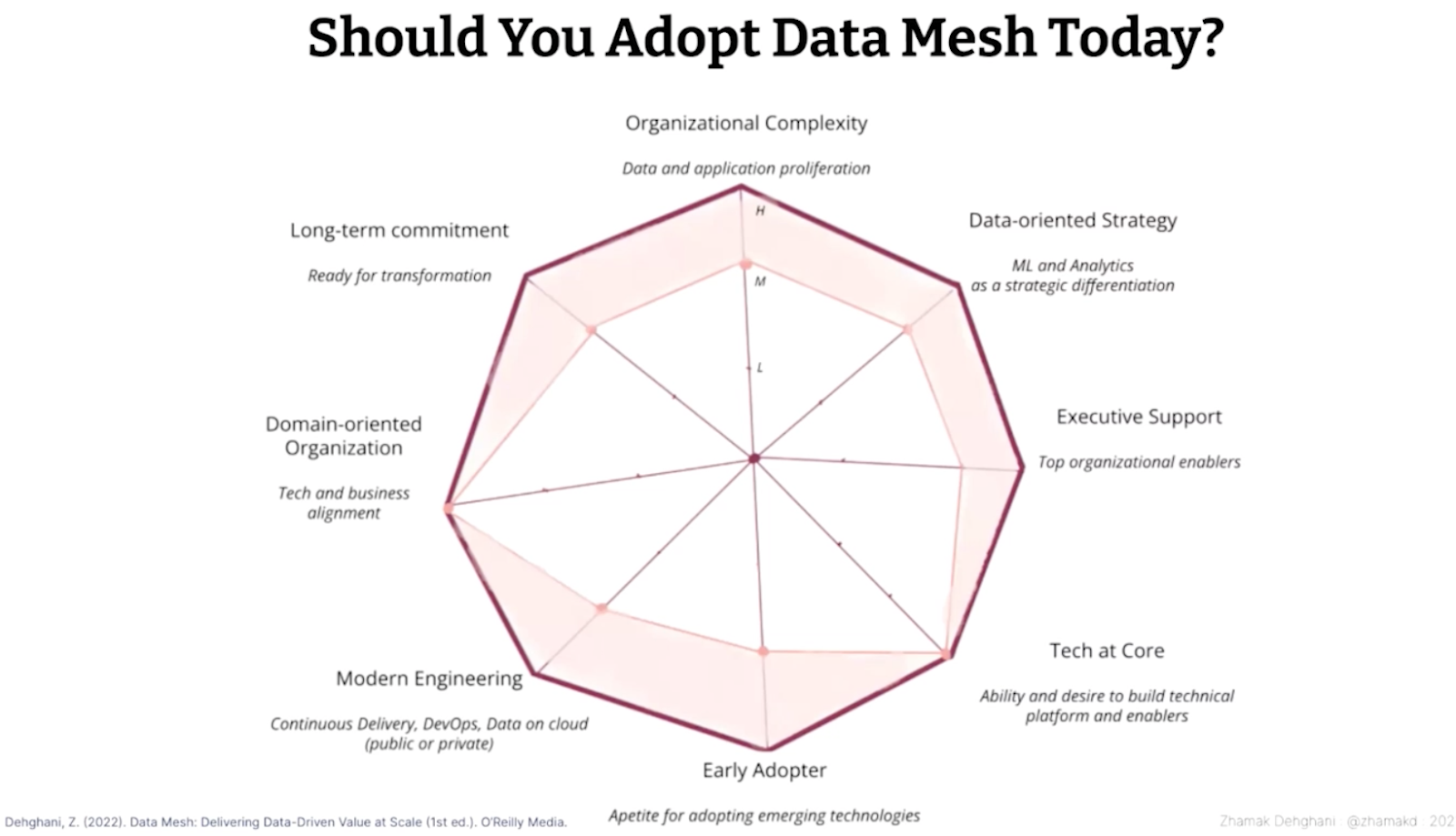 In this post, we covered eight key considerations on how to determine whether you should adopt Data Mesh today. If you placed your organization somewhere in the pink space, then you're ready to proceed to the next step. In our next post, we'll introduce an execution model you can consider as a key element in your digital transformation journey.