Starburst Galaxy's mission is to deliver high-quality insights without the overhead. This applies to the entire data management lifecycle – including discovering, organizing, governing, sharing, and analyzing data. Today's release showcases how the team at Starburst is constantly striving to make security and governance as seamless as possible for data teams.
Attribute-based access control (ABAC) and tags are now in public preview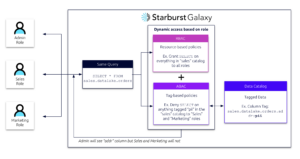 Anyone who has worked with role-based access control (RBAC) long enough has run into problems with its rigidity and the potential for role explosion – meaning the number of roles and permissions can grow exponentially with the growth data and business complexity. That's why we're excited to announce the public preview of attribute-based access control (ABAC) in Starburst Galaxy.
The combination of RBAC, ABAC, and tags in Galaxy now lets platform administrators easily create and scale security policies based on business context, instead of relying on the specific names of data entities like tables and columns.
Consider managing access control for datasets that contain personally identifiable information (PII). Certain departments, like Marketing and Sales, should never have access to PII data but oftentimes need access to the surrounding columns that contain customer attributes. In the Galaxy UI, an administrator can now assign a PII tag to particular columns and then create an ABAC policy that denies any data tagged with PII to the marketing role in just a few clicks. No third-party integration required.
To learn more, take the free 20 minute Starburst Academy course.
AWS PrivateLink is now available in private preview


It's here! The much-awaited support for AWS PrivateLink is now available in private preview. Starburst Galaxy encrypts all your data by default but, for an additional layer of security and network reliability, you can now connect your data sources to Galaxy using AWS PrivateLink.
If you're interested in getting early access to this feature, contact us today.
A little glimpse down the road(map)
We aren't done yet! Keep an eye out for the following security and governance features that we hope to see coming soon:
Row-Level Filtering – Apply row-level filtering to your ABAC and RBAC policies, enabling the most granular level of access control
SSO for Tableau and PowerBI – Enable SSO for users leveraging Tableau and PowerBI with Starburst Galaxy
Security APIs – Programmatically manage your Galaxy security policies via APIs
If you're ready to try out these new features in Starburst Galaxy, getting started is easy. Sign up or log in to your free account.
Get started with Starburst Galaxy
The analytics platform for your data lake
Start free