The shift to cloud-based software-as-a-service platforms is accelerating in just about every tech industry. So it wasn't much of a surprise to the analytics community when Chief Product Officer Bjorn Ajenstat announced that Tableau Cloud has become his company's flagship offering. Tableau is one of the most popular analytics platforms on the market – the Tableau Community alone has more than a million members. Yet the speed with which Tableau's users have shifted to the cloud is still remarkable.
Then again, maybe it's to be expected. We're seeing the same accelerating adoption of Starburst Galaxy, our fully managed, cloud-native service, which delivers the benefits of Starburst Enterprise without the heavy lifting. Building on this interest and momentum, I'm excited to share that we're announcing a new native connector in Tableau Cloud.

What this means is that both Starburst Galaxy and Starburst Enterprise are now available directly within Tableau Cloud. Business Intelligence analysts and other users at Starburst/Tableau customers will be able to quickly access and query data wherever it resides.
That includes cloud data lakes, traditional warehouses, relational database systems, and the full range of Starburst-connected sources. The ability to quickly and efficiently query all of your distributed data – not just a few easy-to-access datasets – is quickly becoming an operational and competitive necessity within large enterprises.
This new Tableau Cloud connector makes it easier and faster for your analysts to turn all that distributed data into insights.
Tableau revolutionized data visualization analytics, making it fast and easy for analysts to generate dashboards that convey essential information in an easy-to-consume format. But these dashboards are only going to be as good as the data from which they're built. This is why the partnership between Tableau and Starburst has been – and will continue to be – so impactful for enterprises, large and small.
Our new connector enables Tableau Cloud users to tap into more datasets through our growing roster of high-performance connectors. Querying previously siloed datasets within your organization can then yield richer insights and, ultimately, drive better data-driven outcomes and initiatives.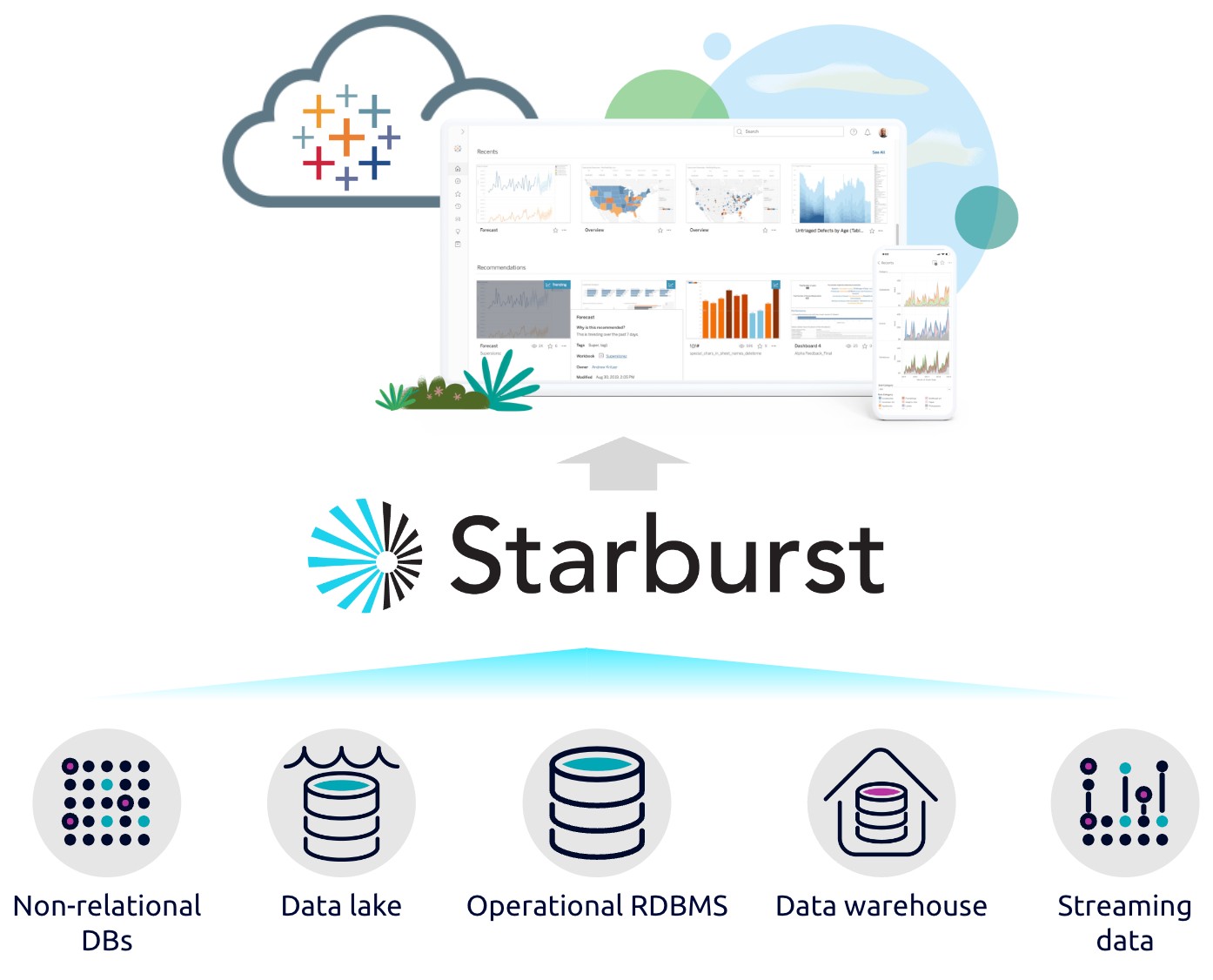 How does it work? As with Starburst Galaxy, it's easy. An authorized user within a Starburst and Tableau Cloud customer can activate a Starburst cluster, configure an authentication protocol, and securely publish dashboards leveraging data from multiple sources.
The new connector requires no additional action or special configuration on the part of current Tableau/Starburst customers. It's ready to go. And it should be — quick, secure deployment and ease-of-use are two of the essential characteristics of cloud-native SaaS offerings like Tableau Cloud or Starburst Galaxy.
The experience for Tableau users is the same as the existing integrations with Tableau Server and Tableau Desktop. Server and Desktop data sources can be published to Cloud, both accelerating migration and modernization of analytics in the cloud.
All features in the Starburst and all of the data sources it connects to are supported by the Starburst connector in Tableau Cloud.  Additionally, the Starburst connector supports LDAP authentication to ensure secure data access from Tableau Cloud.
Users can leverage the Starburst to query data from multiple sources within a single report or federated view, and Starburst does query processing, including caching of frequently used data, so that users get the best performance out of their reports and dashboards Customer can even run federated queries as directly in Tableau Cloud.
Together with Starburst Galaxy, Tableau Cloud users are empowered with:
Data lake access: native connectors for Hive, Delta Lake, and Iceberg with multi cloud capabilities across Amazon S3, Azure Data Lake Storage, and Google Cloud Storage.
Performant federation – dedicated compute with autoscaling across numerous data sources
Faster insights: Live connections with lightning fast performance. Starburst does the heavy lifting
Security controls:  native built-in access controls with no additional setup required in Tableau
We're excited to see what our joint customers do with this new connector and what sort of insights they uncover. Yet we're equally excited about the larger trend at work here, and how this connector reflects the wave of momentum we're riding at Starburst. Much of this growth was built on the success of Starburst Enterprise, and as the market shifts to cloud-based, fully-managed services, we're starting to see that same accelerating adoption of Starburst Galaxy.
To learn more about Starburst and Tableau, watch our end-to-end demonstration video, and sign-up for free for Starburst Galaxy today!