As I walked out of my lecture on data literacy in New York a few years back, a member of the audience told me, "I learned that data is not a four-letter word." I thanked her, and in that moment, I knew that I had found a new title for my future data literacy presentations!
Yes, data is not a four-letter word – It is not something to fear or to be afraid to talk about. Rather, it is something to embrace. It is the future of work, the future of our entertainment, the future of how we navigate through the digital world. The world is data and every person in the workplace touches data or digital information in some way, form, or fashion. From images to tables to time series, and from applications to social networks to medical imaging, we are surrounded by data. Even our face is data! The biometrics of our face can unlock our smartphones or pull up our banking applications. Documents are data, how we move through our business is data.
Download the eBook: Data Literacy: An Imperative for Success in Business.
Interestingly, 'The 2020 Internet Minute' graph by Lori Lewis captures the staggering amount of data generated in a minute!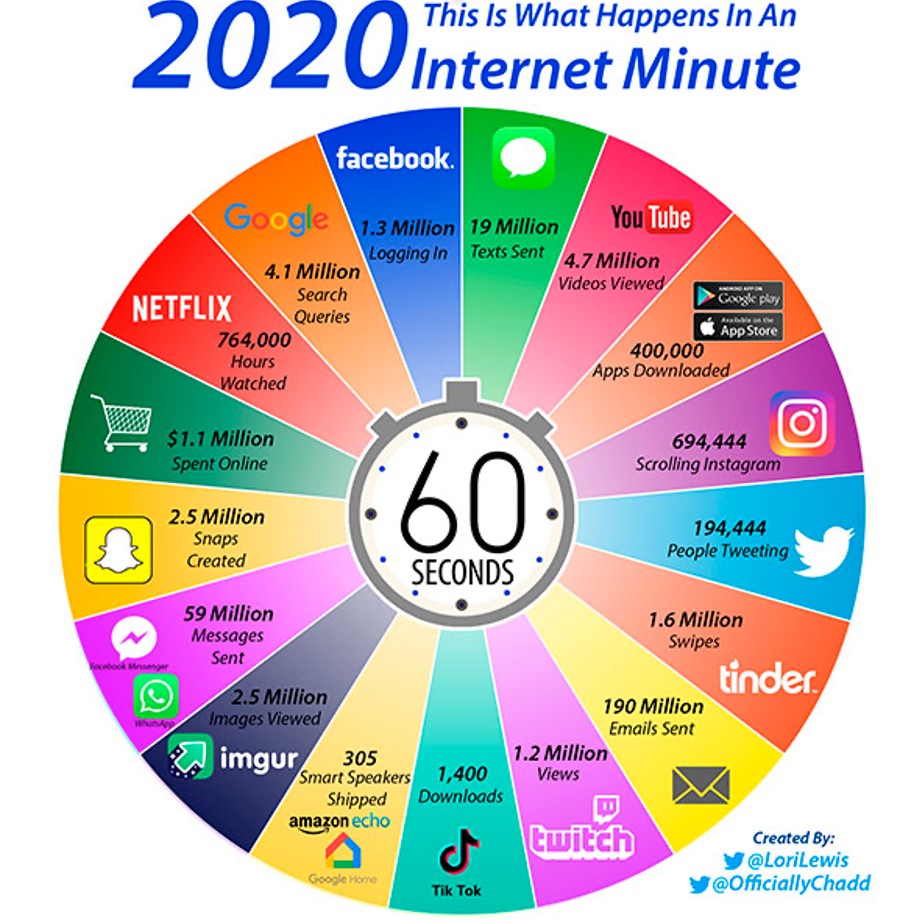 Understanding data has become an imperative for success in business. That starts with the organization accepting the premise that data literacy is not a math skill but a life skill. Whether it is customers, employees, manufacturing plants, cyber networks or even galaxies that you are working with, you really want to use data to understand your business and gain meaningful insights. And we do that through modeling and testing to improve and validate our understanding of these complex systems through the data that we have access to within our organizations.
Data literacy, therefore, is the ability to read, work with, analyze and argue with data. It is a skill that empowers all levels of workers to ask the right questions of data and machines, to build knowledge, to make decisions, and to communicate meaning with others.
A key component of data literacy is data storytelling. Psychologists have done research on the neuroscience of decision-making and found that when you tell people numbers, they are not exercising the decision-making part of their brains but rather the analytical part of their brains. So, when it comes to making a business decision based on raw data, the most effective outcomes are harder to come to or to conceptualize. What really stimulates a decision and action is a story. Connecting those numbers to a narrative makes that data digestible, while also answering questions and delivering value. Data storytelling can encompass a deep business narrative, or it can simply answer the three questions that are likely on the minds of the decision-makers: "What? So what? Now what?" In other words: "What did you do and what did you learn? Why should we care? Now what should we do about it?"
Data literacy skills have emerged as the key to cost savings and revenue growth. Leaders like Amazon and Netflix are capitalizing on the fundamental concepts of data literacy and data science to add revenue streams by recommending products and services to their customers based on previous purchases, associations, correlation, and more. Personalization, powered by increasingly sophisticated algorithms and predictive models that analyze transaction data and digital-media trends, is driving revenue through class discovery, correlation discovery, anomaly discovery, and association discovery.
Did you know that according to a report by Experian, 84% of organizations consider data literacy a "core skill" and 85% agree that improving data literacy rates among the workforce will be critical to future success?
To find out about the latest data literacy trends, the most important 'V' of data (hint: it is not the "Volume" of data), and the biggest data challenge, download your complimentary copy of the eBook now.