Since Datanova: The Data Mesh Summit and our in-person executive discussions on data products and Data Mesh, we've been validating the data product approach — starting with identifying value and then selecting smaller use cases — that really resonated with the audience.
If you haven't had a chance, you may still download the Data Products workbook. The workbook gently nudges you to think about your candidate data product because we're going to be thinking about the why. More specifically: Why should the business create that data product? Identifying key performance indicators that will help the business get the most out of creating and building data products, help you fill out the workbook, and get the most out of this series. 
Over the years, organizations have been working with data on a massive scale. Some even prioritized and executed on a data-driven strategy, but have seen varied results. Coupled with the exponential growth of data, an uncertain economic outlook, along with regulatory requirements, it simply doesn't make this imperative any easier. As many have learned, becoming data-driven is a journey, and measured in years and dare I say, sometimes even decades.
There are, however, practical steps that data analytics and business leaders can take to accelerate these efforts. Based on my experiences working with clients at Accenture and applying core Data Mesh principles, we've helped new and mature organizations achieve data democratization.
Before we get too far and in case you need a refresher or an introduction, Data Mesh is a decentralized approach to data management, evolving the data platform from a technology-led project-centric model into a paradigm about federated business-led product-centric data, by design. Data Mesh also pivots from a data project mindset to Data Product mindset, opening the door for more scalability and flexibility as businesses evolve with data-driven resiliency under an uncertain economic climate.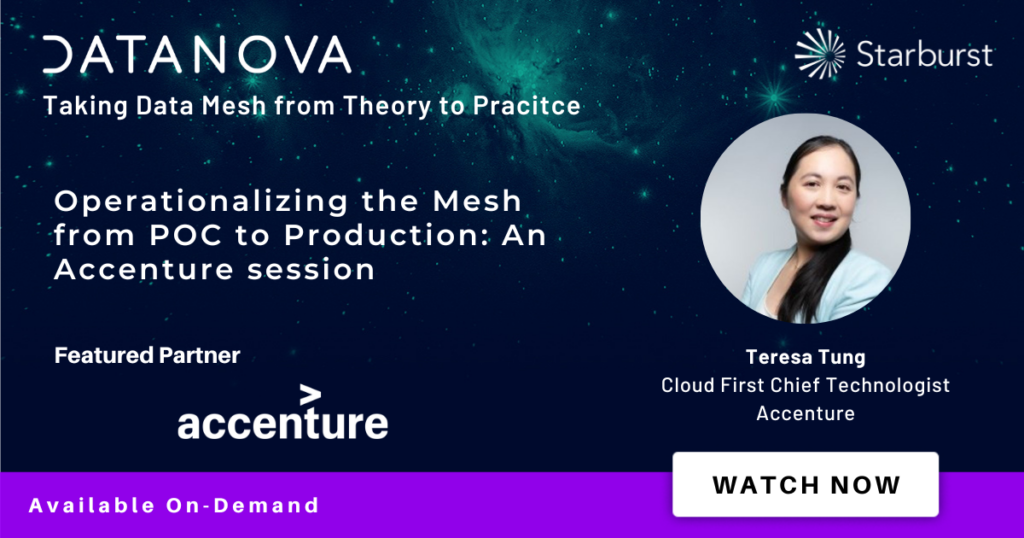 Technology data project versus data product mindset
To get us into a Data Product mindset, it would benefit the business to shift away from the idea of single-use, non-regenerative data, or technology data projects. Sure, technology data projects are use case driven, but it most likely only tackles a specific, single use case with an end deliverable without iteration. Data projects might not consider re-use for different parts of the business. Oftentimes, it's difficult to see the business value in a data project.
Meanwhile, as we pivot to a data product mindset, we think about it just like any other product that you might buy in the store. It's something that a user desires and finds useful. You begin to think about:
the value of data
how you process the data
how you label the data
the quality of data
the mode of data access that you can provide
So rather than a single-use data project, the way we interact with the data product will be considerably different. You will:
regularly revisit this data product with versions and a roadmap validated by user needs and value
create a continuous product release cycle
think about what the users are using the data product for
think about how to add more data and more insights to make it even better
With a Data Product mindset, it'll support multiple users and use cases so that the same data can be used across the enterprise, maybe even with partners, as well. The benefits of a data product mindset is well worth the investment.
As we shift gears towards a data product mindset, we'll also see a change with a Data Product owner mindset. This is led by the business, and as a result, you'll see the business integrated with the architecture.
Business and technology outcomes: 5 critical Data Product KPIs to measure
Organizations who invest in digital growth will want to build and share data products with new technology that supports the ability to access all of your data, wherever it is stored. Let's start to think about why data products and so for that, it's critical to have KPIs. Below are a few key technology and business objectives:
#1 Speed & connectivity improves operational efficiencies and accelerates business insights
Previously, a data project might require me to:
get someone access to the system,
get someone to explain the data because it's not documented,
get standing up an environment to work with that data,
get other data engineers and data scientists to find an insight, and
then finally giving it to me in a format I can use.
However, a valuable aspect of data products is that it's prepackaged. In this case, when a data product is prepackaged, with an assigned Domain and Data Product Owner, it will enable and accelerate speed from a technology standpoint, so we will ultimately reduce costs, reduced labor, and improve efficiencies.
With the speed of connectivity, we also accelerate the business from a speed standpoint as well. It'll enable the business to find new insights and new opportunities for business efficiency and user experience.
#2 Trust and high quality data products reduces IT and business risk
Trust makes data easier to validate and more secure. With trust, you are confident about which data to use. From an I.T. perspective, you'd reduced risk because you know that an owner has managed the important element of regulatory and compliance requirements.
From the business side, you'll also reduce risk when everyone sees the same thing and uses the same data. For example to start with the same view of the supply chain or finance reporting.  Or it could apply to models for using the same way to compute project risk. These data products may not only be certified by your business, but also from the manufacturer of that equipment.  The use cases will see improved product or project quality and a reduced number of incidents.
#3 Real-time big data increases automation and improves forecasting
Real-time data & analytics, relates to the freshness of your data. From an I.T. perspective, it can provide increased automation that results in accelerated time to notify, reduced time for data synchronization, improved uptime.  For business use cases increased automation and real-time insights accelerate that time to act to enable closed loop automation, and allow for real time offers.
#4 Accessibility improves user experience and collaboration with partners
Accessibility makes it easier to find, access and use data, so from an IT perspective it enables users with  more self-service than ever. This in turn improves collaboration: how you might partner B2B, B2C, and across the different lines of business.
#5 Usability bolsters number of users and generates new business streams
Easy-to-use data products help with usability. KPIs for usability should be measured in terms of the increase in the number of users who are able to find that data and to start using it. Moreover, the business also benefits from direct monetization. This results from a community of users who can spot and create new business streams from using that data product. Effectively, the data product itself might be a new business stream.
KPIs are key to a successful data-driven business
In this post, we've highlighted the significance of shifting from a data project mindset to a data product mindset. More importantly, identified five key KPIs to measure from an IT and business standpoint so we can identify what success looks like for data-driven organizations. Understanding the significance of data products alongside business objectives and outcomes make the what and the how of creating data products more meaningful. In my next post, we'll get into the details of scoping what a data product looks like.
Spoiler Alert: It's similar to buying something at the store; which means, there's a data product lifecycle!