A podcast published by the University of Pennsylvania Wharton School talks about the importance of data analytics for innovation. Lynn Wu, Wharton Professor of Operations, Information, and Decisions states that innovation is driven by analytics and analytics can drive innovation by combining a diverse set of technology in a completely different way. This has been the foundation and the vision of Starburst.
Our customers are innovators and are building their platform by solving unique problems in diverse areas ranging across financial operations, retail, banking, partner solutions, and others. Even though our customers come from different backgrounds with varying underlying technologies, they have one thing in common: they all have a common use case of accessing data across multiple platforms, sources, and clouds. Starburst Galaxy fulfills the role of being the embedded data analytics engine our customers use to integrate their data ecosystem and drive innovation in their field.
Starburst Galaxy can provision new clusters within minutes into any of the most popular cloud providers or regions that house your data. Starburst SQL query clusters are deployed in the same region as the data eliminating egress costs and ensuring maximum performance. Creating new clusters and adding data sources takes just a few clicks and from there, querying data can be performed using the query editor provided within Galaxy or any BI or SQL tool such as Power BI, DBeaver, and data science notebooks such as Jupyter. Once the cluster is created, customers can use it as the backbone to fuel their platform.
Our customers are building multi-cloud platforms that are being consumed by their users. The platform is powered by Starburst Galaxy as the embedded query engine that can access data across public clouds and resources. By having the scalable and robust engine powering the platform, our customers can unlock business value from the data and generate new sources of revenue. This allows our customers to focus on their core business and leave the infrastructure and query management to Starburst Galaxy.  As our customer matures and grows with Starburst Galaxy, they can confidently grow with Starburst Galaxy.
The Starburst engine powers Starburst Galaxy. It is the best-in-class MPP SQL engine originally based on open source Trino with enterprise enhancements made by Starburst. Developed out of Facebook, Trino can query terabytes to petabytes of data from disparate sources at interactive speed and easily scale with the scale of data and number of users accessing the customer's platform. Thus the customer does not have to worry about the infrastructure or user growth challenge.
Starburst Galaxy is not a black box and has been designed with customers' needs in mind. It allows you to adjust your clusters to set the dial according to your preferred cost-performance ratio. You can create a cluster to power one or many applications. There are no limitations around the number of clusters, concurrent running, or queued queries. And when your query is finished, the idle-shutdown feature saves you even more on cost by automatically shutting down clusters. Suspended clusters are automatically restarted in seconds, whenever a platform runs a query through the embedded Starburst Galaxy engine tries to run a query. Starburst Galaxy provides flexibility and adaptability with an increase in load or traffic on your platform.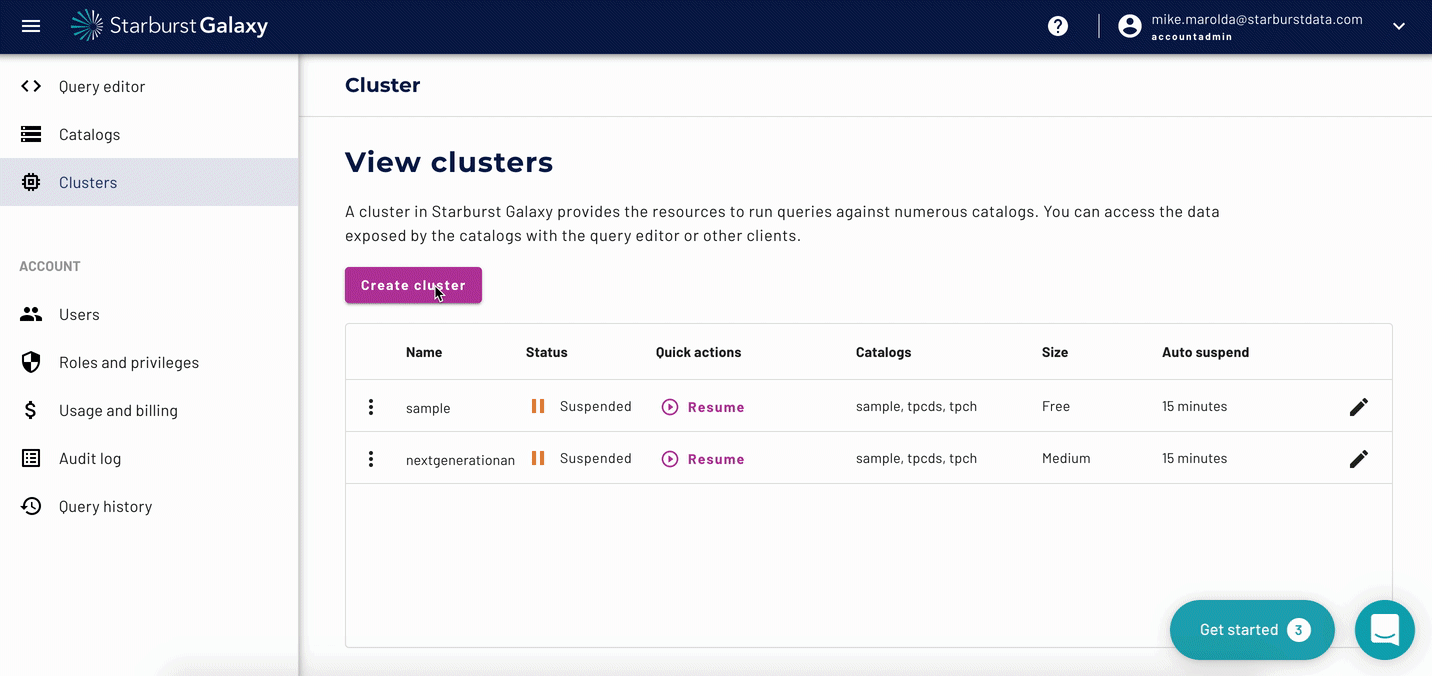 With Starburst Galaxy, our customers spend less time managing their infrastructure, and more time focusing on their core business use cases to empower their users. With Starburst Galaxy, customers can have dedicated clusters for the dedicated use case. Customers can focus on driving cross-cloud analytics without having to worry about the underlying technology.
We invite you to try Starburst Galaxy for free with up to $500 in credits today.