We recently launched Starburst Galaxy on Google Cloud. With Starburst Galaxy, you can unlock your data sources on Google Cloud. You can operate your Starburst Galaxy clusters on the Google Cloud platform, and take advantage of the proximity of your clusters and the data sources, all on one platform. As a result, the high-performance SQL query engine inside Starburst Galaxy delivers optimal query performance. Starburst Galaxy is the fully-managed SaaS platform designed to allow you to query your data at interactive speeds across your data sources using the business intelligence and analytics tools you already know. And all those benefits are available without any need to think about cluster deployments, upgrades, and other maintenance. Starburst takes care of all that for you.
"Organizations are increasingly seeking out solutions that help them derive insights and value from their business data," said Naveen Punjabi, Head of Analytics Partnerships at Google Cloud  "We're thrilled to have Starburst Galaxy available on Google Cloud to continue providing our customers with the solutions and technologies they need to do more with their data."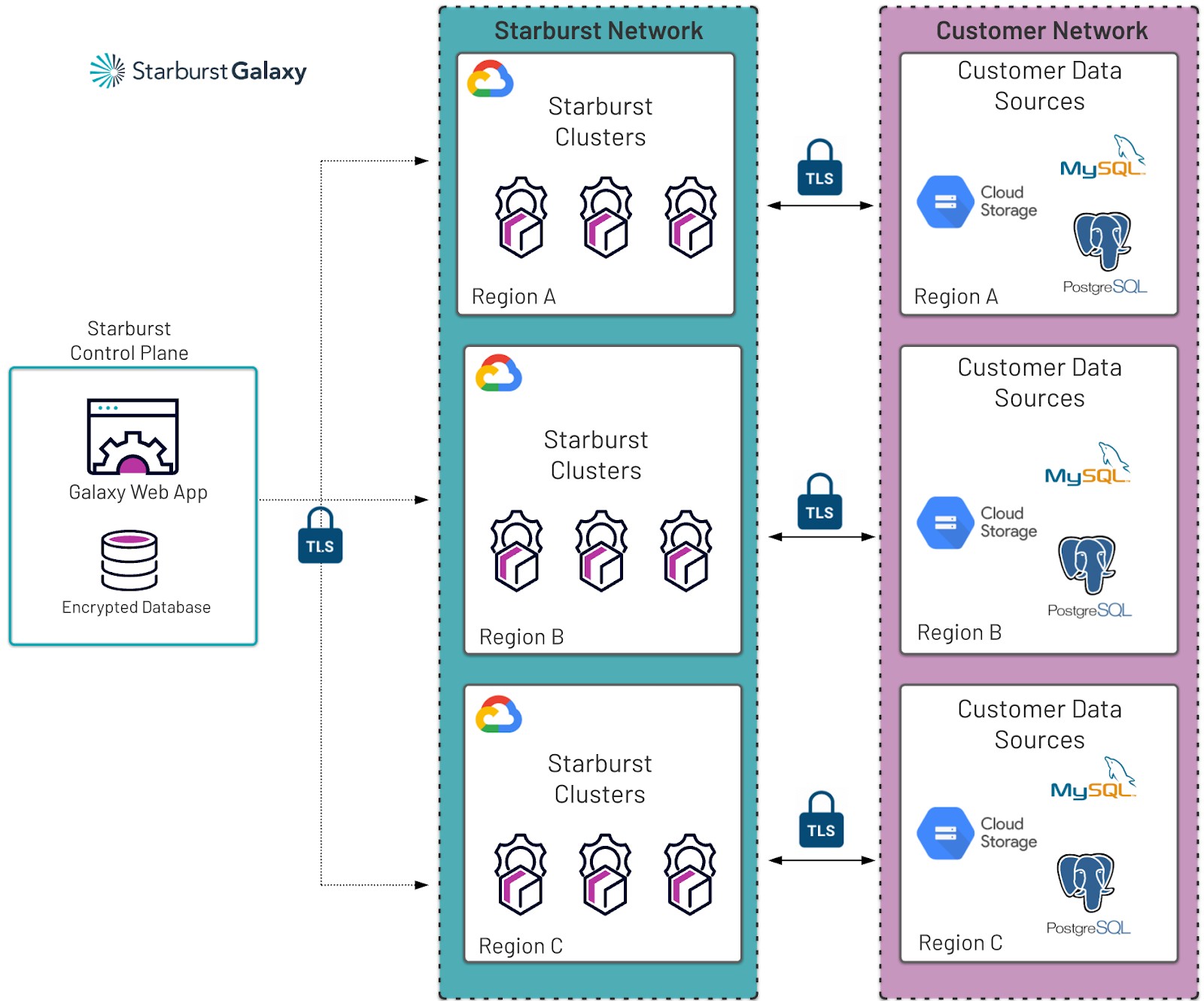 Starburst Galaxy on Google Cloud allows you to get up and running fast. Start querying your data in Google Cloud Storage (GCS) quickly with a guided intuitive interface in your web browser. All you need is an email address. Connecting to your object storage has never been easier. With Starburst Galaxy, you can run queries that access data in Google Cloud Storage,  in your Cloud SQL MySQL or  PostgreSQL database – all at the same time! This enables you to gain critical business insights faster and easier than ever before. You can even query and join data across your clouds. The platform is designed to allow you to query data no matter where it lives with no movement required.

Starburst Galaxy is not a black box and has been designed with your needs in mind. It allows you to adjust your clusters to set the dial according to your preferred cost-performance ratio. You can create a cluster for any team or individual in your organization. There are no limitations around the number of clusters, concurrent running, or queued queries. And when your query is finished, the idle-shutdown feature saves you even more on cost by automatically shutting down clusters. Suspended clusters are automatically restarted in seconds, whenever a user tries to run a query. No need to pay for any cluster capacity sitting idle. Starburst Galaxy provides you with the flexibility to get the work you need to be done in line with your organization's needs.
The built-in query editor provides a convenient console for your SQL query editing. In addition, the available drivers and clients enable you to use business intelligence tools of choice to query your data using the tools you already know. Looker users can simply connect to the platform in a few easy steps. Starburst Galaxy combined with Looker allows your data teams to create engaging data visualizations with the most timely and comprehensive data available.
Starburst Galaxy on Google Cloud was conceived to provide data analysts with the freedom to be curious. The ease of getting started, the simplicity of its use combined with integrations with analytics tools marks another step towards access to all your data, wherever it is stored. Starburst Galaxy gives you the tools you need to ask new questions in a friction-free environment. The platform enables the immediate analysis of siloed data.
Curious and want to learn more? Watch a demo video.