eBook
Trino: The Definitive Guide, 2nd Edition
SQL at Any Scale, on Any Storage, in Any Environment
Download The Book
Hot off the press and valued at $69.99. Get your free digital copy from Starburst.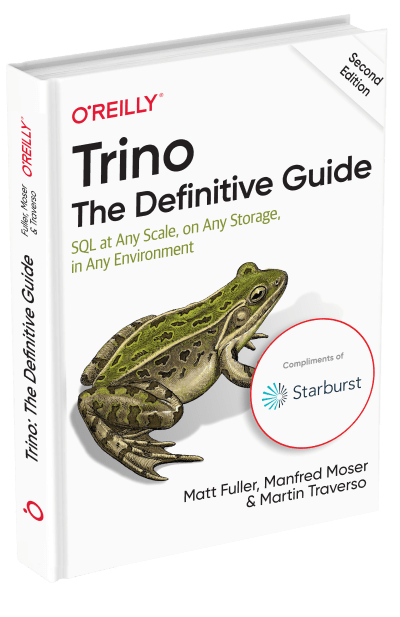 Starburst is offering you a copy of the first and foremost book about the Trino distributed SQL query engine. Aimed at beginners and existing Trino users alike, there's something for everyone to learn.
Perform fast interactive analytics against different data sources using the Trino high-performance distributed SQL query engine. In the second edition of this practical guide, you'll learn how to conduct analytics on data where it lives, whether it's a data lake using Hive, a modern lakehouse with Iceberg or Delta Lake, a different system like Cassandra, Kafka, or SingleStore, or a relational database like PostgreSQL or Oracle.
Analysts, software engineers, and production engineers learn how to manage, use, and even develop with Trino and make it a critical part of their data platform. Authors Matt Fuller, Manfred Moser, and Martin Traverso show you how a single Trino query can combine data from multiple sources to allow for analytics across your entire organization.
Explore Trino's use cases, and learn about tools that help you connect to Trino for querying and processing huge amounts of data
Learn Trino's internal workings, including how to connect to and query data sources with support for SQL statements, operators, functions, and more
Deploy and secure Trino at scale, monitor workloads, tune queries, and connect more applications
Learn how other organizations apply Trino successfully