Lots of traction for the Trino SQL query engine
The Trino query engine and the ecosystem of supported data sources, clients, integrations, and add-ons is growing by leaps and bounds. In this session we will briefly discuss the history of Trino starting under the name Presto at Facebook over 11 years ago.
We will then dive deeper into recent innovations such as fault-tolerant query processing and support for modern SQL statements such as MATCH_RECOGNIZE, MERGE, json_path and table functions. These improvements and the long history of Trino with supporting multiple table formats and many other data sources make Trino ideal for lakehouse creation, migration and operation, and we will talk about some specific table procedures, performance improvements, and other updates for related use cases.
You will learn about the expanded focus of the community around Trino to support Python-based workflows with trino-python-client, dbt, Ibis, and the rich ecosystem of tools available to query and process large data sets with Trino for analytics and other workloads. Finally we discuss updates and metrics about the project and community, and provide a look at the future of upcoming improvements.
Key takeaways:
Details about the continued innovation on the Trino core engine

Examples of Trino usage in the SQL and Python communities for analytics and data processing

Outlook for upcoming improvements for lakehouse use cases and beyond
Speaker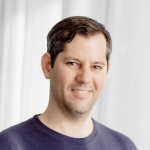 Martin Traverso