We are so excited to announce Megan Maslanka as our Chief People Officer!
She began her career in HR as an HR business partner in an international role and quickly realized how fundamental talent, leadership, and culture are to a successful company, but discovered that there needs to be stronger business acumen from HR leaders. This led her to an MBA with an emphasis in Strategy and I/O Psychology. 
Wanting to gain exposure to a breadth of cultures and leadership teams, she then decided to join an HR tech startup where she ultimately ended up leading the Customer Success team and partnering with organizations of all sizes and industries on their engagement, performance, and retention strategies. 
After 4 years of advisory and consulting work, Megan moved back into the practitioner role and led the HR team for a tech startup called Buildertrend. After helping scale that organization, she moved on to DocuSign where she continued to focus her career on high-growth tech companies.
From small to large organizations, she focuses a lot of work around global expansion, scaling the organization, and building an employee experience that supports the organization's success. 
Megan was born and raised on a farm in a small town in Nebraska where being a workhorse was ingrained in her life long before she joined Starburst! She spent her days juggling chores, sports practices, school, and an after-school job.
Her lifelong motto has been, "I'm never going to be the most talented or smartest person in the room, but I believe I can outwork anyone."
When she is not focused on helping organizations reach their potential, Megan is a proud dog mom and aunt to three nieces and one nephew. She is also a self-proclaimed "experience junkie." She'll try anything at least once and loves type 2 fun! She's passionate about snowboarding, hiking, long road trips, and live music.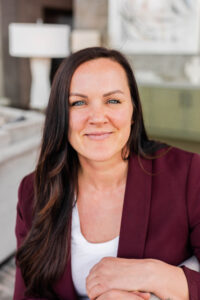 Jacqueline:
We are thrilled to welcome you to the All-Star team! Why did you decide to join Starburst?
Megan: Two reasons — the opportunity itself and the leadership team. First, the opportunity that we have in the data lake analytics platform space is really exciting! We are the current underdog in the industry and are in the midst of disrupting this space.
Second, when I met with Justin and the entire leadership team, I really connected with the team on our values and the concept of the workhorse—this idea that we aren't building a unicorn company like everyone else in Silicon Valley just to be a replica of what tech thinks is right.
We are building a sustainable organization that is very focused on building growth the right way. The challenge to do it the right way is really appealing to me. Justin and the exec team have such strong values that are rare to find; I thought it was really important to be partnered with an executive team and CEO that knew what it took and had a value system that was different from a lot of startups.
Jacqueline:
How do you plan to leverage your previous experience here at Starburst?
Megan: I have seen the various ways that you can build organizations, employee experiences, and cultures. I have also seen a lot of different ways to practice HR. All of these prior experiences have given me the opportunity to see how different strategies work at different organizations and the importance of building a culture that works for us while maintaining a mindset of sustainability.
My previous experience has shown me that there isn't just one right playbook. You have to consider multiple perspectives and the different growing pains that we have. I have come to realize that there are great companies that have developed really great cultures and what they have in common is that they are all doing what makes sense for them and their values vs. what's popular in tech. The difficult thing about culture is that it can't be mimicked or copied/pasted.
You have to design a system and environment for your particular company's needs that foster the culture you need to be successful. This is based on things like employee feedback, growth potential, and setting a really high bar for performance. I'm hoping to bring a perspective that helps us shape our talent strategy for what we need moving into this next stage of growth. 
Jacqueline:
What does it mean to be a woman in tech, especially at the executive level?
Megan: It's a great question but I like to think more about being a leader in tech with a different background rather than being a woman leader in tech. There are still glass ceilings that do exist on a broad scale, and we need to push for equality in these more male or ethnicity dominated fields, but when I come to the table as an executive, I think more about the entire diversity of my background and experiences, not just gender, and the importance behind representing that all of this matters to shaping my voice.
However, I recognize that even the ability to say that there is a privilege and that not all company cultures are welcoming of strong-minded females or diverse individuals who love to bring new solutions to the table. I'm very fortunate that the executive team at Starburst is very open to all ideas and input regardless of background.
I strive to show up as an executive with experiences that are different from my peers. I view myself as an executive, who is a female, rather than a female executive. It may feel like a subtle difference but the nuance is important. It is easy at Starburst to be an executive from a different background because of the environment that has been created.
Jacqueline:
Do you have any tips for aspiring leaders?
Megan: Leadership is crucial and incredibly difficult to get right all the time. My simple but yet difficult piece of advice is for leaders to always keep in mind their own lens on the organization, and how that differs from everyone else.
You may think a situation is clear or that you have set expectations correctly but it's likely just from your vantage point. Your opinion isn't the only one that matters and often as leaders, we think we have to have all the answers. Expect to not have all the answers and learn from your mistakes quickly. It's about getting it right not being right.  It helps when you are humble enough to ask for feedback and vulnerable enough to share that feedback with your team.
As a leader, you have to learn how to get out of your own way to do what is right for the organization as a whole – it's no longer about you but those you can elevate around you. It is also important to hold a high bar for yourself, your team, and for your peers. Everyone comes with their own biases, experiences, and backgrounds. It is crucial to understand where others are coming from and meet them where they are. Your opinion isn't the only one that matters.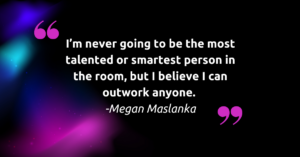 Jacqueline:
What is your leadership style?
Megan: I lead by empowering others while also keeping the bar high. I try to meet people where they are and be transparent where I can. Holding my team accountable and setting the bar high is something that people have told me is exciting and makes them passionate about the work that they are doing, but at times can feel overwhelming, so I have to strike the right balance. 
Jacqueline:
What are some of the challenges that you encountered getting to where you are today? How did you overcome those?
Megan: I faced a lot of self-doubt, some would also call this imposter syndrome. I would question whether I belonged in a room or if I should speak up. I had a voice inside of me that made me think twice about jumping in, especially on topics where I am not an SME. But, I've always figured why not see if we can get to a better outcome or I will just look foolish. Either way, that's okay. 
I also learned the importance of taking risks. If you are uncomfortable, you are doing something right! When I decided to turn down a promotion to move companies and lead a customer success team, I would not have learned how to be more business oriented or understand the complexities of managing revenue. I learned that a career path isn't linear and not to be afraid to take risks. Do something different, and focus on your portfolio of experiences, not just technical work, and that is what makes a well-rounded leader. I learned to take the leap!
Jacqueline:
How do you resonate with our values of Character, Competence, and Ownership?
Megan: These values have been instilled in me since the time I was raised on the farm. We are going to do whatever it takes to be really successful. Every great leader has faced some sort of adversity in their life, but they have never lost faith and owned the situation around them. These values are fundamental to who I am, and when I joined Starburst, I felt like sort of a kindred spirit.
Jacqueline:
Any final thoughts that you would like to share with the All-Star Team?
Megan: There isn't a better time to be at Starburst! In the next few years, we probably will all work the hardest we have ever worked, but it is also going to be an incredibly rewarding experience to be here during this time. I'm incredibly grateful to be on this journey with each of you!
Join Starburst
Check out our open opportunities.
Join us!