We're thrilled to formally announce the addition of Adrian Estala as the VP, Field CDO to the leadership team at Starburst.
Adrian was tasked with delivering data value through an ambitious digital transformation program as a CDO at Shell. While it was an exciting time, the sheer volume and velocity of it brought big challenges. "We had the same issues that most organizations are dealing with, in terms of integrating a number of lakes and warehouses quickly, and with minimal business disruption," notes Adrian. "The Starburst Data Mesh presented a sustainable strategy that I could deliver incrementally, to create an immediate impact."
Adrian strongly believes that Starburst — the analytics engine for Data Mesh — will be a winner in the situation and therefore, he decided to join this rocketship. "Starburst's value proposition extends beyond the incredible query capabilities that we are already famous for," he adds.
He's here to set up the Data Mesh consulting practice and build upon our massive traction. With more than 20 years of stellar industry experience at companies like KPMG and Shell, he is raring to go! In less than two months, he has already built the initial framework, written multiple blogs, recorded videos, and is the official host of the Data Mesh TV Show 🙂 We all love his energy and passion! To get a preview of what Adrian has been up to, check out his upcoming video series: The CDOs Guide to Data Mesh.
Outside of work, Adrian runs an annual marathon but he doesn't train. He has a bad knee that swells after mile three but he always shows up to run once a year. "I love the joy in the faces of all of the much older people that beat me, I run just to make them happy," he tells us. How lovely is that! By the way, he has a lot of funny "Adrian" stories including Elvis, Rugby, Margaritas, and more so feel free to hit him up.
Adrian lives in Pearland, south of Houston, Texas with Stephanie, his beautiful wife, and their three children AJ, Isabella, and Olivia.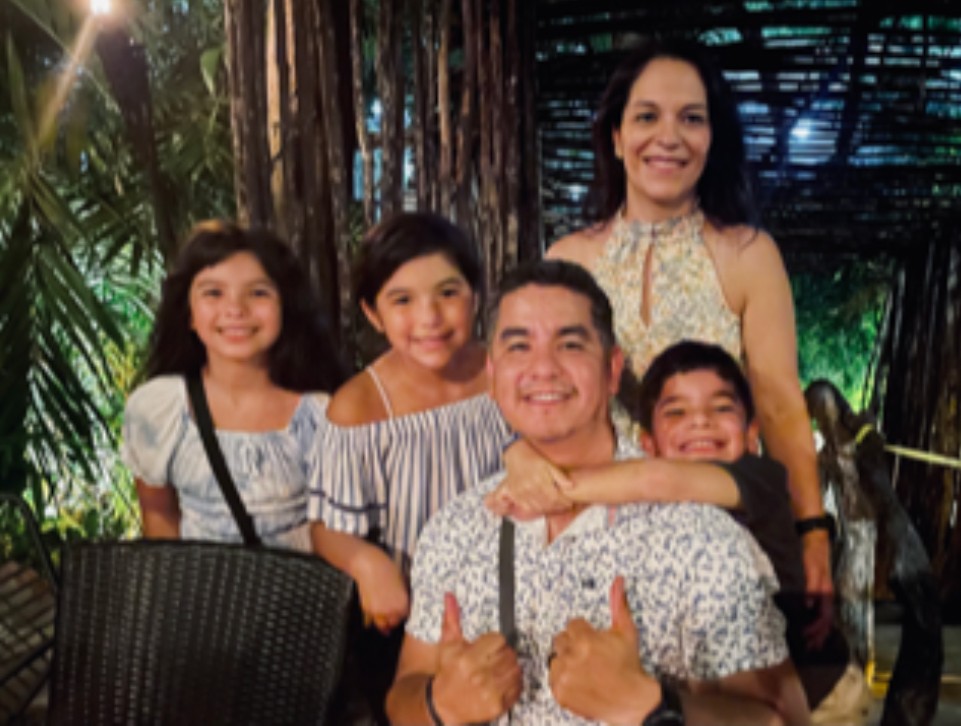 Adrian with his favorite four! From L to R: Isabella & Olivia (11-year-old twin girls), Adrian, Stephanie (wife), and AJ (9-year-old boy)
Below are excerpts from a Q&A with Adrian. Enjoy!
Chitra: We're stoked to have you on board, Adrian. Welcome! Why did you decide to join Starburst?
Adrian: I know a winner when I see one. As a CDO, I listened to the sales pitch, I did my research, and I talked to my architecture and business colleagues. Everyone is excited about what we are building here at Starburst. I see this as an opportunity where I can bring my own experiences to help Starburst grow even faster than it already is.
Chitra: Thirteen years at KPMG. Almost ten years at Shell. Wow, you bring a wealth of industry experience. How do you plan to leverage that at Starburst? 
Adrian: One day at a time. I've seen hundreds of client environments as a strategy consultant and I've managed through delivery complexities in a Global Fortune 20. I took a long road to get here, and that experience sets me up very well for what I need to do now.
I am here to build a Data Mesh Consulting practice, to bring gravitas to our Data Mesh customer story. It is going to take time to realize our bigger vision, but we will begin making an impact right away.
Chitra: Fantastic! Adrian, most recently, you were the Chief Data Officer at Shell. Can you talk to the value proposition of Starburst through the CDO lens? 
Adrian: As a CDO, I was tasked with delivering data value through an ambitious business digital transformation strategy. I felt like I was solving multiple data puzzles at the same time and I had no idea how to bring them all together. Delivering a cohesive data strategy across the different architecture, governance, analytics, and business layers was very difficult.
On one hand, the business teams were elated with the agile delivery and their new self-service analytics capabilities. On the other, the sheer volume and velocity at which we were growing was creating some worrying trends. Furthermore, merging these data sets was going to be incredibly disruptive, expensive, and slow.
This is why I believe that distributed data access is our biggest value proposition. As a CDO, Starburst provides me with an interoperable mesh that can expose all of my data to my business customers. It provides me with one, scalable approach to bring everything together.
Chitra: Do you think data decentralization and Data Mesh are the future of achieving analytics at scale? 
Adrian: Well, at a macro level, connecting decentralized internal data in a secure and efficient manner is a game-changer for every company. You can waste a lot of money and time trying to get it all in one place or you can simply leave it where it is and start integrating it today. Every time you introduce new data sets into the mesh, it creates new opportunities for the company.
At a mega level, establishing a federated Data Mesh across different organizations and different industries redefines the playing field. Across retail, banking, energy, and healthcare, the customer profile is changing. The ability to create a new 360-degree view of that new profile is key to succeeding and surviving. To create that new view, we need to break down the walls between organizations and mountains between industries.
Right now, our analytics engines are more powerful than the data we have to fuel them. Advanced analytics is held back due to insufficient data. Once we open up new Data Mesh pipelines, the scale and power of the analytics engines will soar.
Chitra: You'll be debuting 'The Data Mesh TV Show' soon. Do you have a message to share with your audience or guests?
Adrian: The bar has already been set very high. I've watched every single video and listened to every podcast I can find on Data Mesh. We already have some amazing content out there. Our channel is going to build upon all of that great messaging, we are not going to reinvent. The message will be consistent, but we will take a slightly different approach. We want to create C-Level discussions, we want to talk about all aspects of the Data Mesh, and we want to paint a full picture (process, people, risk, technology). I'm going to try to make each video fun, short, and valuable.
Chitra: Super, I'm excited! At Starburst, we deeply care about the values of authenticity, humility, grit, meritocracy, and ownership. Which of these resonates the most with you? 
Adrian: I came from a company with a great corporate culture, where respect and care for each other were paramount. We talked openly, we held each other accountable, and we were forgiving. I recognize those same values here at Starburst. Authenticity resonates the most with me. We are at our absolute best when we trust our leaders and when we feel that our voice is heard.
Chitra: In your view, what are the top three qualities of a good leader? What's your leadership style like? 
Adrian: We work every day to become the leaders we want to be. I want to be decisive in execution, I want to be self-aware, and I want to deliver on my commitments to the team and customer. I once worked for a leader that could see the future, he painted the vision and we raced to keep up. Later, I worked for a leader that encouraged you to envision the future, and then she gave you the confidence and support to make it happen or fail gracefully. I want to be more like that second leader.
Chitra: Any final thoughts or words of wisdom that you'd like to share with our All-Star team here?
Adrian: Let's go! Some of the advice I give people I mentor is to be clear on your role, do things that you enjoy every day, and respect feedback. When you are running fast, the feedback from others sometimes comes through hard and unfiltered. Take it in your stride, and adapt and refine. Honest feedback early in a project can make a positive difference down the road.
Adrian, we couldn't agree more. Let's go!