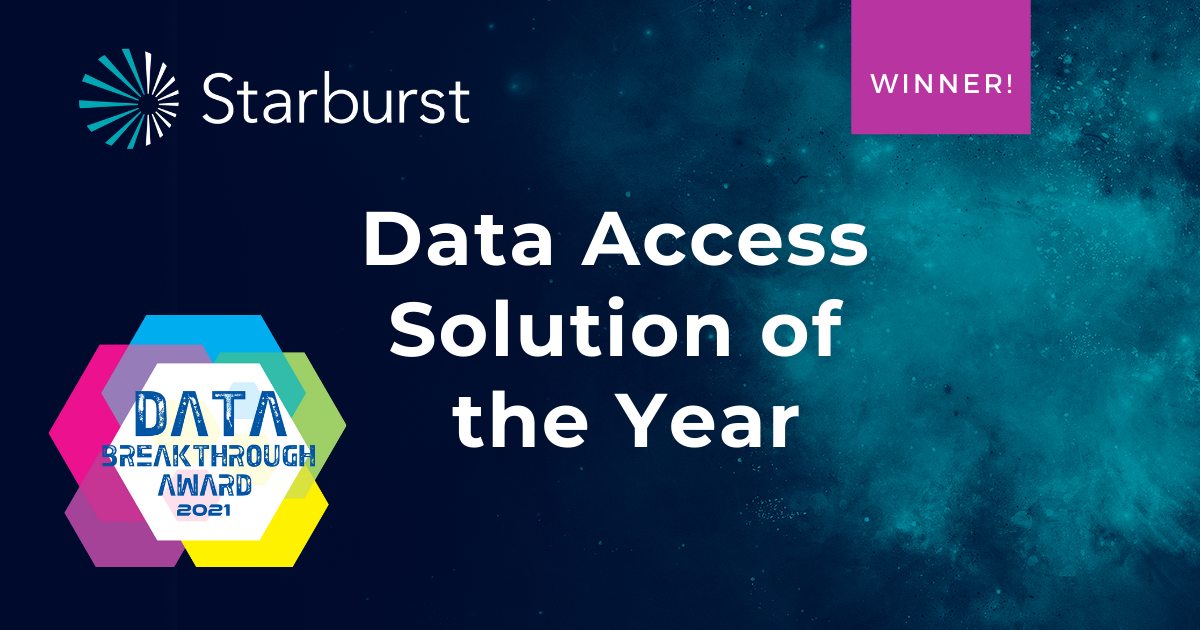 We are thrilled to announce that Starburst has been selected as a winner of the Data Breakthrough Awards. These awards recognize standout solutions and companies in the data and analytics space. We won in the "Data Access Solution of the Year" award category!
The Data Breakthrough Awards received over 1,750 nominations from companies all over the world, making evaluation extremely competitive and broad. Judging was done by a panel of senior executives from diverse marketing, scientific, academic and business backgrounds. Award nominations were evaluated based on innovation, performance, ease of use, functionality, value, and impact.
The year 2020 and the first part of 2021 marked important milestones in the company's history. This award further validates the great strides we've made at Starburst to make data access fast and easy. We're helping organizations unlock the value of their data by providing a "single point of access" to data, irrespective of where it resides.
Starburst Enterprise, our flagship product, is the world's fastest distributed SQL query engine built on an open source project, Trino (formerly known as PrestoSQL). The enterprise grade solution comes with higher performance, better connectivity, enhanced security, easier management, and 24×7 support. And, we're only getting started. We recently announced Starburst Galaxy, a cloud-native service designed for multi-cloud analytics. It significantly reduces the time-to-insight, infrastructure management overhead, and the need to move and copy data with production-ready Trino, built-in security, and an easy-to-use interface.
We're excited to be recognized alongside an impressive list of top companies and startups in the tech industry. Winning "Data Access Solution of the Year" solidifies our commitment to bringing best-in-class solutions to the market and continuing our record-breaking growth. In 2021, we've continued to build on our momentum from announcing $100 million in Series C financing to hosting our first-ever user conference Datanova and launching Starburst Galaxy and other enterprise enhancements. We're looking forward to continued innovation and growth in the coming year!