Starburst is pleased to announce that we have achieved our Amazon Web Services (AWS) Data & Analytics Competency!

So what does this competency mean?
This competency is validation from AWS that Starburst has proven success through joint customers' adoption of the software and improving the way customers access data. We have done this with AWS by helping our customers improve the way they collect and analyze data at scale while providing you a single source of access to all of your data.
The customer stories of success with Starburst and AWS revolve around improving large data queries on data lakes, federating these queries access to multiple disparate data sources, and being able to query data where it lives today, no movement required. Feel free to click on a customer to learn more: EMIS, Zalando, FINRA, Widely Adopted Communications Platform
Over the past few years, Starburst and AWS have integrated to build an extremely performant SQL query engine for distributed data with the reliability, scalability, high-performance, security and cost-effectiveness you expect of the AWS cloud. Our integrations allow you to separate and use your favorite AWS compute and storage services with Starburst. The separation provides access to data where it lives today, as Starburst is able to connect multiple data sources together and abstract it into a data visualization tool of your choosing like Tableau or ThoughtSpot, to name a few.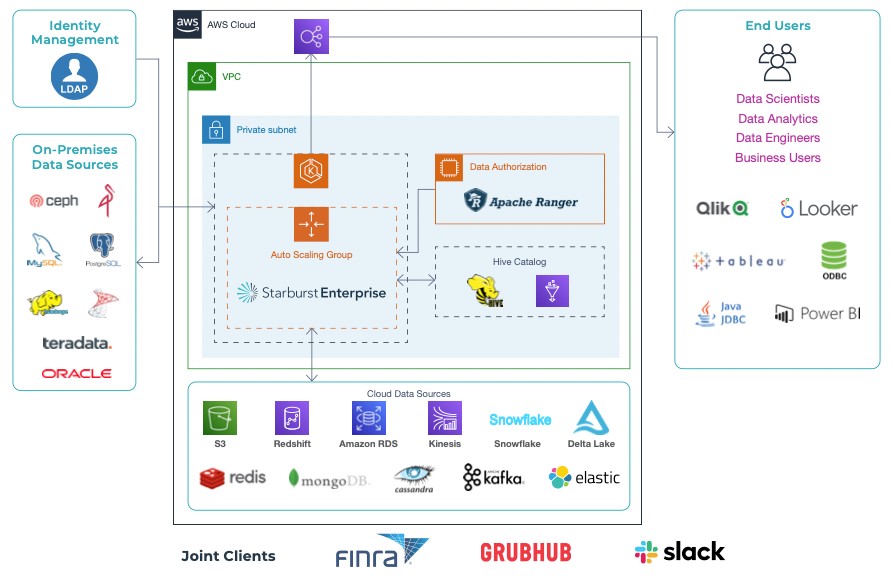 We partnered with AWS to give you your preferred means of deployment whether it be an AMI/CFT deployment on Amazon Elastic Compute Cloud (EC2), Amazon Elastic Kubernetes Service (EKS), or a SaaS deployment. These allow you to add Starburst into your current operations without the need to tailor your current systems to our software.
When is Starburst on AWS Right for Me?
Improve the Data Lake: If you are struggling to get the full value out of your current data lake and are looking to improve the value to your organization.
Cross-Cloud Analytics: High data egress fees have hindered movement of data stored in multiple clouds, Starburst Stargate breaks down data access barriers across clouds and regions, empowering you with full, accurate insights from your global data while minimizing or eliminating data movement and thus reducing data egress fees
Reduce Data Movement and Copies: You need to join additional data sources from on-premise and other data sources, in addition you need to reduce movement and copying of data.
Distributed Data Mesh: If you are looking at a new paradigm known as the data mesh. Starburst is able to support these organizations, as the SQL-based query engine that operates across a data mesh architecture.
Cost Reduction in Data and Analytics Tools: You are looking to reduce or eliminate cost in a data source, such as a data warehouse but want to continue using the analytics tools your data scientists and analysts are already familiar withCloud Migration: You are migrating to AWS but have data stuck in legacy and on premises systems that will take years to get there and/or may never move.
Extract, Transfer, Load (ETL) Complexity: ETL is hard, expensive, and sometimes prone to errors.You may also be struggling to manage the volume of data efficiently.
This journey with AWS has led to additional benefits to our customers especially around migrations and free trials. If you would like to learn more about these programs please visit these links:
If you would like to learn more about steps to migrate your data to AWS, download the AWS Migration Checklist .
If you're ready to start your Starburst project, sign up for the Starburst Free Trial on the AWS Marketplace.