Starburst has played a key role in the Trino community for a long time now. We contribute  to the success of Trino every day. Our help ranges from simple answers to beginner questions in the community chat to extremely complex reviews for community code contributions and our own work on the Trino engine and the connectors.
A very helpful contribution for the community was the creation of the book Trino: The Definitive Guide with O'Reilly. Matt, Martin, and Manfred created the book about Trino as a great resource for beginners and advanced users alike. The book has been available as a digital copy for free from Starburst and many of you have taken advantage of this great offer.
However time has not stood still after the initial release in April 2020 and the update from April 2021. The innovation in the Trino ecosystem has only accelerated since then, and recently Trino proudly celebrated its 10 year anniversary. Manfred, Martin, and Matt have continued their efforts and are proud to announce that the second edition of Trino: The Definitive Guide is now available. Manfred has written more about the changes in the book such as the update to Java 17 in his own blog. and also shares on our developer blog how many others at Starburst are contributing to Trino every day and night.
Starburst is again making a free digital copy of available to everyone: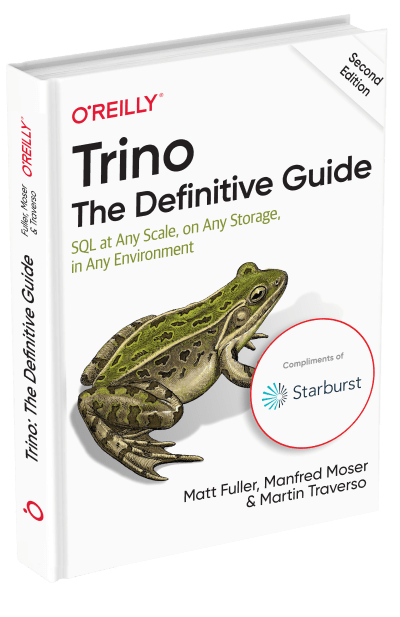 With the book in hand you can learn about Trino. All that knowledge will help you manage your Starburst Enterprise cluster, configure catalogs in Starburst Galaxy, and write SQL queries for either of these systems. You can then run them in the query editor, or hook up one of the many supported clients, thanks to more contributions from Starburst such as dbt-trino or the Metabase driver.
In November you can join us in person or online and learn even more at the Trino Summit 2022.