The Starburst Enterprise 2022 Q2 release (380-e LTS), provides Starburst customers with exciting new capabilities alongside more advanced connectivity, improved performance, and enhanced security. As always, this major release combines features that have been contributed back to the open source Trino project, as well as being curated for Starburst Enterprise customers.
To experience this latest release first hand, please visit our download site. Some notable features for this release include:
Data products
Data products, now in general availability (GA), is a module in the Starburst Enterprise platform which allows data producers to create, maintain, and share, data products. This same platform can be used by data consumers to discover and understand and use these data products. Starburst makes it easy to produce, share, and consume data products using the built-in workflows and query editor.
Views, or materialized views offer a saved view of cached data that you can access faster and can improve query speed. Data products blend the power of Starburst's analytical query engine with the discoverability and user-friendly capabilities of a data catalog. All this with built-in access control and security integrations with governance tools to provide a secure, high-performance solution.
In addition to being GA this release, we've also upgraded data products with new functionality including a REST API, metrics, comments, incremental refreshes. The REST API allows engineers and developers to manage the complete life cycle of data products programmatically, with the scripting and automation tool of their choice. With better automation, we've also added more context for data products to improve usability. Creators and consumers of data products can add comments, and get a holistic view of metrics regarding the usage, profile, and consumption of all data products.
Users now have the option to select data products, or materialized views, and define a refresh rate. This gives the flexibility to adjust the refresh rate based on the data products or use case. It is very beneficial when querying federated data that has high frequency and/or low latency requirements.
Built-in access control
Data access is only as great as how well it's secured. This release, our built-in role-based access control (RBAC) system, is now GA. With built-in access control, users can easily create groups of users based on their specific role and the privileges they are allowed directly from the Starburst UI. The RBAC capabilities makes it easy to configure any user's correct access rights to catalogs and to individual schemas, and tables. If your security needs require more granular control, you can restrict or allow access to specific columns within a table, or to functions, stored procedures, or session properties.
This release is the ability of data products and domain access to be managed with built-in roles and privileges. Beyond securing the access to the underlying data, Starburst Enterprise web UI permissions are now managed with built-in roles and privileges. This means UI components like query editor, query history, etc. can be granted or denied rights to individual users.
Built-in access control is now one of many security features Starburst supports. From authorization, to encryption, to 3rd-party and partner integrations, we ensure we meet you where your data is, with the security optionality that best fits your needs.
Data lake engine
Starburst's power to provide advanced analytics on a data lake has been extended by adding support for native data management and data manipulation language on Apache Iceberg. These improvements provide enhanced support for SQL functions, enabling true data warehousing analytics on a data lake. This release includes support for DELETE on Iceberg. Users can now simply delete a row, rather than deleting a whole partition, and writing back all the rows except the one you want deleted. Starburst also now supports AWS Glue as a metastore on Iceberg.
Improved performance
We're always improving our speed and efficiency and this release includes cost-based optimizations for JOIN re-ordering and complex predicate pushdown. These enhancements result in ~20% improvement on specific queries. The optimizations are useful when there are complex predicates or incomplete statistics.
Clients
We've also continued to improve ecosystem clients and integrations. We've added support for JWT authentication and OAuth (limited preview) for our Tableau and Microsoft PowerBI client integrations, making it easier and more secure to visualize data. Plus, our thriving community has delivered OAuth support for dbt Labs and Python.

User experience
Our product and engineering teams strive to make Starburst Enterprise the best experience for our customers. This release includes the ability for customers to customize their login page with their our logo and preferred banner messaging, functionality to improve usability and customer experience, including session expiration, SQL function and grammar auto-fill, query log data retention, and ability to run download results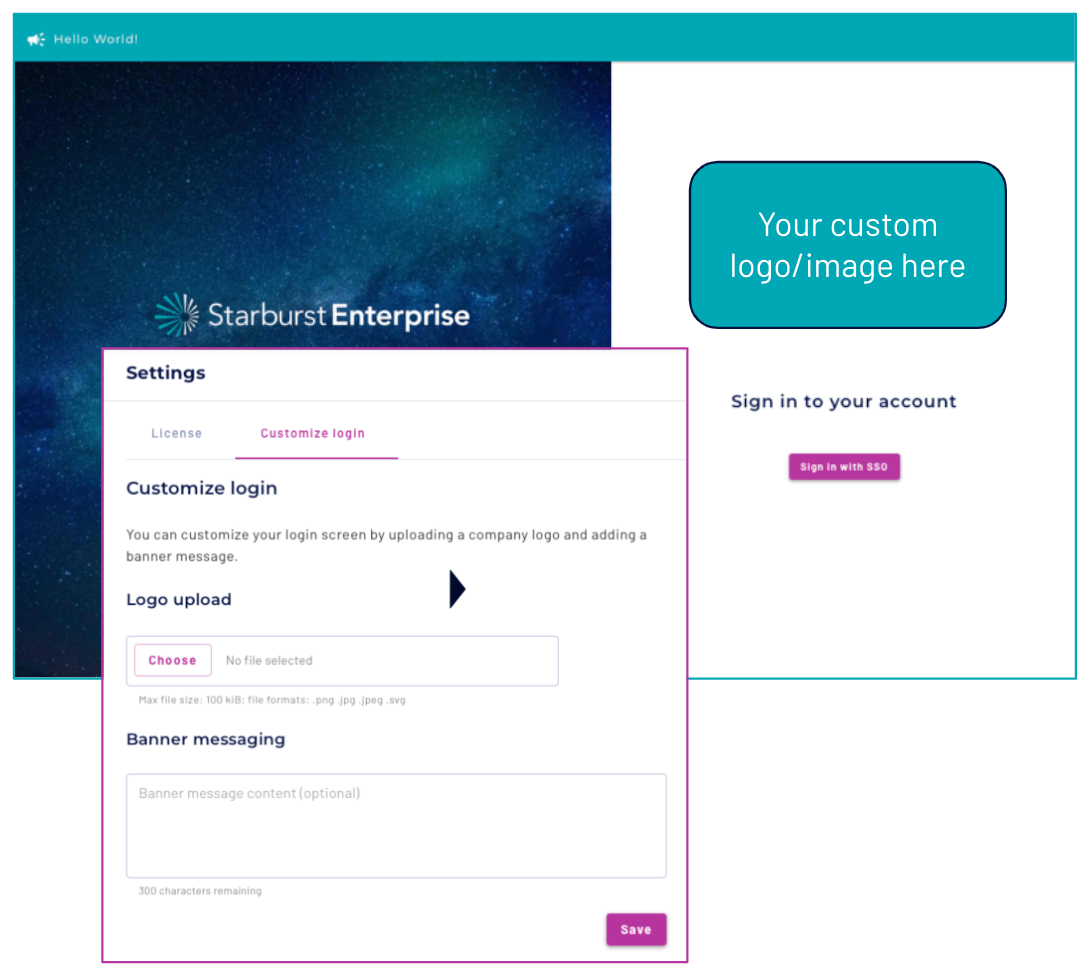 And these are just the highlights! The full release notes detailing all of the features can be viewed here. And if you're interested in hearing more about data products please register for our Democratizing Disparate Data with Starburst Data Products webinar on June 22nd, 2022.
Want to see Starburst Enterprise in action? You can download it for free here!