Starburst recently announced a $42M Series B, and we are lucky enough to be having a major growth spurt. At the same time, we are reflecting on the recent protests across the country and thinking introspectively about how we can foster a more diverse and inclusive culture at our own company.
Meritocracy is one of our core values and it is a deeply held belief here – the idea that rewards are earned according to merit and not entitled due to tenure, relationships, or anything else. However, we also recognize that creating a true meritocracy requires an even playing field to start with, something that our society today does not provide equally.
We realize that, as a software startup, we may not be able to change the world from where we sit, but we can commit to do our part to create a true meritocracy here at Starburst and that starts with having a diverse pool of candidates to hire from, and inclusive hiring practices across the board. We call this an inclusive meritocracy.
We are wholly convinced that a diverse and inclusive workforce will only serve to better us in every facet of our business by allowing individuals from all types of backgrounds to flourish and grow within our organization. We believe that by focusing on driving the most diverse candidate pool and a commitment to empowering our workforce with the tools and support that they need to be successful, Starburst can create an environment where meritocracy and inclusion are both celebrated.
We don't claim to have all the answers right now, but we want to be an active part of the solution and will continue to make progress in these areas, treating this as a top company priority.
Hiring
It all starts with ensuring a diverse candidate pool. We know that hiring pipelines can be a minefield of potential biases. Much academic research has been done to show that personal networks, a prime source of recruiting for any startup, often produce a less diverse pool of candidates.
Knowing this, we are actively reviewing our recruiting strategy to ensure we are able to find candidates from diverse backgrounds of all types. As part of the new remote-friendlier work paradigm, we are also expanding our candidate searches geographically, which we hope will unlock new candidates from more varied backgrounds as well.
Culture
The culture at Starburst focuses on the following five core values: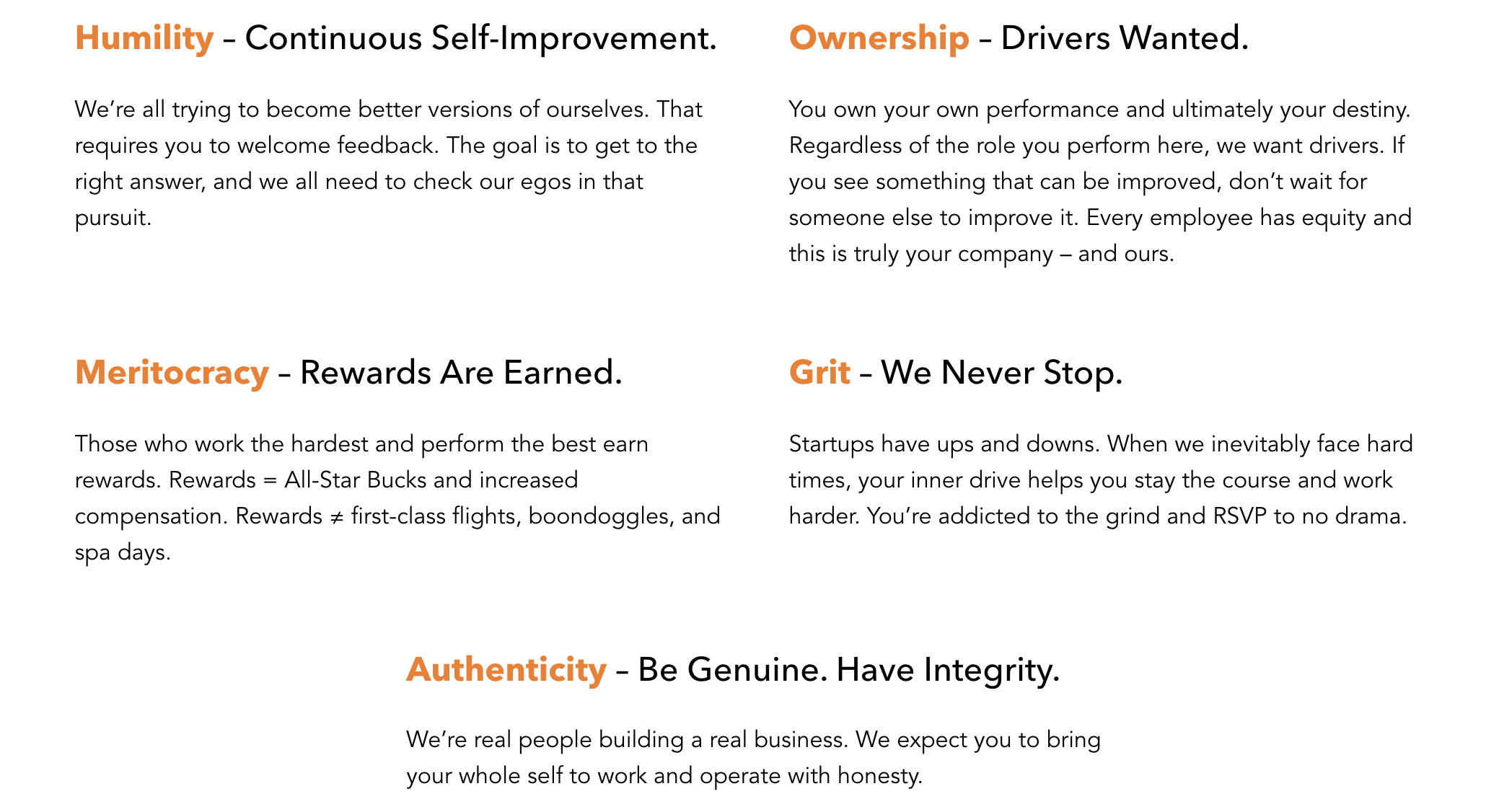 From our perspective, diversity & inclusion ("D&I") are an integral part of each of these values, however we cannot take it for granted that this is understood. We want to make sure that inclusivity is a clear and well-articulated part of who we are, and there is now a specific section on our careers page with our expectations around D&I.
There are several hallmarks of an inclusive culture that we are evaluating, enumerating, and building measurement around; stay tuned for future blog posts as we learn more and solidify how our culture incorporates these qualities. In the meantime, we are now a corporate sponsor of She+ Geeks Out, and we are also talking to organizations like Resilient Coders to find out how we can do better and broaden our impact.
What's next?
Becoming more diverse and inclusive is a cause we are committed to and actively working towards. Our next steps include continuing to educate ourselves on the most effective policies to achieve our desired results. We are also looking into our candidate pipelines and striving to source a broader range of candidates across the board. In addition, we are refining our cultural values in a way that clearly highlights diversity & inclusion.
Please come join us in this effort – we are hiring for all functions and can't wait to meet you!