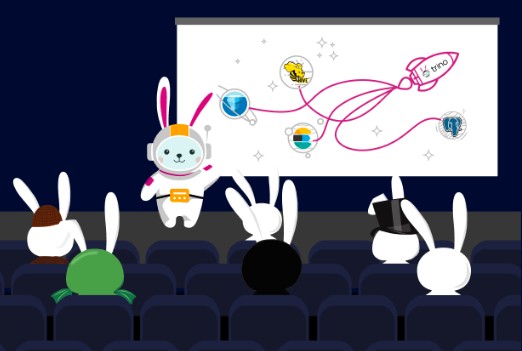 It's finally here! We are closing in on the final countdown to Trino Summit 2022, and I can feel myself getting more excited with each day that passes. I can't wait to take my first trip to San Francisco and connect with the amazing Trino community in-person.
The entire Trino Summit team has come together to create a special event and it's going to be awesome to see it come to fruition on November 10th!  I can't promise you that you'll see Commander Bun Bun in-person, but I also can't promise you that you won't see Commander Bun Bun live at Trino Summit.
Like every memorable gathering, we've got a theme: Federate them all! Brian said it best, but I can't help reiterating it myself. One of the greatest parts about Trino is all the brilliant, talented, and inspiring people (and bunnies) who make the community so special. As we celebrate federating data Ash Ketchum style, we will also be federating humans from all over the world.
I also can't wait to hear from the amazing speakers we have lined up. If you peek into that speaker list in the 2:17pm spot, you'll see yours truly. I'll be demoing live for you in a hot pink blazer and dark blue jeans because I can't resist the opportunity to inspire an outfit around the Trino brand. I'm hoping the demo deities will take pity on me and that everything will work as I expect, but if not, I promise to keep you entertained for 10 minutes one way or another. If things go south, this may be the beginning of my data themed stand up comedy career. You definitely don't want to miss that.
Get an autographed copy of Trino: The Definitive Guide, 2nd ed.
Meet the authors! Visit Manfred Moser, Matt Fuller, and Martin Traverso at the Trino booth during the conference and get your copy of the legendary Trino book signed.
If you don't have one already, we will be giving away autographed copies throughout the conference. You can also download a virtual copy today.
Register for the summit
Trino Summit will be held at the Commonwealth Club in San Francisco, California. Make sure you register quickly for in-person registration, as it is limited to 250 seats. Virtual registration is also picking up quickly so register your spot today!
Get pumped up
If you still aren't convinced, watch the teaser for this year's Trino Summit. Caution: After viewing, you won't be able to resist joining us.