It's been a non-stop and exciting first half of the year for the EMEA team in Starburst. We welcomed a record number of new customers, announced a huge round of funding, experienced massive growth in the team, and attended in-person events in London, Stockholm, Paris, Frankfurt, and Tel Aviv. To put all of this into context, EMEA grew the customer base by 300% over the last year with customers including: Marks & Spencer, Société Générale, Glovo, Standard Chartered Bank, and Genus. 
Here are our most recent exciting highlights:
A record-breaking funding announcement
We started out the year with some big global news – our $250m Series D funding, led by Alkeon Capital. This latest round of funding means that we're now valued as a $3.4bn company, a great achievement and milestone as a start-up! From a global perspective, it's an exciting time, and for us here in EMEA, it also means that we have further capabilities to continue expanding in the region.
We believe it's the people we've hired in EMEA that have contributed to our recent phenomenal achievement. In that spirit, we want to continue making great hires and recognise the success of our team – we've seen multiple internal promotions and exciting career opportunities open up for many of our team in Europe. Our goal this year is to double our headcount, expand within more European countries, and continue building our EMEA story with you!
New hire initiatives and growth in Poland
So far, we increased our headcount in EMEA by thirty five members, getting us much closer to our goal of doubling for the year. It doesn't stop there. 
Since our inception, our engineering hub, based in Poland continues to attract remarkable talent as they are building market-leading solutions across a range of technology. With a talented group of forty-plus engineers, we've recently announced ground breaking new features and functionalities to both Starburst Enterprise and Starburst Galaxy, which is just a snapshot of our engineering team capabilities. 
If you're interested in learning more about our open engineering roles, visit our careers page.
The return of in-person events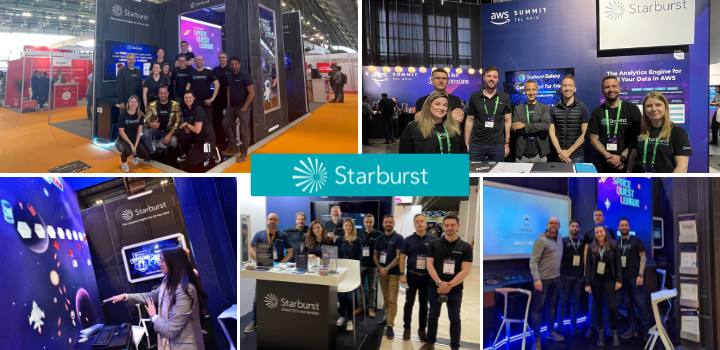 Finally, we were thrilled to meet so many of you at events this year, including AWS Summit Paris, Big Data & AI World London, Big Data & AI World Frankfurt, Data Innovation Summit Stockholm, AWS Summit Tel Aviv and Gartner Data & Analytics Summit London, where we shared the value of Starburst: single point of access to all your data, how we support a Data Mesh architecture, and our latest case study from Europe's leading media and entertainment company, Sky. 
Those who visited our interactive booths were also able to try out the Space Quest League video game, an extension of our gamified sweepstakes Starburst Space Quest League, where data professionals can test their skills and enter for a chance to win the grand prize, $20,000! The video game is available on our website now! Play to earn points and increase your chance of winning the sweepstakes today! 
Keep an eye out on our events page for upcoming opportunities to meet the team and learn more about Starburst in EMEA. 
What a great first half of the year it's been. We can't wait to see what the rest of this year holds!