In 2020, Gartner introduced the 'Analytics Query Accelerators' category with their inaugural Market Guide for Analytics Query Accelerators. The Gartner Market Guide defines a market and explains what clients can expect it to do in the short term and helps you manage the risk of investing in an emerging market with insight into its direction and potential. We believe that Gartner's newly released 2022 Market Guide for Analytics Query Accelerators does exactly that, and will be a great resource for enterprises looking to get more out of their distributed data.
You can read the report to understand how analytics query accelerators help companies extract value from diverse data stores associated with data lake, data warehouse, and lakehouse architectures through SQL or SQL-like query support. The goal of these tools, Gartner says, is to support BI dashboards, interactive query capabilities, data modeling, and other analytics use cases. We are honored to be included for a second year as a Representative Vendor in the category, and we are very happy to see that many of Gartner recommendations in the report align with our core benefits.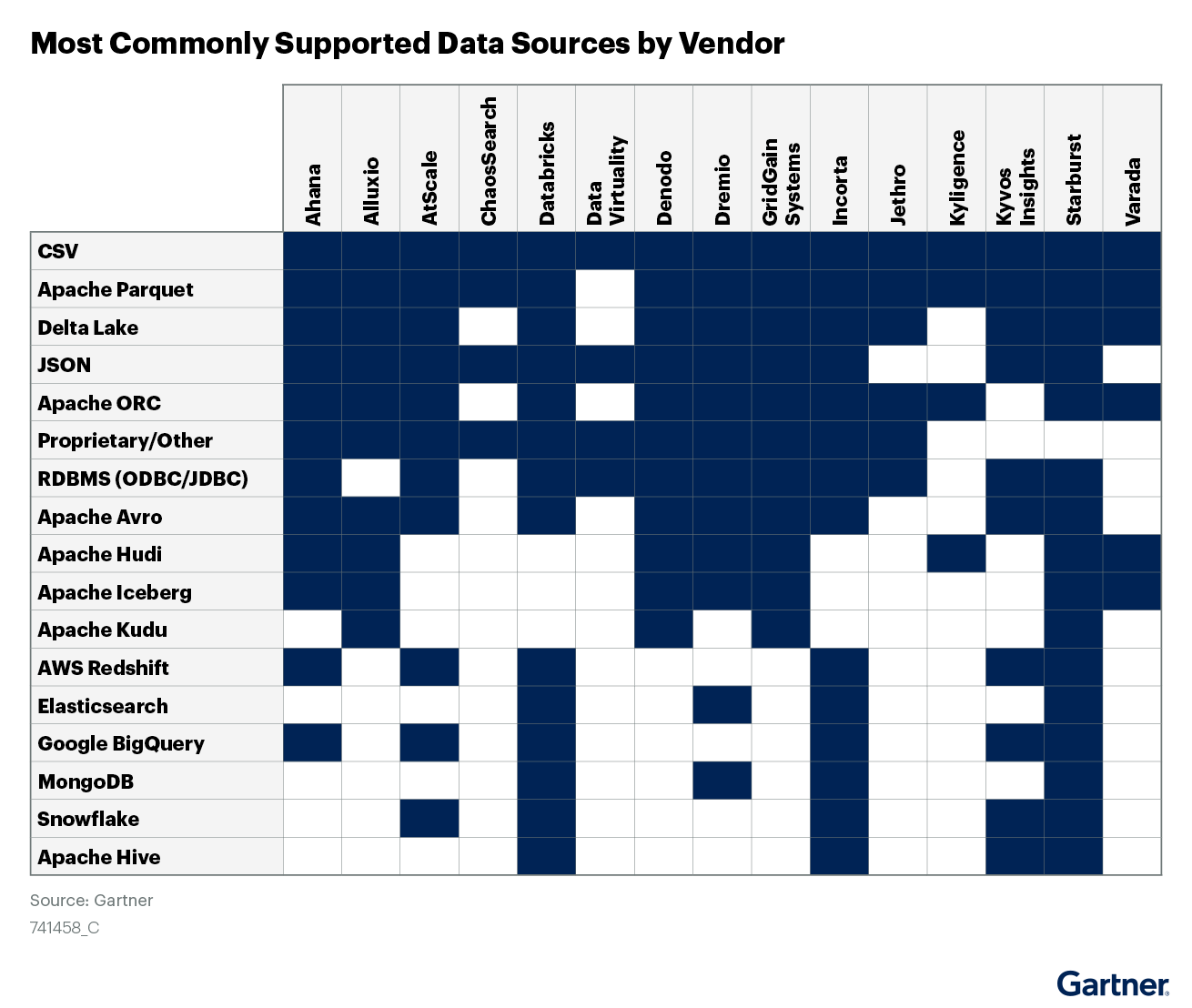 This graphic was published by Gartner, Inc. as part of a larger research document and should be evaluated in the context of the entire document. The Gartner document is available upon request from Starburst.
At Starburst, we support more data sources than any other vendor through our robust ecosystem of high-performance connectors. Starburst has always placed a premium on security and governance as core features of the platform as well. Starburst integrates seamlessly with the leading BI tools, too, making it easy for analysts to explore and extract insights from new sources of data without having to learn or familiarize themselves with new, complex tools. We're also strong advocates of open data formats that help enterprises avoid vendor lock-in. After all, it's your data. You should own it and analyze it freely.
What we're doing at Starburst is different. Instead of requiring that companies move data to a centralized location to achieve a single source of truth, we're offering companies a single point of secure access to distributed data. We make ETL optional. We can start by making data in a data lake significantly more valuable by powering fast SQL-based queries, and we can also connect beyond the data lake into warehouses and other systems to join disparate data into one query.
The end result: Data engineers & data consumers have high-performance access to distributed data as if it's all in one place.
When Assurance, the online insurance platform, deployed Starburst Enterprise, they reduced time-to-insight from weeks to hours. They provided their Data Science and BI teams with easy access to more data sources, strengthened security, and turned their newfound insights into programs that increased their overall customer conversion rate by 10%. At the same time, Assurance actually dropped its costs by 40%. Another one of our customers, Optum, improved query performance by 10X. One Optum user attested that queries that used to take five minutes now finish in under 10 seconds.
We're proud of these and other customer stories — and our 85 NPS score — but I don't envy the enterprise decision-makers out there who are just beginning their search for a solution to their distributed data problem. This is a new, exciting, and increasingly crowded space. As more companies start to embrace decentralized data architectures and search for ways to extract insights and value from their distributed data, they're going to come across a wide range of vendors. We believe this latest Gartner report will prove to be a valuable asset. It will help you understand what Starburst Enterprise and other vendors have to offer, and how to evaluate us all to ensure that you make the best possible decision for your company.
Gartner, Market Guide for Analytics Query Accelerators, Merve Adrian, Adam Ronthal, 14th March 2022
Gartner does not endorse any vendor, product or service depicted in its research publications and does not advise technology users to select only those vendors with the highest ratings or designation. Gartner research publications consist of the opinions of Gartner's Research & Advisory organization and should not be construed as statements of fact. Gartner disclaims all warranties, expressed or implied, with respect to this research, including any warranties of merchantability or fitness for a particular purpose.
GARTNER is a registered trademark and service mark of Gartner, Inc and/or its affiliates in the U.S. and internationally and is used herein with permissions. All rights reserved.