The new Starburst Enterprise 413-e LTS release provides Starburst customers with exciting new capabilities alongside more advanced connectivity, improved performance, and enhanced security. As always, this major release combines features that have been contributed back to the open source Trino project, as well as new features created for Starburst Enterprise customers. We previously announced 413-e as a short-term support (STS) release, and are now promoting it to a LTS release to be supported with patch updates and fixes for the next year.
The quarterly LTS release is the best opportunity for existing customers to upgrade their cluster and take advantage of all the new enhancements, and for new prospects to start their journey with Starburst Enterprise.
Lakehouse

Starburst Enterprise continues to add support and functionality in support of lakehouse architectures. In this release, we've made significant improvements to the read performance of structural data types such as ARRAY, MAP, and ROW in Parquet. This optimization ensures faster and more efficient processing of complex data structures, enabling users to analyze their data with greater speed and precision. 
We've also extended support for Delta Lake, enabling the creation of tables with change data feed capabilities, automatic statistics generation on INSERT operations, and the ability to define and enforce invariants on the data. With improved visibility into generated column expressions, users can better understand and utilize these columns effectively. In addition, statistics are now automatically generated for new columns added to a table, ensuring accurate and up-to-date insights.
Starburst Enterprise continues its comprehensive support for Apache Iceberg, now with improved statistics generation, faster and more precise query execution, and enhanced predicate pushdown for optimizing queries that involve time-based predicates. Pushdown reduces the amount of data and metadata accessed, resulting in faster query performance and reduced input/output (I/O) operations. 
In addition, we've made migrating to Iceberg a whole lot easier with…

Hive to Iceberg table migration
The Starburst Enterprise release also includes all recent enhancements to open source Trino. The 413-e LTS includes a new migrate procedure added to the Trino Iceberg connector that allows users to migrate a Hive table into Iceberg format, similar to the migrate procedure in Apache Spark.
Read more about migrating Hive tables to Iceberg tables in our documentation.
Managed statistics
First introduced in our 407-e LTS, managed statistics allows Starburst Enterprise to collect and store table and column statistics for select data sources that expose limited or no statistics of their own. Having these statistics available allows the cost-based optimizer to make smarter decisions when planning queries, resulting in faster performance when using these connectors.

We're continuing our rollout of managed statistics to more connectors. In the 413-e LTS, the following connectors now support managed statistics as a public preview:
Read more about managed statistics in our documentation.
Share queries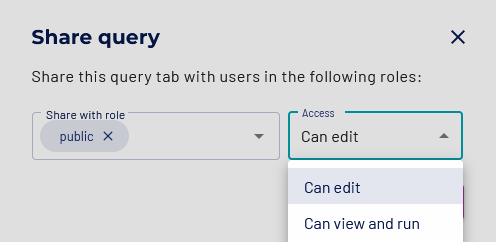 The Starburst Enterprise web UI includes a built-in IDE, the query editor. In our ongoing effort to enable cross-functional collaboration between data consumers in your organization, the 413-e LTS introduces a feature in public preview to share query tabs between roles on your cluster. This feature allows you to easily share access to the same query workspace between members of your organization, with granular access control as needed.

Learn more about sharing queries in our documentation.
PingIdentity support
To provide customers with more options to control their end-to-end data architecture, Starburst continues to expand its suite of supported identity providers. In the 413-e LTS release, PingIdentity (PingID) is added as an officially supported identity provider for OAuth2.0 with Starburst Enterprise. This integration allows users to leverage PingID as a trusted identity provider for secure authentication and authorization, enabling seamless access control within the Starburst ecosystem. 
Read more about configuring PingID as an OAuth 2.0 identity provider in our documentation.
Data product security
Data products is a core part of the Starburst Enterprise feature set, enabling users to curate data for different personas and use cases throughout your organization. Where users could previously only secure access to data products with the Starburst Enterprise built-in access control, the 413-e LTS adds support to secure your data products with Apache Ranger. Users can now create policies in Apache Ranger that grant or restrict users' ability to view, manage, and publish data products in Starburst Enterprise.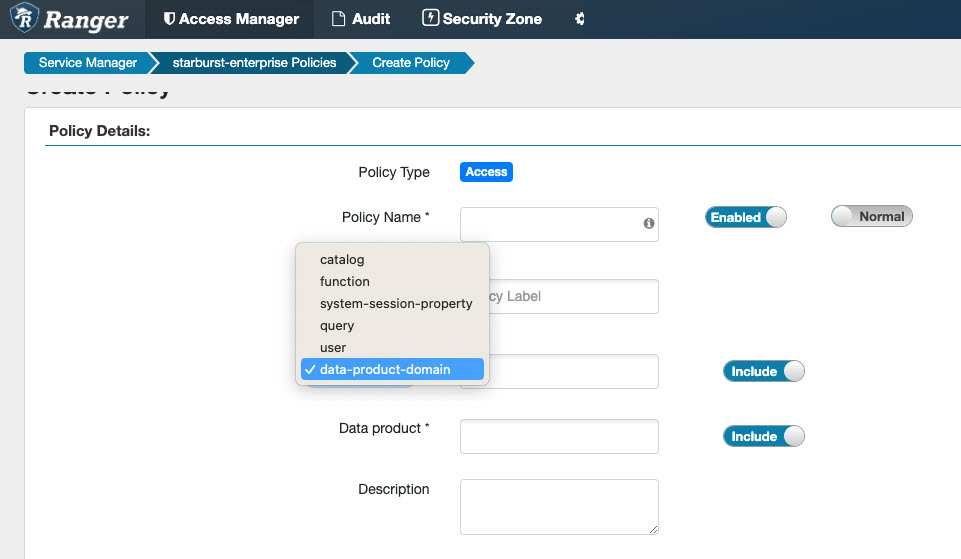 Read more about configuring role-based access control for Starburst Enterprise with Apache Ranger in our documentation.
Fault-tolerant execution support
A Starburst Enterprise cluster with fault-tolerant execution enabled can execute larger batch operations with a greatly reduced risk of query failure due to network or resource availability. With the 413-e LTS, we're continuing to expand support of fault-tolerant execution to more connectors, allowing for resilient queries against more data sources. Since the last LTS release, Starburst Enterprise now supports fault-tolerant execution of read/write operations with the following connectors:
To get started setting up a Starburst Enterprise cluster with fault-tolerant execution, read our how-to guide.
And more!
The 413-e LTS includes all of the previously-mentioned enterprise enhancements and more, as well as all improvements added to the open-source Trino project up to Trino 413. This release includes additional enhancements such as:
To read the full list of enhancements and changes in this release, see the 413-e LTS release notes.