The Starburst Enterprise 364-e LTS release provides net new capabilities alongside more advanced connectivity, improved performance and an enhanced user experience. This release includes a combination of features contributed to the open source Trino project as well as those specifically for Starburst Enterprise customers. To experience this latest release first hand, please visit our download site.
This release includes the following new features:
Extended Flexibility for Data Lakehouse Architectures
Official support for Apache Iceberg provides additional options for the format of your data lake. Apache Iceberg is an open table format specifically designed for large, petabyte scale tables. Originally developed at Netflix to solve for issues with their usage of enormous petabyte sized tables, it was open sourced in 2018. Iceberg's table format helps organizations manage, organize and track all the files that make up a table. It provides warehouse-like capabilities on top of a flexible and scalable data lake.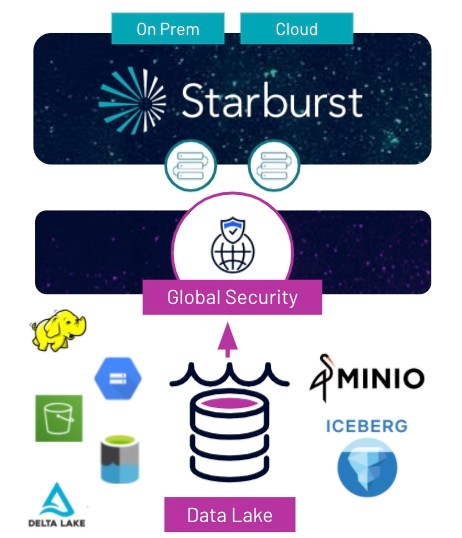 Iceberg was designed specifically for the cloud and solves for various performance issues that Hive suffers from when used with data stored in S3. Iceberg keeps track of a complete list of all files within a table using a persistent tree structure while Hive keeps track of data at the folder level. This leads to performance issues when many operations need to be executed.
In addition to official support for Apache Iceberg, this release brings official support for MinIO. MinIO is a high performance distributed object storage server, designed for large scale data infrastructure. It is designed for private cloud infrastructure and provides S3-like storage functionality.
This release reconfirms Starburst's goal of providing the highest level of flexibility in querying your data no matter where it lives. With official support added for Apache Iceberg and MinIO along with existing support for Delta Lake, Starburst provides you with even more optionality in your choice of data lakehouse architecture.
dbt Integration
Starburst's new integration with dbt provides data teams with the capability to use SQL to create production-ready pipelines, which execute via Starburst Enterprise for improved performance. dbt is a popular and fast-growing data transformation workflow tool.
The combination of Starburst and dbt is a match made in heaven: dbt allows pipeline creation and management using SQL while Starburst can query just about any SQL and non-SQL based repository of data of note. Leveraging Starburst's capability to execute federated, governed queries against distributed data at scale gives dbt the ability to perform just about any batch task you need.
New Starburst Insights Enhancements
New improvements to Starburst Insights adds a view into Live Queries and updates the Worksheets user experience. Within the view of Query History, you can now see live queries execution details which are dynamically updated when queries are running. Users can now troubleshoot running/queued queries in real-time. New Stages view provides a deep dive into what is happening in every execution stage and all the tasks associated with them including statistics and resources.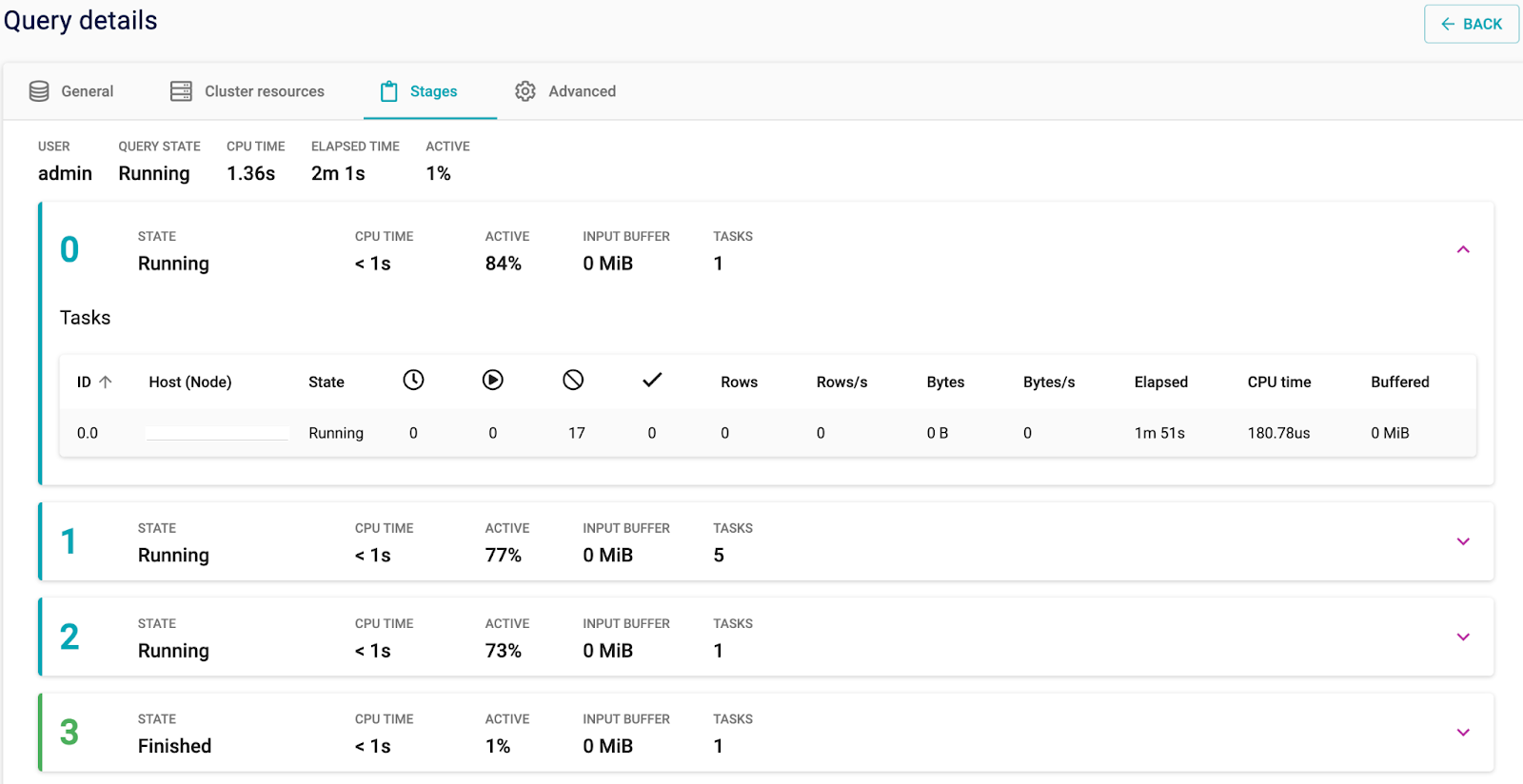 New and Improved Connectors
This release brings added connectivity to Vertica and Splunk as well as enhancements to a number of existing connectors. The new connector to Vertica provides a method to query Vertica's MPP analytical relational databases. This new connector supports table scan redirection, cached views, dynamic filtering and column & predicate pushdown. The Vertica connector is exclusive to Starburst Enterprise.
In addition to the Vertica connector, Starburst has also added connectivity to Splunk. The Splunk connector makes SQL queries possible on Splunk's scalable data store and search engine for machine generated data. Now Starburst users can use business intelligence tools like Tableau and PowerBI to query live Splunk data using Starburst. Federated queries combining Splunk data with other data is also now possible with this new Starburst connector. This connector is exclusive to Starburst Enterprise.
Starburst has also made a number of improvements to existing connectors. This release brings improvements to the following connectors: Snowflake, Netezza, SQL Server, SAP Hana, Redshift, MySQL, SingleStore, Greenplum and Oracle.
More information on the specific improvements to these connectors as well as more information on the full release can be found in the documentation. The full release notes detailing all of the features can be viewed here. And if you're interested in hearing more please register for our  Starburst Enterprise's Q4 (LTS 364-e) Release Webinar on Wednesday, December 15th.
Want to see Starburst Enterprise in action? You can download it for free here!