After debuting our blog series on data pandemic stories with a story from Tableau, we're excited to bring you a viewpoint from Syed Mahmood, Head of Product Marketing at Privacera, a Starburst partner brand. The year 2020 will be etched in history as rather an unusual one: One where the outbreak of a global pandemic wreaked havoc but also taught us important lessons. Behavioral patterns changed forever, data science models were put to test, and the need for fast data access and "analytics anywhere" emerged as a key growth driver. Companies with strong digital foundations thrived while others were forced to adapt. According to a report by McKinsey, digital transformation "vaulted five years forward." If you have a compelling data pandemic story to tell and would like to get featured on Starburst Blog, please write to us at content@starburst.io.
—Your friends at Starburst
As COVID-19 brought new challenges to every aspect of our lives, it highlighted the importance of data in governments' and national health organizations' responses to global and national emergencies. The public protocols we follow–such as social distancing, travel bans, school closures, and quarantines–are all driven by data and analytics. COVID-19 transformed governments into stewards of public data, and to be effective in this role, they must balance the personal privacy of citizens, while deriving the valuable information needed to combat and control the spread of the virus.
Privacy and Governance Challenges During a Pandemic
To build viable solutions to COVID-19, government agencies must be able to share personal and regulated data they collect across borders for research and collaboration; but the biggest challenge they face is ensuring that data is reliable and does not compromise the identities or privacy of individuals. To achieve this, data must go through a discovery process to identify and tag sensitive elements and flag problematic areas that can introduce bias into analysis; then consistent access controls must be implemented to ensure only authorized users can access data for its intended purposes. This process typically falls on the shoulders of data infrastructure teams in health organizations, which can place a heavy manual burden on understaffed teams who are tasked with protecting data, while also ensuring it is easily accessible to as many users as possible.
To combat these challenges, it is imperative that government and health agencies have effective data management frameworks and automated data access governance platforms in place to reduce the manual burdens on data teams, ensure data is used only for ethical purposes, and to protect the privacy of all individuals involved.
Roles and Challenges of Cloud Computing
Public cloud provides national health agencies and pharmaceutical companies the flexibility to instantly provision storage and compute resources, subscribe to a cloud-native service best suited for their use cases, and decommission those resources when the task is completed. This model is especially effective during global emergencies like COVID-19, when the volume of data from national or international sources can grow rapidly and there is no time to build data infrastructure to analyze it or collaborate effectively.
But the cloud is not without its share of challenges. Public cloud providers and third-party services all provide unique mechanisms for managing access to data, which has forced data administrators to manually administer access control policies for a rapidly-growing number of services, while navigating multiple interfaces to do so. This can delay users' access to data and delay analysis, which is especially critical when combatting a global pandemic.
Components of an Effective Privacy and Governance Framework
The journey to effective data governance during normal or extraordinary times begins with identifying, classifying, and tagging sensitive elements in data. Think of data tags in the same way airlines apply tags to luggage. With effective tagging, government agencies and health organizations can build policies and rules to identify datasets that contain private or personally identifiable information and control who can access that data.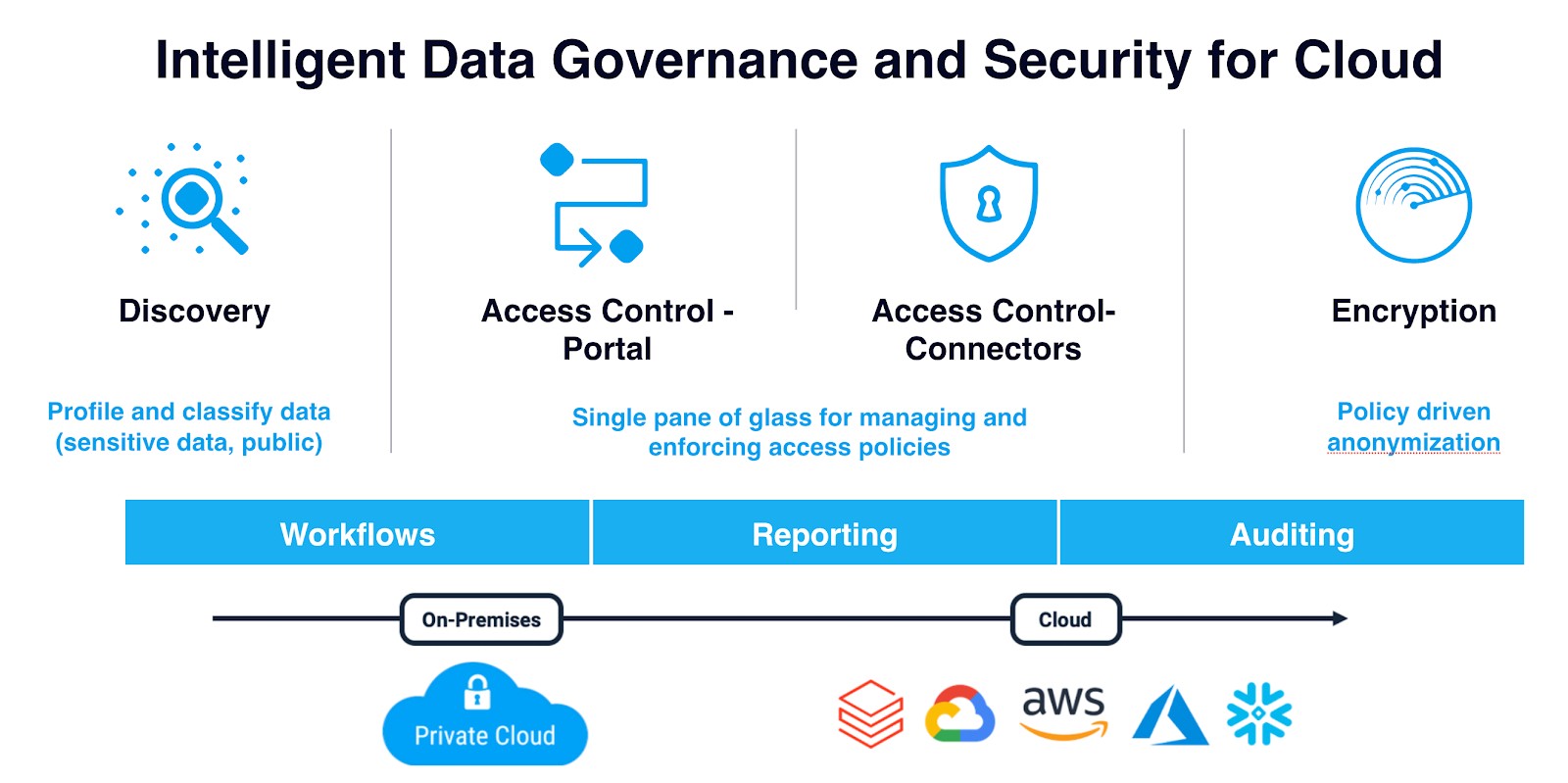 After classifying and tagging data, access control policies can be implemented to secure it, which requires a data access governance platform that provides fine-grained access control to create role-, attribute- and tag-based policies at the file, row, and column levels. This is especially critical in the time of COVID-19, as the ability to administer policies to finer grains of data accelerates and simplifies access to the precise data users need to analyze to build solutions.
To summarize, it is critical that government agencies tasked with ensuring the safety and health of citizens have access to reliable, secure data in order to build global solutions for us all. An effective data access governance platform is the first step to bringing transparency to this process and changing the way we interact with and consume data.
To learn more about how Privacera's automated data access governance platform helps organizations gain comprehensive visibility of sensitive data across on-premises and cloud services without sacrificing privacy or compliance, visit our site or sign up for a free, 30-day trial of PrivaceraCloud.