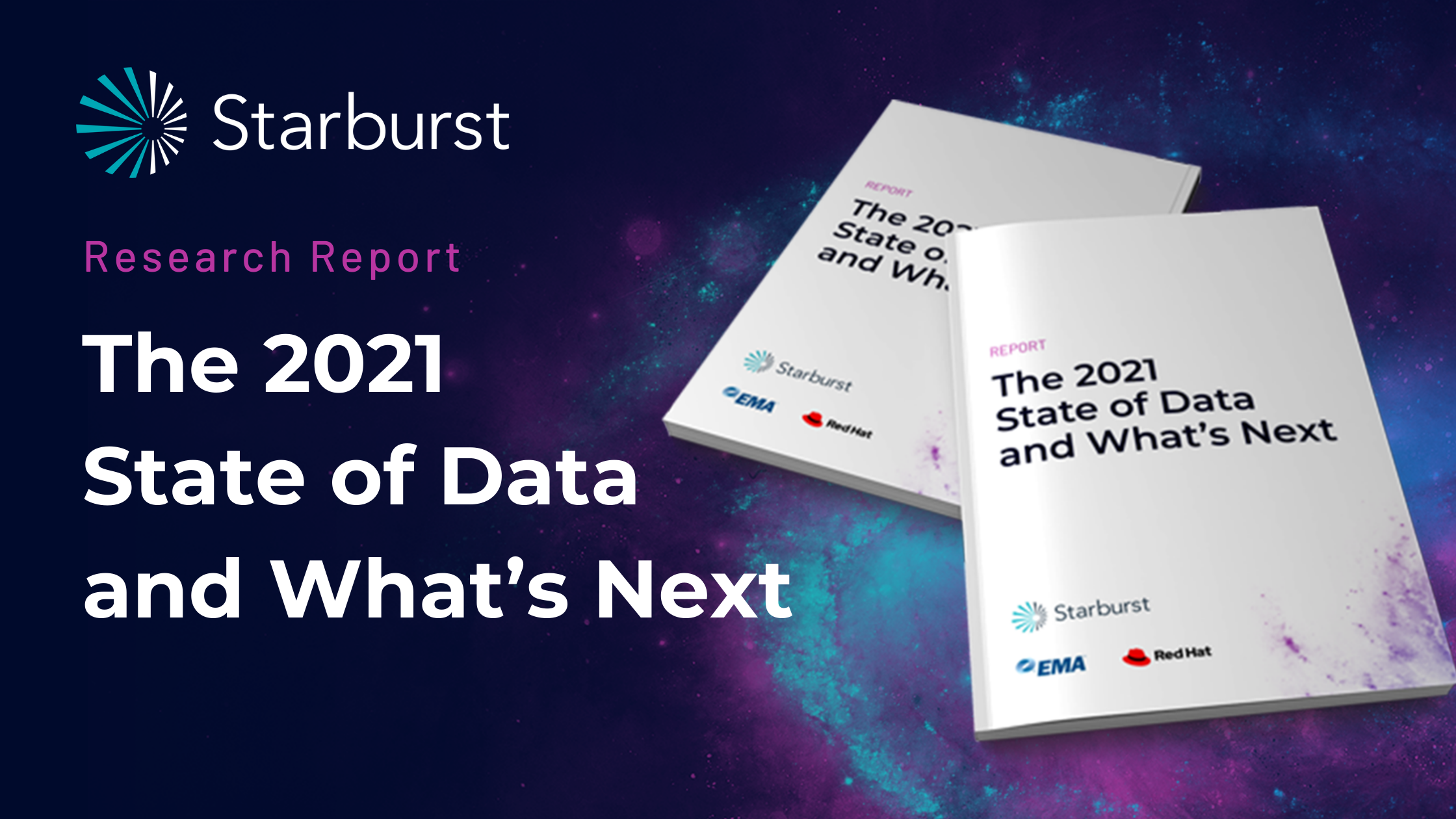 The recent pandemic has caused a massive digital shift and made the need for data access more critical than ever for 53% of the organizations, according to a recent market research, The 2021 State of Data and What's Next conducted by Enterprise Management Associates (EMA).
At a time when real-time data access holds the key to customer analytics, did you know that 37% of the enterprises are not even confident in their ability to access relevant data to make informed decisions? Or that 52% of them have their data spread across five or more data storage platforms?
Download the full research report here.
Jointly commissioned by Red Hat and Starburst, this global study surveyed more than 400 organizations spread across a multitude of industries across North America, Europe, and Asia Pacific. The report uncovers emerging trends and valuable insights that every data analytics leader should care about. 

The imperative for faster data access is about driving tangible business outcomes with 35% of the participants wanting to improve growth and revenue generation and 36% of them looking to analyze real-time changes to risk.
The study also found that today data is significantly distributed and moving data across disparate data sources is riddled with challenges. Building and deploying data pipelines is arduous given the complexities of combining data in motion with data at rest, the excessive time it takes to address break and fix, and the manual coding lift for deploying error-free data pipelines.
From the great data dispersion to the impact of the pandemic and from the data pipeline dilemma to the move to the cloud, the study encapsulates the current data landscape. Interestingly, despite the great digital shift brought about by COVID-19, SQL remains the lingua franca of analytics. 54% of the respondents chose SQL analytics over graph analytics, machine learning, and time-series analysis when asked about analytical workloads critical to the overall data and analytics strategy.
The research also makes predictions for the future and EMA's Research Director John Santaferraro notes, "The top priority for analytics programs in 2021 is the ability to run queries on multi-structured data across multiple tiers of data storage." Will the future of analytics be powered by convergence, modern analytics, or the need for speed? Download the report here to find answers and fine tune your data strategies.