Keeping in line with our recent announcements of availability in cloud marketplaces, we're thrilled to announce that Starburst Enterprise for Presto is now available through Red Hat Marketplace. Starburst is on a mission to power analytics anywhere, and now, Red Hat Marketplace customers can deploy Starburst Enterprise within their hybrid or multi-cloud environments to quickly access and analyze data across any data source. Our solution for Red Hat is a fully supported, production-tested, and enterprise-grade distribution of open source Presto.
Red Hat Marketplace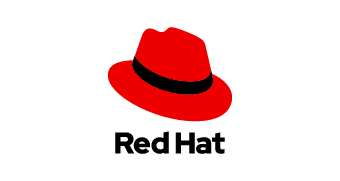 Built in collaboration with Red Hat and IBM, Red Hat Marketplace is an open cloud marketplace for enterprise customers to discover, try, purchase, deploy, and manage certified container-based software across environments—public and private, cloud and on-premises.
Red Hat Marketplace delivers a seamless hybrid multi-cloud experience for organizations moving into the next era of computing. It is designed to meet the unique needs of developers, procurement teams and IT leaders through simplified and streamlined access to popular enterprise software. A containers-based approach helps ensure that applications can be run and managed the exact same way, regardless of the underlying cloud infrastructure. This gives companies the flexibility to run their workloads on premise or in any public or private cloud with improved portability and confidence that their applications and data are protected against vendor lock-in.
Red Hat & Starburst: A simple, cost-effective, straightforward way to manage architecture that gives organizations access to their data anywhere.
Operators delivered with Red Hat OpenShift Container Platform automate installation, upgrades, and lifecycle management throughout the container stack. Starburst has delivered an operator for Starburst Enterprise Presto with Red Hat OpenShift that greatly simplifies the administration of a Presto cluster
Benefits include:
Auto-configuration, auto-tuning, and auto-management of Presto clusters based on the hardware provisioned.

Don't go through the exercise of sizing and configuring your environment manually, There's no need to figure out how many JVMs you need or set up and install all the infrastructure given your hardware and compute constraints.  The OpenShift operator determines what to deploy into your environment, including identifying the hardware and provisioning new instances. Day 2 Operations? No problem. The Starburst Operator manages updates to your environment.
High Availability for Presto Coordinator using liveliness probes

Keep services such as Presto Coordinator always-on with OpenShift's load balancer.
Elastically scale the Presto Worker cluster based on query load 

Using the Kubernetes Horizontal Pod Autoscaler (HPA), you can specify thresholds for your Presto Worker pods. As the number of queries increase, the HPA will automatically spin up additional Worker pods based on system constraints that you specify.
Graceful scale down and decommission to avoid killing queries

And with OpenShift, reduced load doesn't mean system down time.  The Horizontal Pod Autoscaler will gracefully decommission unused Presto Workers and free up system resources for other tasks without any interruption of service
Easily monitor all hardware and software layers and clusters

Prometheus, OpenShift's cluster monitoring service, delivers metrics and alerts to OpenShift that will inform Kubernetes orchestration and populate OpenShift dashboards. Prometheus lets Kubernetes know if a pod is down, what the pod is doing, it provides the metrics to the HPA to let it know to commission or decommission additional pods, etc.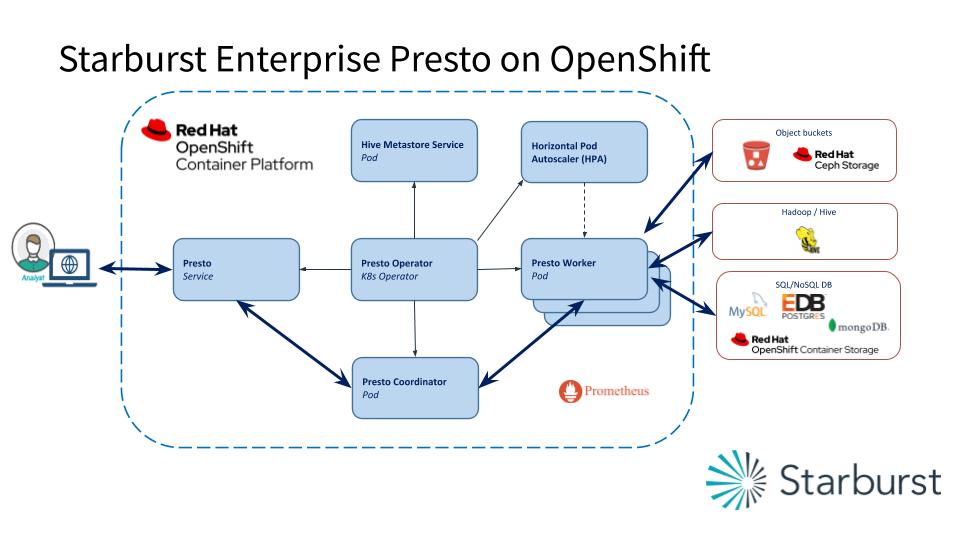 Meanwhile, Starburst Enterprise Presto enables enterprise organizations to make use of data storage platforms typically deployed with OpenShift. For example, many application developers are making use of SQL and NoSQL databases running in Red Hat OpenShift Container Storage, and many businesses pull data in from data lakes running on Red Hat Ceph Storage. Archives stored in Parquet files on Ceph are also useful for data analytics.
In addition, Starburst Enterprise Presto makes data stored in traditional data stores, such as transactional relational databases, data warehouses, or Hadoop accessible to applications integrated with modern software-defined and cloud-native data stores.
Container-based environments are the future of enterprise technology, and as organizations increasingly operate in multi-cloud or hybrid cloud environments, their data becomes scattered. With Starburst, users can maximize the value of their existing database assets, and unlock immediate access to analytics regardless of where the data lives.
In short, Using Starburst, interactive analytics projects are much simpler to execute at scale, and at far lower cost than moving data into a single source of truth. We're proud to be collaborating with an open source leader in Red Hat, who understands that open source is the way forward when it comes to pace of innovation, increased interoperability between systems, and flexible deployments for customers