We are thrilled to announce the availability of Starburst Enterprise for Presto in the Microsoft Azure Marketplace. This completes our journey of availability in all major clouds, as Azure joins recent announcements of Starburst availability on AWS, Google Cloud, and Red Hat Marketplaces.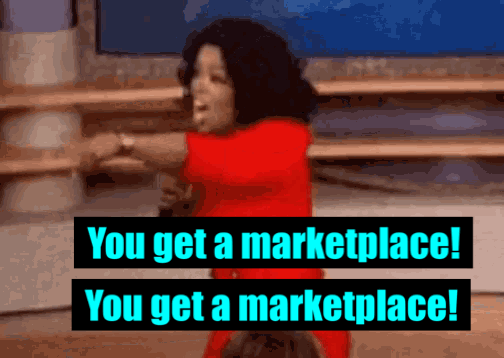 That's right, we're now providing customers, regardless of their cloud infrastructure, access to Starburst Enterprise for Presto to take advantage of the scalability, reliability, and agility of those providers to drive application development and shape business strategies. Starburst customers can now take advantage of the productive and trusted Azure cloud platform, with streamlined deployment and management.
Azure Marketplace
The Microsoft Azure Marketplace is an online store that offers applications and services either built on or designed to integrate with Microsoft's Azure public cloud. The products and services sold through the Microsoft Azure Marketplace come from either Microsoft directly or its technology partners. Here, customers can accelerate the pace of development with thousands of certified apps tailored to meet their needs. And if that need is the only enterprise-grade distribution of Presto, for fast, secure access to data anywhere, then Starburst is the listing for you. 
Starburst Enterprise for Presto
By using Starburst Enterprise, organizations can access data quickly, wherever it's stored. Starburst complements Microsoft Azure Synapse, Azure Databricks, and the Azure analytics portfolio in helping make Azure the center of gravity for customer analytics transformation and data platform modernization.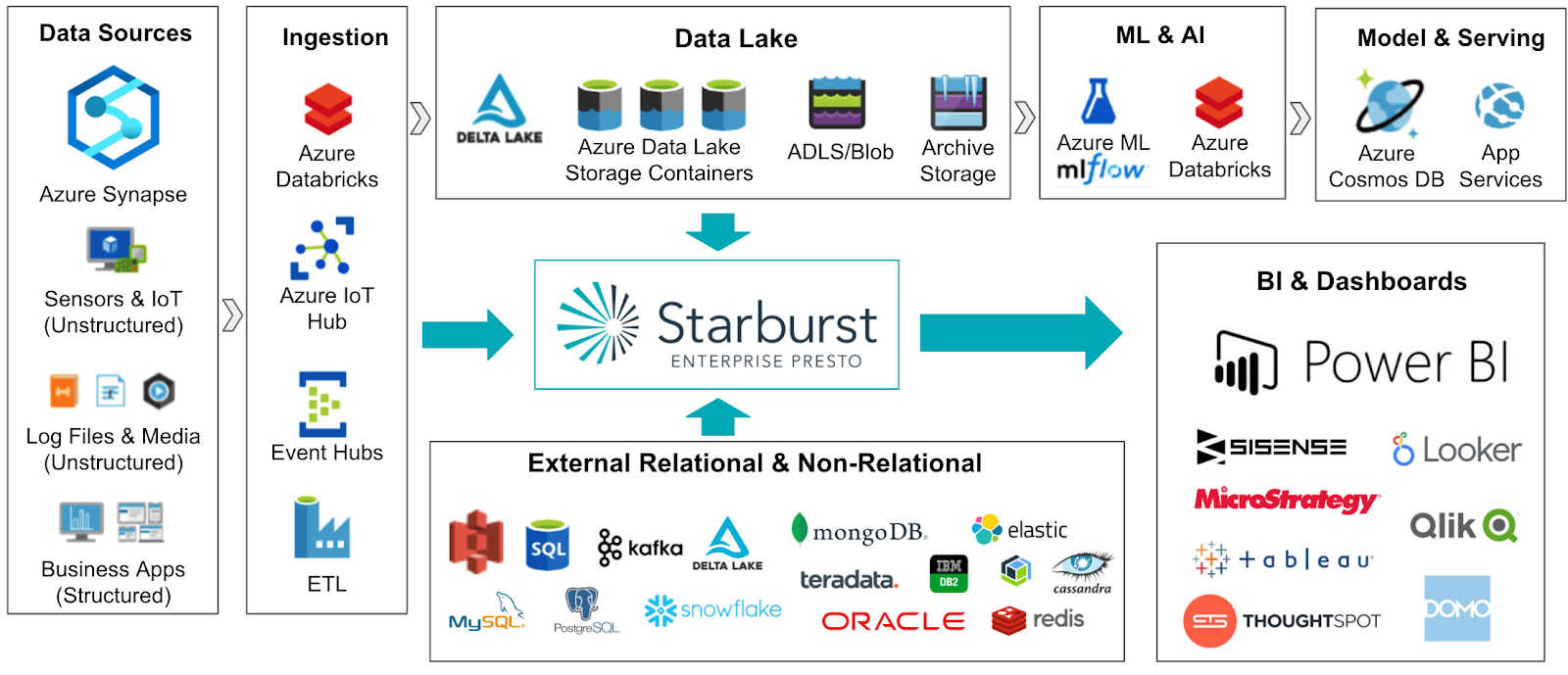 Starburst customers can run fast analytics on Azure Data Lake Storage (ADLS) and integrate data across multiple systems—regardless of where they are deployed—without the cost of moving data into a single source of truth. With Starburst, data engineers can use the leading open-source query engine to analyze all of their data. Starburst users can now analyze data in ADLS, SQL Server, Azure Databricks Delta Lake, and more than 30 other supported data sources without any data movement.

Starburst uniquely provides the following to Azure customers:
| | |
| --- | --- |
| Analytics Supporting Migration to Azure | Cloud Native Analytics |
| Hybrid cloud federation during migration | Cost effective ad-hoc or interactive analytics on ADLS, Azure Blob storage and Azure Databricks Delta Lake |
| Bringing analytics to Azure faster with no end user analytics disruption | Federated queries with data sources outside of Azure to enhance Azure analytics value |
| Data discovery or investigation on cold or historical workloads in data lake (prem or cloud) to identify for migration | Multi-cluster management of Starburst Enterprise Presto for concurrent analytics across hybrid environments |
| Enabling insights through Power BI and other BI tools already in place | Join data from existing Snowflake with Synapse, Delta Lake and other Azure Data Services |
"Use the right tool, for the right job." 
Designed for the separation of storage and compute, Presto is ideal for querying data residing in multiple systems, from cloud data lakes to legacy data warehouses. Starburst Enterprise Presto on Azure enables the user to run analytic queries across Azure data sources and on-prem systems such as Teradata, Oracle, and others via Presto clusters.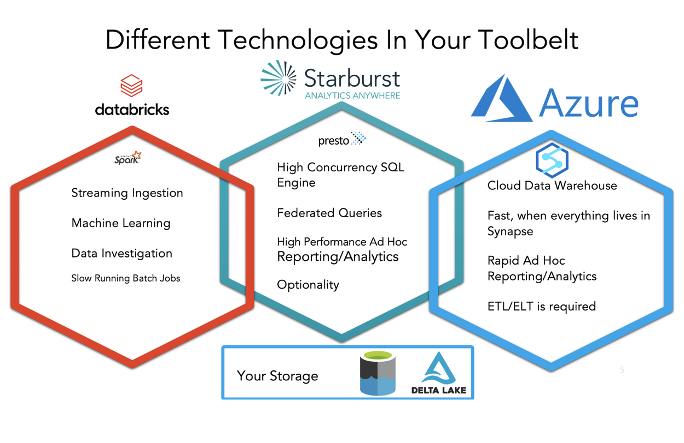 It's the power of a data warehouse, without the warehouse. Within a single query, you can access multiple data stores, including Azure Blob Storage, ADLS, Azure SQL, SQL Server, plus Hadoop, Synapse, IBM DB2, Cassandra, Databricks Delta Lake, and many others. In minutes, users are able to provision from small to large clusters of compute instances and leverage the power of Presto's parallelism to analyze all enterprise data.
Now more than ever, organizations can't expect to meet today's challenges with yesterday's tools, and expect to be in business tomorrow.
We look forward to our growing partnership with Microsoft, and providing Azure customers the flexibility of data access wherever they are on their migration and analytics journey.