Today, we're extremely excited to announce that Starburst Enterprise Presto is now available on Google Cloud Marketplace. Now, Google Cloud customers can easily deploy Starburst Enterprise Presto within their cloud environment to access and analyze data across any source. With just a few clicks, customers can deploy Starburst Enterprise Presto via the Google Cloud Marketplace and leverage its analytics capabilities across multiple data sources.

The combination of Google's Cloud Data Platform for storing data, managing analytics workloads, and robust data services portfolio, with Starburst Enterprise Presto's MPP, compute only, federated SQL engine, enables customers a holistic approach to analytics regardless of where they are in their data journey. Using Starburst, teams can get fast and affordable access to data, regardless of the databases in which it's stored.
Google Cloud Marketplace:
The mission at Google Cloud is to enable organizations around the world to transform their business using digital technology and to do so by offering the best infrastructure, a digital transformation platform, and industry-specific solutions to help transform organizations.
Part of that mission is to deliver maximum choice for customers and to bring the best of open source and open core technologies to Google Cloud to give customers the right options for all their use cases.
Google Cloud Marketplace lets users quickly deploy functional software packages that run on Google Cloud Platform. Google Cloud Marketplace allows customers to easily start up a familiar software package with services like Compute Engine or Cloud Storage, with no manual configuration required. Google Cloud's open cloud and deep commitment to open source software makes Google Cloud Marketplace a natural fit for Starburst Enterprise Presto.
Starburst Enterprise Presto
Starburst Enterprise Presto within Google Cloud is a solution that is fully supported, production-tested and enterprise-grade distribution of open source Presto, the fastest-growing distributed SQL query engine. Starburst Presto leverages Google Kubernetes Engine (GKE) to meet cost and performance goals via dynamic autoscaling, with additional integrations into Google Cloud's BigQuery and Dataproc and Looker.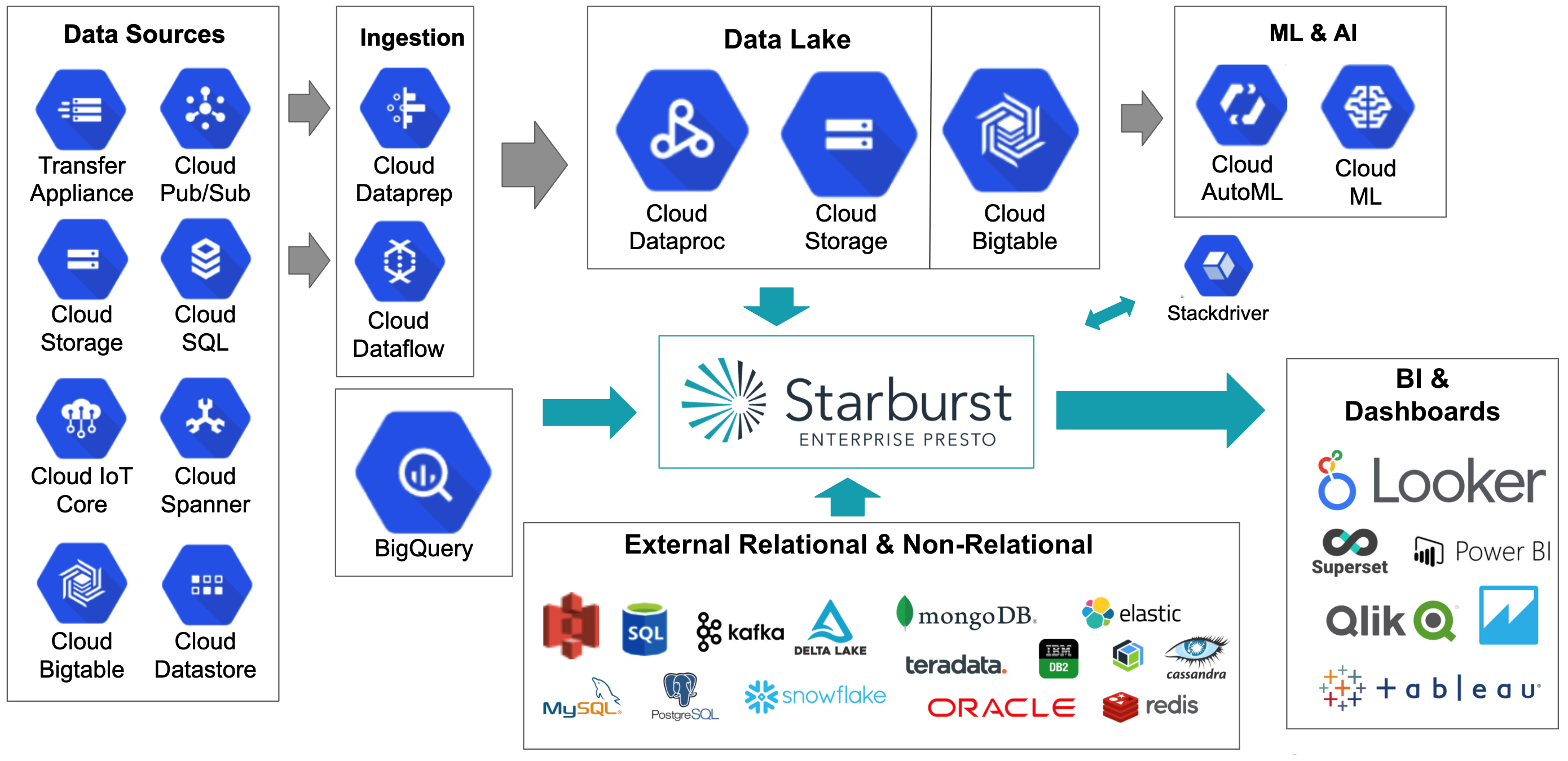 Using Starburst, interactive analytics projects are much simpler to execute at scale, and at a far lower cost than moving data into a single source of truth. With this partnership, customers now have easy, self-service access to Presto within their existing cloud environments. We're proud to be a Google Cloud partner and look forward to deepening our integration in the coming months.
Different Solutions for Different Use Cases; That's Optionality.
Dataproc makes open source data and analytics processing fast, easy, and more secure in the cloud. Dataproc is an amazing solution for:
Spark workloads for ingestion, batch, ETL and ML/AI
Legacy Hive workloads
Offloading HDFS native services to cloud
Customers in production on prem with OS Presto just looking to shift to GCP
Lightweight OS Presto exploration
Starburst Enterprise Presto is for customers that are looking for fast, cost effective, secure, simple SQL access to data stored in GCS, and also federated analytics across data sources in GCP, on premise and multi cloud. Starburst Enterprise Presto includes:
Enterprise Connectors – Teradata, Oracle/Exadata, IBM DB2, Snowflake, Delta Lake etc
Robust security integrations – fine-grained access control via Global Security
Web-based UI to install, configure, manage, and monitor clusters
Cost Control with autoscaling/graceful scale down via GKE integration
Presto Coordinator HA
Enterprise Security Enhancements – RBAC, Auth, Masking, Auditing
24/7 Support from Presto experts
Seamless integration of Starburst Enterprise Presto with Dataproc, GKE, BigQuery, BI Engine, Looker, and other Google Products ensures the best Presto offering and experience in the market.
Visit Starburst Enterprise Presto's new offering in the Google Cloud Marketplace here and experience secure, federated, access to data today.