The beginning
In 2012, Martin Traverso, David Philips, Dain Sundstrom and Eric Hwang at Facebook started the development of Presto to address performance, scalability and extensibility needs for analytics at Facebook. Before Presto existed at Facebook, all data analysis relied on Hive, which was not suitable for interactive queries at Facebook's scale. Facebook's Hive data warehouse was 250 petabytes in size and needed to handle hundreds of users issuing tens of thousands of queries each day. Hive started to hit its limit and did not provide the ability to query other data sources within Facebook.
Presto was designed from the ground up to run fast queries at scale. Instead of creating a new system to move data into, Presto was designed to read the data from where it is stored via its pluggable connector system. In 2013, the initial version of Presto was rolled out in production at Facebook and, by the fall of the same year, Presto was officially open sourced by Facebook. After seeing its success at Facebook, Presto was adopted by other large web-scale companies like Netflix, Linkedin, Treasure Data and more.
In 2015, Teradata announced a large commitment of 20 engineers contributing to open source Presto and focused on adding enterprise features like security enhancements and ecosystem tool integration. In the same year, Amazon added Presto to its AWS Elastic MapReduce (EMR) offering. By 2016, Amazon announced Athena, in which Presto serves as a major foundational piece. Finally in 2017, Starburst was founded. Starburst was founded to drive the success and adoption of Presto everywhere.
The split and decline of Presto
At the end of 2018, the original creators of Presto left Facebook and founded the Presto Software Foundation to ensure the project remains collaborative and independent. The project became known as PrestoSQL. The community of contributors and users moved to the PrestoSQL codebase with the founders and maintainers of the project. Since then, the innovation and growth of the project has accelerated even further.
Rename to Trino
Towards the end of 2020, PrestoSQL was renamed to Trino in order to reduce confusion between PrestoSQL, the legacy PrestoDB project and other versions. The foundation was renamed to the Trino Software Foundation. The last release under the PrestoSQL name was 350.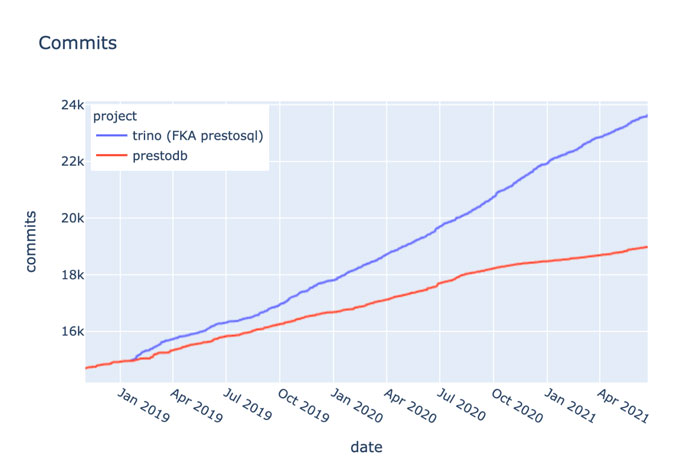 Today, the original creators of Presto, Martin Traverso, Dain Sundstrom, David Philips and Eric Hwang, are core members of Starburst's team and are driving the development of the open source Trino project. The project is maintained by a flourishing community of developers and contributors from many companies including Amazon, Bloomberg, Eventbrite, Gett, Google, Line, Linkedin, Lyft, Netflix, Pinterest, Red Hat, Salesforce, Shopify, Starburst, Treasure Data, Varada, Zuora and many more.
Looking for more information? Read more on the differences between PrestoDB, PrestoSQL, and Trino.