In today's enterprise, data is arguably one of the most valuable assets. With advances in data analytics technology, enterprises can more easily convert enormous amounts of data into actionable business intelligence (BI) which can benefit a business in a myriad of ways. As our data-driven economy continues to evolve, organizations wanting to use big data and BI solutions to make their businesses more agile and profitable should keep a few things in mind, starting with how — and where — they access data.
LEARN HOW SUCCESSFUL COMPANIES, LIKE UBER, LYFT AND NETFLIX ACCESS THEIR DATA ANYWHERE IT LIVES WITH PRESTO
Of little use, if you can't access it
The whole point in generating or procuring data is to be able to gain insights that can help make informed decisions. If the latter is not happening, then there is no point in collecting and storing another byte. For your data analysts, they don't care how they access the data, or where it's located, they just want instant access, end of story. For the data architects, database administrators, and system engineers working on the back-end to make that happen, life is much more complicated.
Data can reside in a wide variety of places such as cloud object stores, HDFS, NoSQL, and RDBMS data stores. With so many different data sources, it creates challenges in making the right data accessible to analysts, particularly if there is ETL involved. Inherently, this is time- and resource-intensive for data architects and IT teams, and hinders fast access to data, which only slows down end user productivity.
The easiest way to access all your data is to just query it where it already resides. If you have to move it to gain access to it (and spend time waiting for this migration), then you're using the wrong tools.
The need for speed
To say that speed is critical is a huge understatement for today's businesses. When it comes to analyzing data you need both fast access to data and powerful computing ability. Speed is also what analysts need to be more productive in sharing insights for line of business users to make critical decisions.
Starburst's enterprise distribution of Presto was designed with high performance at any scale in mind. It can query any data, on any platform, in any location. Our latest version, 302e, which features our new Mission Control management console, lets database administrators and engineers connect to any data source, and easily create, access, and manage multiple Presto clusters from a single, unified console.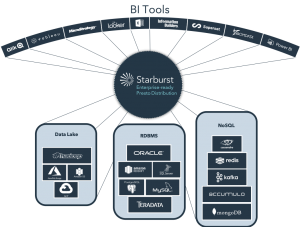 To have this ease-of-use, coupled with the ability to manage all the clusters and sources from a single pane of glass, is an industry first for Presto that fills a previously unmet need. On the front end, analysts have instant access to their data without regard to where their data lives; whether it's being migrated, or a new system integration is underway. They can also perform their SQL queries faster, as Presto was built by Facebook from the ground up with speed and performance, regardless of the dataset size, as the front and center requirement.
Being able to access data anywhere without sacrificing performance commoditizes the storage layer and helps organizations avoid costly vendor lock-in. It allows for the crucial separation of storage and compute that has been shown to be the optimal configuration. Altogether, it enables your analysts to more effectively create the competitive advantage that everyone seeks.
Where are you in your data journey?
For more information about the latest version of Starburst Presto and how it can help your organization gain more access and control of your data, please complete this form or click here to read more.