We're thrilled to report that we had over 500 registrants for part one of the Data Mesh Book Club with our guides, Adrian Estala (host of Data Mesh TV) and Andy Mott (co-author of Data Mesh For Dummies). It was an hour-long lively debate and discussion as Adrian and Andy have very different perspectives!
The Data Mesh Book Club is here to help data professionals explore the future of distributed data, connecting sources, regions, and clouds with decentralized access and ownership.
Regular readers of our blog know that Data Mesh — a socio-technical paradigm — emerged out of deep organizational complexity and a growing business demand to exploit analytics for competitive positioning and to drive better business outcomes. Data Mesh enables your business to respond more quickly with data.
Is Data Fabric the same as Data Mesh?
A common question that is asked at conferences, webinars, and even in this book club is that  the audience wants to know if Data Mesh and Data Fabric are the same.
The short answer is no. Andy views Data Fabric as a technological approach and that Data Mesh is about organization, people, and technology. To take it one step further, he said that theoretically, you can even use a Data Fabric as your self-service platform in your Data Mesh.
Hear both of Andy's and Adrian's perspectives on Data Fabric vs. Data Mesh, starting around the 22:08 time stamp.
Informal poll with data professionals
Just for fun, when we informally polled the attendees of our book club, here's where a select group of data professionals stood:
47% of the attendees said that they know about the basics and wanted to learn more
45% believed that Data Mesh would improve their business agility and scalability
53% see Data as a Product as the greatest value to their role
Data Mesh: fad or fab
For the 18% of our attendees who were Data Mesh skeptics, we're confident that our Data Mesh Book Club guides will be able to win you over. When Zhamak started writing Data Mesh in the 2018-2021 timeframe and shared pre-released chapters, she used a fictitious digital streaming company: Daff, Inc. to describe how Data Mesh could operate.
Today, Adrian attested to seeing, "great Data Meshes: in finance and in pharmaceuticals." He elaborated that Data Mesh principles aren't hype because they're based on product thinking, agile, domain-driven design — all of which are used by organizations around the world.
Based on sound principles that have been proven and tested, Data Mesh is a framework that organizations can implement. The challenge lies in figuring out how to apply and moving from theory to practice.
Join the discussion
If you missed the first session, feel free to catch it here or subscribe to Apple Podcast or Spotify. It's not too late to sign up for the Data Mesh Book Club. For even more engagement, feel free to join the Data Mesh Book Club Group on Linkedin.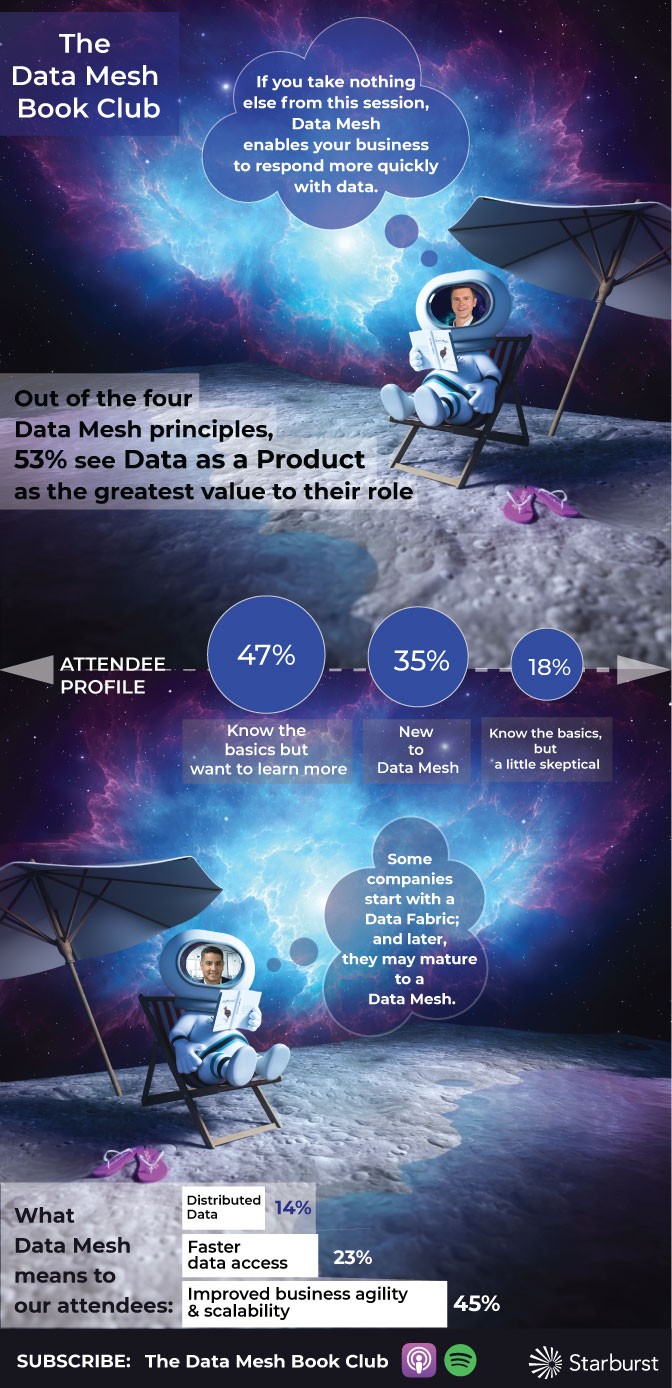 Subscribe to The Data Mesh Book Club
Listen on the go
Apple Podcast