How a Telecommunications Giant Established Universal Data Access
Our customer base has been growing quickly, and we're excited to share a case study highlighting one of our largest clients, a telecommunications giant.
This Fortune 100 company serves more than 20 million subscribers, and ingests and retains tremendous volumes of data across various platforms. The company collects daily viewing data in Hadoop, while subscriber and account information and other data are stored in Teradata, Oracle, AWS, and various systems.
"We weren't born in the cloud," our client said at the 2019 Presto Summit. "We've been around for a long time. We have a lot of customers, and a lot of data we're collecting across a lot of different systems."
In the case study, we detail why the company chose to deploy Starburst Enterprise Presto, and how the platform is moving them closer to their ultimate vision of universal data access.
Data Warehouse to Hybrid Data Lake
The telecom giant's big data team was tired of building enormous ETL jobs to move data between platforms. After experimenting with Teradata's QueryGrid and several other approaches, the group opted to upgrade to Starburst Enterprise Presto. Now our customer is able to query data where it lies, and move the data they want to move, without impacting end users.
"Presto has connectors to all these different sources," one of the company's engineers said. "So people didn't have to run ETL. They could just leave the data where it is and just use Presto to connect to these sources."
Overall, thanks to Starburst Enterprise Presto, the company is now enjoying:
Better performance at scale

Freedom from proprietary data warehouses

Enterprise-grade support from Presto experts

Federated access to data no matter where it lives

Savings due to reduced employee labor costs

An enhanced end-user experience
As a result, the number of Presto queries at the company has scaled rapidly, rising from 2,000 per day in 2016 to 350,000 daily queries in 2019.
Serving Multiple Business Units with One Solution
Ultimately, Starburst Enterprise Presto is serving two groups at the telecom giant simultaneously. Presto is giving business intelligence teams access to more data across more platforms, and helping them make more informed decisions. But it's also allowing the company to move data out of proprietary systems and into the cloud, supporting the longer-term goals of the big data team, and moving the company closer to truly universal data access.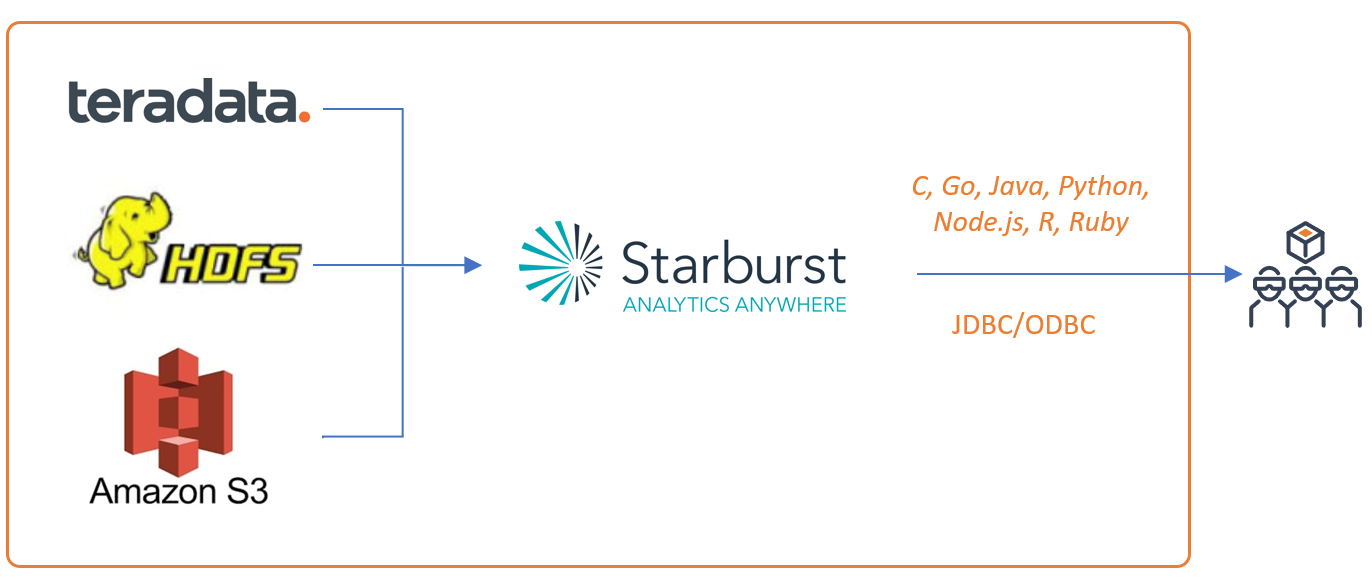 Want To Read More?
The case study reviews all of this in more detail, and it's a quick read. Take a few minutes to check it out, or have a look at some of the videos and slide presentations from our most recent summit.
Be sure to check back for more customer-centric posts in the coming weeks. We have some truly amazing clients and we're excited to start sharing more details about how they're using Starburst Enterprise Presto.