Our CEO & Co-Founder, Justin Borgman, was recently interviewed for the 169th episode of The VentureFizz Podcast.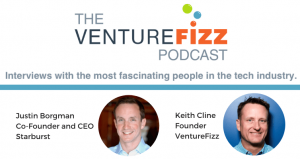 Listen (below) as host, Keith Cline, and Justin discuss the explosion of data and how Starburst is helping companies get control and leverage their data in a faster, more efficient way.
Topics covered in this podcast include:
A discussion around the massive growth of data and how it affects businesses.
Justin's career path which started out in engineering and moved to product management.
How Justin got into entrepreneurship while at Yale and the story of Hadapt.
All the details on Starburst and how they were able to achieve significant traction before raising capital.
Lessons learned from his first startup that he has been able to apply the second time around.
Advice on selecting the right VC's to partner with when raising funding.